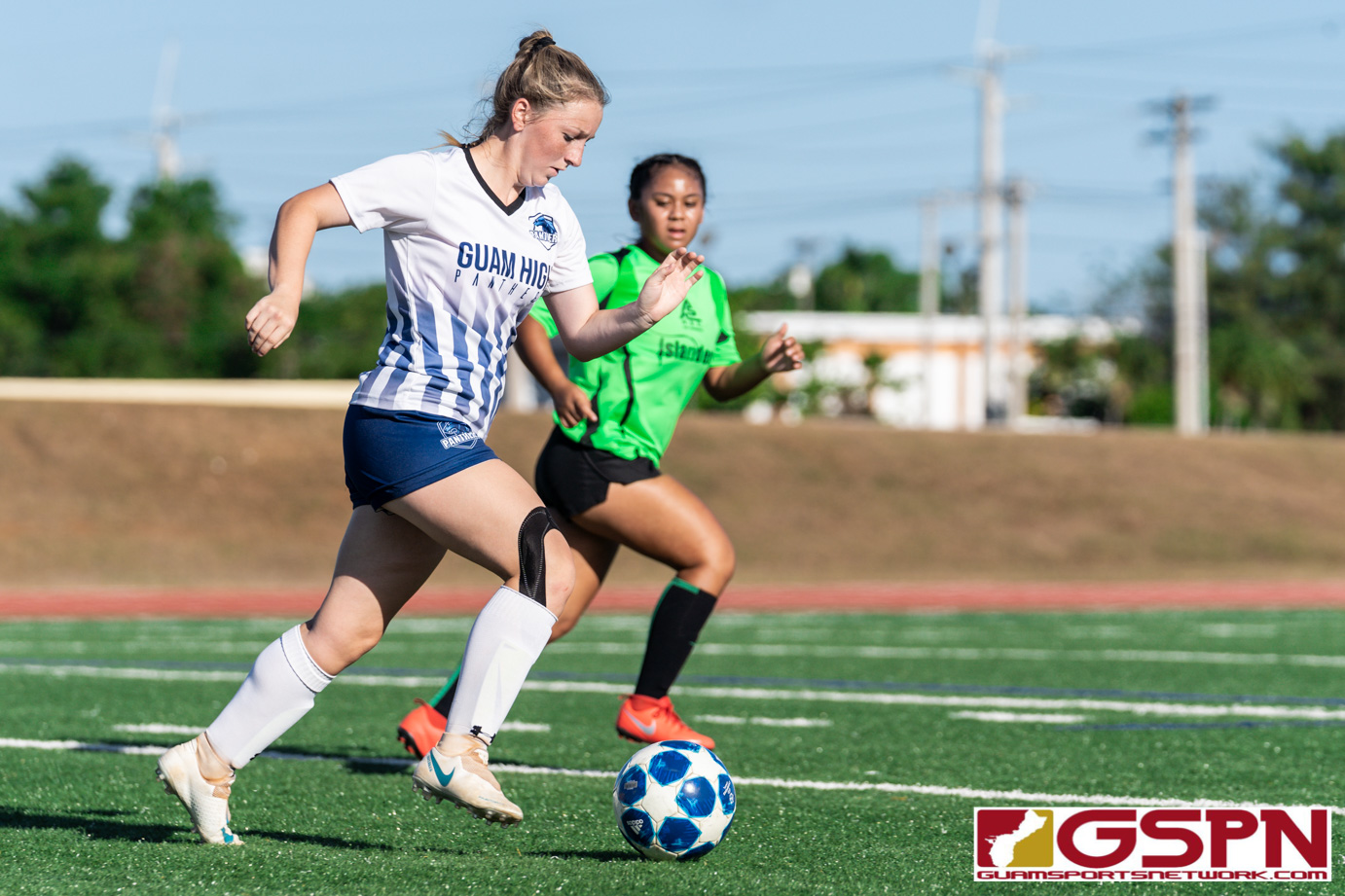 By Brandon Kinsella
In the IIAAG Girls Soccer League, the Guam High Panthers increased their undefeated streak (4-0) after beating the JFK Islanders 6-2 at the Guam High Field Thursday afternoon. The final minutes of action would leave spectators in suspense as three goals would be scored in a matter of three minutes.  
In the 78th minute of action, Panther Alexandra Shimasaki tried her luck and bulleted a long shot from 30 yards out which would go over the keeper and down the middle of the net to secure a 5-1 Guam High lead. This play appeared to be to be the nail in the coffin, but the Islanders would surprise the crowd a minute later.
After a handball violation gave Islander Aubree Ungacta a chance at a free kick opportunity, she would kick it line drive and Guam High's keeper would fumble on the play. Coincidentally, Aubree's sister Dominique Ungacta was near the ball and was able to recover and score to trim JFK's deficit to just one at 5-2 in the 79th minute of action.
The Islanders had one minute to make something happen, but the home team Panthers would regather and stay aggressive on the attack. After a scramble for possession near JFK's keeper, Panther Victoria Blyth would gain possession and score on the final play in the 79th minute, which sealed Guam High's victory at 6-2.
First Half
Shimasaki got off to a hot start early as she scored the first goal of the game in the 3rd minute to give her team the lead. She also displayed some great footwork dribbling the ball and beat defenders on several instances which gained quite the approval from fans on the sideline. Shimasaki elaborated on her footwork,
"It's taken me years to improve my dribbling technique, so whenever I have free time I go out and do drills to quicken my footwork and get in between tight spaces to create opportunities for me and my team," said Shimasaki.
In the 16th minute, JFK would answer with a goal of their own after striker Belle Itliong-Cruz broke away and shot from the right corner. The shot nipped the keeper's hands and went in to tie the game.
Brennan King would step up for the Panthers following JFK's score, adding two goals of her own in the 33rd and 39th minute. The first goal occurred after King nutmegged an Islander defender which left her with a one-on-one matchup with the keeper. King beat the keeper to put the Panthers up a goal.
Several plays later, King would get a penalty kick opportunity, as a result of a foul by the defense. She shot the ball up the middle as the keeper went left which gave the Panthers a 3-1 lead.   
King talked about the adjustment that their team made following Itliong-Cruz's big play:
"I know we started out kind of slow, it's our spring break this week so we're all adjusting to the new schedule. After JFK scored their first goal it was a wakeup call for us, and we knew we needed to pick up the pace from there on out."
King came up big for the Panthers, which would set the tone for the rest of the game. She talked about the magnitude of this win, as it increases their undefeated streak,
"This win really boosts the confidence of our team. I think this win over the break is really going to help us moving forward with the rest of the season."
PHOTO GALLERY BROUGHT TO YOU BY: