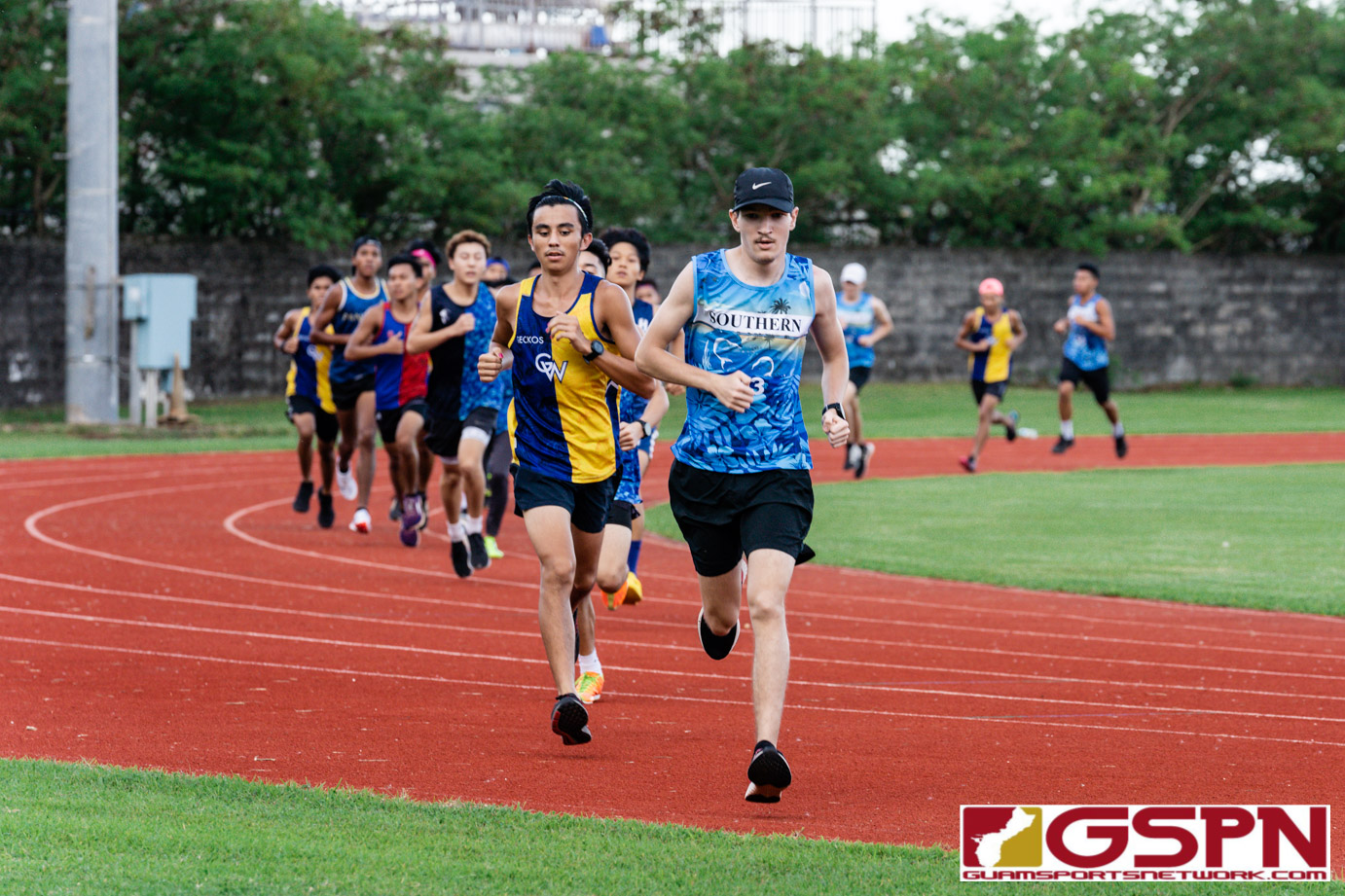 By Jay Leon Guerrero
After three months of hard training, Guam's elite long distance high school runners gathered at the JFK course for the 2019 IIAAG Cross Country All-Island Meet. After all the results were tallied, the JFK Islanders were crowned the girls champions with 53 points and the St. Paul Warriors defended their boys title with 79 points.
Girls scores
JFK Islanders – 53 points
Guam High Panthers – 59 points
St. John's Knights- 89 points
GW Geckos – 96 points
St. Paul Warriors – 97 points
Simon Sanchez Sharks – 164 points
Academy Cougars – 167 points
Okkodo Bulldogs – 192 points
Boy's scores
St. Paul Warriors – 79 points
Okkodo Bulldogs – 82 points
Guam High School – 99 points
Southern Dolphins – 108 points
JFK Islanders – 124 points
GW Geckos – 125 points
St. John's Knights – 165 points
Simon Sanchez Sharks – 183 points
FD Friars – 214 points
Harvest Eagles – 256 points
Tiyan Titans – 294 points
Freshman dominate All-Island
Four freshman sensations made history and finished 1-2-3-4 in the girl's all-island finale. Jordan Baden (21:15) from St. John's edged out Guam High's Hannah Zura (21:21), JFK's Trixia Nierva (21:31) and Guam High's Molly Lang (22:05) to round out the top four.
The pack of Baden, Zura, and Nierva were together for the first two and a half miles which drew the attention of all spectators as the trio rounded the course for their second lap. Baden and Zura broke away on the final 1000 meters as the crowd started to cheer. Baden then made her final kick in the last 200 meters to win by a mere six seconds.
"They definitely pushed me to be in that position and at the end I knew I had to let it all out on the course," said Baden. "Coach Desmond (Mandell III) is really amazing and he pushed me throughout the season. He told me today to give it my all and he knew I could do it."
"Im really proud of Jordan and I knew one of had to lose and sadly it was me but I'm still proud of her," said Zura.
Prior to the start of the girl's race, heavy rain made the course slippery; especially on the last hill and turn into the track.
"Going up the last hill before making the turn to go onto the track, I sped up and she (Baden) did as well. We were side by side and at the last turn to get on the track a slipped and that was the mistake I made," said Zura. 
"I've raced against Hanna before in seventh grade and she improved so much. She has gotten much faster than before and she is amazing," said Baden.
The third place finisher, Nierva, helped the Islanders win the overall team title to add another season championship under coach Jay Antonio. Mya Tolerson (22:24) and another Islander freshman Jada Han (22:34) finished fifth and sixth place, respectively, to help the Islanders edge out the Panthers for the championship.
Johnson finishes first
Undefeated throughout the entire season, GW's Terrance Johnson continued his 5K dominance and was crowned the individual boys champion with a time of 16:35. Johnson's teammate Paul Manfield finished second with a time of 17:40.
"I just tried to do my best today. Anyone could have a good day but i just ran my own race and I'm thankful for my teammates this season for pushing me," said Johnson. Johnson led from start to finish and won the race by over a minute to the next competitor, his fellow teammate.
"Im grateful for Terrance and he his is extremely talented," said Mansfield. "I started this season out of shape and finished in the middle of the pack of our early season races. As the season progressed, I started improving and consistently finished second."
Johnson and Mansfield finished ahead of Southern's freshman sensation Carlos Leon Guerrero (18:31). St. John's Marc Rajesh (18:42) finished fourth and Darren Tamondong (19:02) from Okkodo rounded out the top five.
Despite not having any individual runner in the top nine, the St. Paul Warriors were still able to garner enough points to repeat as champions.  Under the leadership of coach Sherwin Paet, the Warriors' deep squad had their top five runners finish in the top 25 to secure the title.
The Warrior runners did not succumb to the blistering pace at the beginning of the race and recorded enough points to avoid the upset by the Bulldogs. St. Paul had 79 points, finishing just ahead of Okkodo's 82 points to win back-to-back titles. All five runners in the Warrior top 5 will be returning next season for coach Paet. 
"There was a lot of pressure on us going into the race," said St. Paul sophomore Kanta Yamazaki. "Despite having all that pressure, we still did our best and I'm proud of our team" 
The Warriors went undefeated for the regular season and got a huge performance from freshman Owen Tretasco who came in tenth place with a time of 19:19. Yamazaki, Jacob Miranda and Keith Nauta came in 13th, 14th and 18th to clinch the victory.
PHOTO GALLERY BROUGHT TO YOU BY:
IIAAG 19-20 Cross-Country IIAAG All Island Championship – 10/10/2
JFK – New Course, , Guam
Boys Varsity 5000 Meter Run All-Island
=================================================================
Name Yr Team Time Pts
—————————————————————–
1 Johnson Terrance 11 George Washington Hi 16:35.70 1
2 Mansfield Paul 11 George Washington Hi 17:40.30 2
3 Leon Guerrero Carlos 9 Southern High School 18:31.40 3
4 Rajesh Marc 12 St. John School 18:42.00 4
5 Darren Tamondong 12 Okkodo High School 19:03.30 5
6 Imazu Mark 10 John F Kennedy High 19:06.40 6
7 Quinata Danny 9 Southern High School 19:08.60 7
8 Alex Saber 12 Okkodo High School 19:14.40 8
9 Perry Ronan 9 Guam High School 19:15.00 9
10 Tretasco Owen 9 St. Paul Christian S 19:19.70 10
11 Rink Alex 9 Guam High School 19:23.70 11
12 Aguon Joseph 12 John F Kennedy High 19:27.10 12
13 Yamazaki Kanta 10 St. Paul Christian S 19:31.50 13
14 Miranda Jacob 10 St. Paul Christian S 19:35.17 14
15 Hada Keanu 9 Harvest Christian Ac 19:45.20 15
16 Sato Taiga 12 John F Kennedy High 19:50.30 16
17 Cruz Adam 10 St. John School 19:51.70 17
18 Nauta Keith 11 St. Paul Christian S 19:55.40 18
19 Manaloto Roy 12 Father Duenas Memori 19:59.00 19
20 Vinch Joseph 9 Guam High School 20:01.80 20
21 Lorenz Melliza 12 Okkodo High School 20:04.10 21
22 Leon Guerrero Ramon 9 Southern High School 20:08.20 22
23 Josh Castro 12 Okkodo High School 20:08.40 23
24 Masato Tsujii 9 St. Paul Christian S 20:14.20 24
25 Jadrian Juico 10 Okkodo High School 20:19.90 25
26 Alvarez Ethan 9 Father Duenas Memori 20:23.40 26
27 Darius Palad 12 Okkodo High School 20:23.90 27
28 TANDOC GRANVILLE 12 Simon Sanchez High S 20:27.30 28
29 Hemerlin GianCarlo 9 Guam High School 20:32.90 29
30 Crandel Trayton 9 Guam High School 20:34.50 30
31 Pellosma Anthony 9 Guam High School 20:36.30 31
32 Chen Warren 12 St. John School 20:40.80 32
33 Kristian Versario 9 George Washington Hi 20:41.08 33
34 Vegafria Craig 9 Southern High School 20:45.50 34
35 CASTRO RICO 12 Simon Sanchez High S 20:45.90 35
36 Hibbert Gregory 9 Guam High School 20:46.20 36
37 Olandez Peter 12 Okkodo High School 20:49.70 37
38 MEDINA JOHN PATRICK 11 Simon Sanchez High S 20:51.20 38
39 GALVEZ TEO 10 Simon Sanchez High S 20:52.30 39
40 Rivera Matthew 11 John F Kennedy High 21:00.50 40
41 Sampang Michael 11 Tiyan High School 21:04.50 41
42 Clariz Nathaniel 9 Southern High School 21:05.80 42
43 SANGUEZA DRU -4 Simon Sanchez High S 21:06.00 43
44 Dumaraog Genesis 9 George Washington Hi 21:27.90 44
45 Alconoba Andrew 11 George Washington Hi 21:30.40 45
46 BAGAIN JERALD 12 Simon Sanchez High S 21:30.90 46
47 VILLEGAS CODY 11 Simon Sanchez High S 21:39.70 47
48 Chomel Nathan 9 Harvest Christian Ac 21:40.10 48
49 Au Stanley 12 St. John School 21:43.00 49
50 Cepeda Thomas 9 John F Kennedy High 21:53.60 50
51 Labanza James 12 St. Paul Christian S 21:55.10 51
52 Saulog Ethan 9 St. Paul Christian S 21:58.50 52
53 Taitingfong Landon 9 John F Kennedy High 22:06.30 53
54 Fejeran Jonan 11 Father Duenas Memori 22:15.60 54
55 Quinata Levi 9 Southern High School 22:18.50 55
56 Bautista Darren 11 Father Duenas Memori 22:18.80 56
57 Clark Keisi 9 Harvest Christian Ac 22:25.10 57
58 Paz Nathan 12 Tiyan High School 22:28.70 58
59 Hernandez Alexander 12 Father Duenas Memori 22:30.70 59
60 Milan Aaron 11 John F Kennedy High 22:31.10 60
61 Cadiz Mattheo 11 Father Duenas Memori 22:32.80 61
62 Delosangeles Brent 11 Tiyan High School 22:35.20 62
63 Hutapea Timothy 9 St. John School 22:36.80 63
64 Wang Zeward 10 St. John School 22:37.50 64
65 Taitano Jett 11 Tiyan High School 22:40.10 65
66 Ruder Christian 11 George Washington Hi 22:52.10 66
67 Lafaurie Traven 9 Harvest Christian Ac 22:55.50 67
68 Flory Aidan 11 Tiyan High School 23:04.80 68
69 Lee GeonWoo 9 Harvest Christian Ac 23:08.90 69
70 Versario Resty 11 George Washington Hi 23:12.60 70
71 Gumataotao Aaron 12 Father Duenas Memori 23:14.70 71
72 Joseph Brian 11 St. John School 23:15.20 72
73 Flory Conor 9 Tiyan High School 23:22.50 73
74 Wolfe Zach 9 Southern High School 23:42.10 74
75 Lee Gunju 9 Harvest Christian Ac 24:17.50 75
76 Gamboa Ricky 11 Tiyan High School 24:50.40 76
77 Lu Andrew 9 Harvest Christian Ac 26:10.40 77
Boys Varsity 5000 Meter Run All-Island Team Scores
=================================================================
Team Pts 1 2 3 4 5 (6) (7)
=================================================================
1 St. Paul Christian S 79 10 13 14 18 24 51 52
Total Time: 1:38:36 Average: 19:43.20 1-5 Split: 55
2 Okkodo High School 82 5 8 21 23 25 27 37
Total Time: 1:38:51 Average: 19:46.02 1-5 Split: 1:17
3 Guam High School 99 9 11 20 29 30 31 36
Total Time: 1:39:48 Average: 19:57.58 1-5 Split: 1:20
4 Southern High School 108 3 7 22 34 42 55 74
Total Time: 1:39:40 Average: 19:55.90 1-5 Split: 2:35
5 John F Kennedy High 124 6 12 16 40 50 53 60
Total Time: 1:41:18 Average: 20:15.58 1-5 Split: 2:48
6 George Washington Hi 125 1 2 33 44 45 66 70
Total Time: 1:37:56 Average: 19:35.08 1-5 Split: 4:55
7 St. John School 165 4 17 32 49 63 64 72
Total Time: 1:43:35 Average: 20:42.86 1-5 Split: 3:55
8 Simon Sanchez High S 183 28 35 38 39 43 46 47
Total Time: 1:44:03 Average: 20:48.54 1-5 Split: 39
9 Father Duenas Memori 214 19 26 54 56 59 61 71
Total Time: 1:47:28 Average: 21:29.50 1-5 Split: 2:32
10 Harvest Christian Ac 256 15 48 57 67 69 75 77
Total Time: 1:49:55 Average: 21:58.96 1-5 Split: 3:24
11 Tiyan High School 294 41 58 62 65 68 73 76
Total Time: 1:51:54 Average: 22:22.66 1-5 Split: 2:01
Girls Varsity 5000 Meter Run All-Island
=================================================================
Name Yr Team Time Pts
—————————————————————–
1 Baden Jordan 9 St. John School 21:15.80 1
2 Zura Hannah 9 Guam High School 21:21.60 2
3 Nierva Trixia 9 John F Kennedy High 21:31.80 3
4 Lang Molly 9 Guam High School 22:05.20 4
5 Tolerson Mya 11 John F Kennedy High 22:24.90 5
6 Han Jada 9 John F Kennedy High 22:34.50 6
7 Dumaraog Gissa 10 George Washington Hi 22:40.00 7
8 GATBONTON MARIE 10 Simon Sanchez High S 22:58.70 8
9 Esma Shakeera 9 St. Paul Christian S 23:16.00 9
10 Samonte Jazmin 12 St. Paul Christian S 23:27.70 10
11 Criss Mikayla 9 St. Paul Christian S 23:34.90 11
12 Desingano Elizabeth 12 George Washington Hi 23:36.50 12
13 Packbier Madison 12 St. John School 23:37.70 13
14 Minor Chasity 10 John F Kennedy High 23:48.90 14
15 Jania Castor 12 Okkodo High School 23:55.00 15
16 Cabradilla Mila 9 Guam High School 23:56.60 16
17 Almario Annika 10 Academy of Our Lady 24:05.70 17
18 Burns Hailey 9 Guam High School 24:08.40 18
19 Paz Kierra 9 Guam High School 24:09.50 19
20 Lynch Letycia 9 Guam High School 24:12.50 20
21 Haun Aliiza 12 St. John School 24:19.00 21
22 Angoco Ally 12 Tiyan High School 24:35.00
23 Pangelinan Daeline 11 George Washington Hi 24:52.40 22
24 LEONEN BRITNEY ANN 9 Simon Sanchez High S 24:55.00 23
25 Fernandez Tiara 12 Tiyan High School 25:17.20
26 Santos Edyn 9 Southern High School 25:27.60
27 Mann Jenny 11 St. John School 25:37.10 24
28 Rosario Melanie 9 John F Kennedy High 25:38.70 25
29 Brons Stephanie 9 Guam High School 25:39.00 26
30 Santos Aveleen 11 George Washington Hi 25:43.30 27
31 Cabalis Laelas 9 George Washington Hi 25:45.00 28
32 Mikoiel Mane 9 George Washington Hi 25:46.00 29
33 Ku Kasey 9 St. John School 25:49.00 30
34 Gumban Mia 12 St. John School 25:58.10 31
35 Santos Geordyn 9 Southern High School 25:58.40
36 Blailes Carlene 12 St. Paul Christian S 26:01.20 32
37 Fernandez Veronica 9 Academy of Our Lady 26:21.00 33
38 Okada Kokona 9 Okkodo High School 26:35.80 34
39 Caraig Adriana Jade 12 St. Paul Christian S 26:50.80 35
40 Quichocho Raianne 11 George Washington Hi 27:06.20 36
41 Blas Aubrey 9 Tiyan High School 27:08.00
42 Ubaldo Nierra 10 Academy of Our Lady 27:11.00 37
43 Martin Lola 10 Academy of Our Lady 27:15.60 38
44 Pineda Nicole 11 St. Paul Christian S 27:21.20 39
45 Arroyo Catheryn Leila 12 St. Paul Christian S 27:23.40 40
46 ARRIOLA JELENA 11 Simon Sanchez High S 27:50.20 41
47 Cabrera Stacey 9 Academy of Our Lady 28:06.60 42
48 Egurrola Maria 12 Academy of Our Lady 29:24.00 43
49 LEONEN RAVEN JADE 11 Simon Sanchez High S 29:31.70 44
50 Arellano Kayla 12 Academy of Our Lady 29:48.10 45
51 Eliza Manacmul 10 Okkodo High School 29:53.50 46
52 Xaylie Gray 9 Okkodo High School 29:58.00 47
53 SEGOVIA JERYMAE 10 Simon Sanchez High S 30:19.50 48
54 BONTO AIZEL 10 Simon Sanchez High S 30:23.10 49
55 Melody Cruz 9 Okkodo High School 31:07.80 50
56 Tiffany Nguyen 9 Okkodo High School 31:13.30 51
57 VILLEGAS NEVAEH 9 Simon Sanchez High S 31:35.00 52
58 Mikel Roxanne 12 St. John School 33:41.50 53
59 Pascua Keona 9 John F Kennedy High 34:18.40 54
60 Willy Julisha 9 Okkodo High School 36:21.00 55
61 Hemlani Melika 9 Harvest Christian Ac 38:32.80
62 Fejeran Kohana 11 Academy of Our Lady 42:25.20
Girls Varsity 5000 Meter Run All-Island Team Scores
=================================================================
Team Pts 1 2 3 4 5 (6) (7)
=================================================================
1 John F Kennedy High 53 3 5 6 14 25 54 –
Total Time: 1:55:59 Average: 23:11.76 1-5 Split: 4:07
2 Guam High School 59 2 4 16 18 19 20 26
Total Time: 1:55:42 Average: 23:08.26 1-5 Split: 2:48
3 St. John School 89 1 13 21 24 30 31 53
Total Time: 2:00:39 Average: 24:07.72 1-5 Split: 4:34
4 George Washington Hi 96 7 12 22 27 28 29 36
Total Time: 2:02:38 Average: 24:31.44 1-5 Split: 3:05
5 St. Paul Christian S 97 9 10 11 32 35 39 40
Total Time: 2:03:11 Average: 24:38.12 1-5 Split: 3:35
6 Simon Sanchez High S 164 8 23 41 44 48 49 52
Total Time: 2:15:36 Average: 27:07.02 1-5 Split: 7:21
7 Academy of Our Lady 167 17 33 37 38 42 43 45
Total Time: 2:13:00 Average: 26:35.98 1-5 Split: 4:01
8 Okkodo High School 192 15 34 46 47 50 51 55
Total Time: 2:21:31 Average: 28:18.02 1-5 Split: 7:13