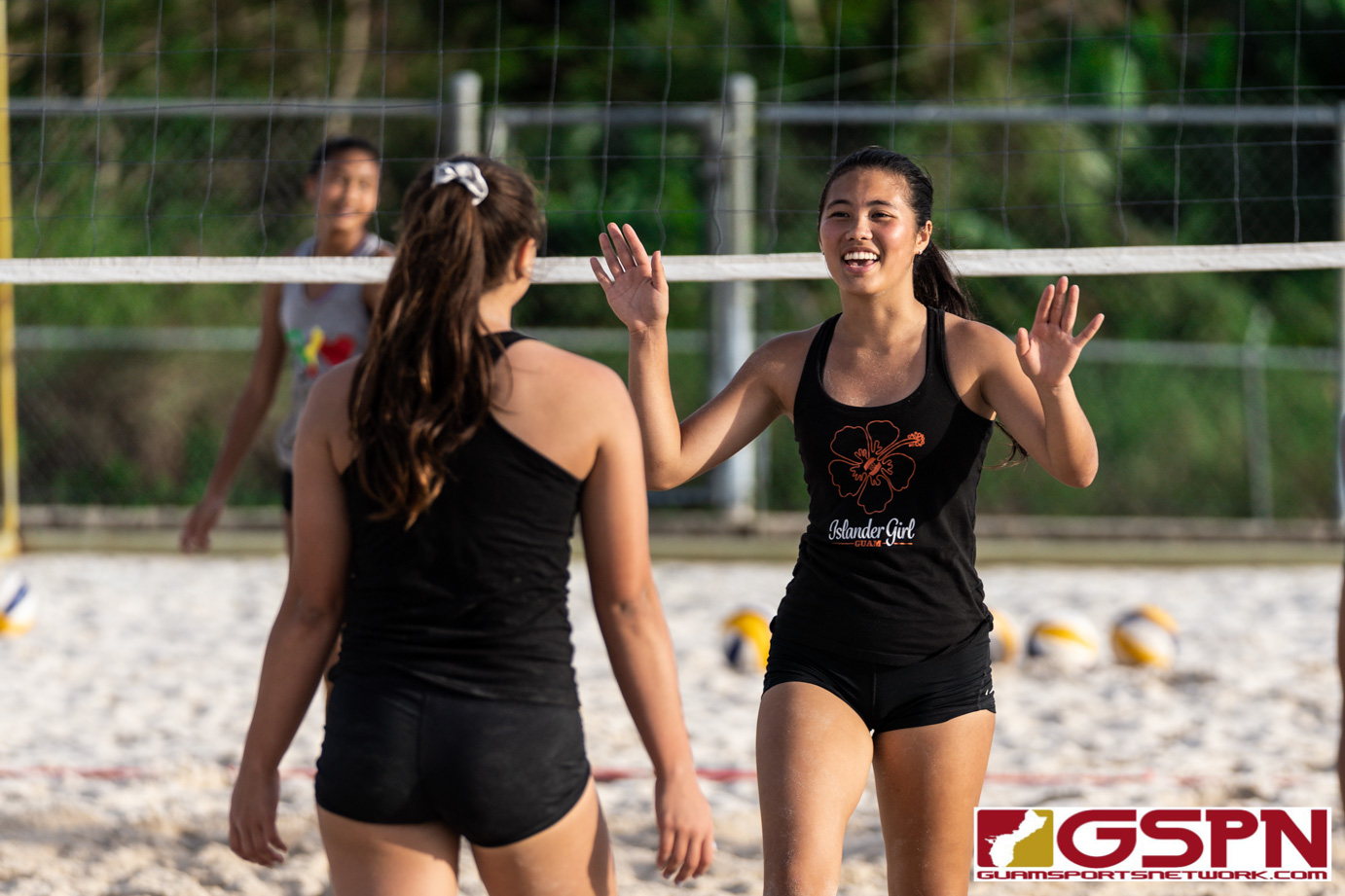 By Robert Balajadia
The exhibition season of IIAAG Beach Volleyball came to a close Tuesday evening with the playoffs wrapping up at the GFA sand courts. Team titles and individual awards were handed out on the final day with the playoff tournament being won by the St. John's tandem "Cookies & Cream" of Hallie Wigsten and Tylee Shepherd.
The pair went unbeaten all season, finishing off teammates Kristen Serrano and Yasmeen Lopez in straight sets 21-17, 21-6 to win the tournament. The pair got off to their usual slow start, but midway through the opening set they got comfortable.
"That's kind of how we always play," said Wigsten on the slow start as they trailed 5-2 early. "We had the championship on the line and that's what really kept us going. We knew that if we wanted it then we were going to have to work hard for it."
The second set was all "Cookies & Cream" as they dominated from the service line to wrap up the tournament in convincing fashion.
"Winning the tournament was a very big deal for us because we also won the Jr. Cup and we wanted to relive that moment. We went undefeated on the season, but we didn't win the team title. Winning the tournament was just a way to show that even though you didn't win the team title, you can still be winners in this league," said Shepherd.
Wigsten would finish with six total kills and seven total aces with Shepherd adding six kills and four aces. Despite not taking the top spot, Serrano and Lopez made their presence felt in the final game. Serrano finished with eight total kills, seven in the 1st, and Lopez added four aces.
"We just played relaxed," said Serrano on the pairs strong opening set. "We told each other it would be okay if we lose, but we still had to work hard."
"It's been tough because it's both our first time playing beach, but we developed a good connection. Having a strong connection helped us through all our games this season," said Lopez.
Of the four teams, St. John's White, led by a group of seniors, would take the team title after going the season undefeated. The tandem of Laressa Halladay and Hana Fernandez and Aileen Tseng and Eli Errett managed to take home some hardware winning 1st place in the team standings.
"It feels good winning the first ever year of beach volleyball. Even though there wasn't that many teams, it was great just being exposed to the sport itself," said Errett.
"I really wish that this was a sport a lot earlier," said the senior Tsing. "It really helps with your skill because you key in on your passing, hitting and serving especially. I'm just really glad that we got the opportunity to play this sport."
First year success
The players had nothing but positive things to say about the exhibition season of beach volleyball. Chris Shepherd was the catalyst who introduced the sport to the IIAAG and he sees a bright future in the direction the sport is headed.
"I think on just what we saw from the teams we had, how much improvement we saw, the enthusiasm from the girls and parents, we hope that word gets out and hopefully more teams want to join next year," said Shepherd.
The process in getting it officially recognized by the league as a permanent quarter sport could happen as early as next year. Shepherd will present the league the opportunity to do so next season and if that's the case, the players who were involved in it's first year will be back and will be recruiting.
"We're going to mention how fun this season was. I know it's different, but different is fun to try. I really want to get ND out here because a lot of my friends and Hallie's friends go there," said Tylee.
"I'm really excited to see this sport grow," said Wigsten. "I think a lot of schools were unaware that beach volleyball was becoming a sport, but I think now they're beginning to see the potential. I'm hoping next that there will definitely be way more schools."
"The biggest challenge would be scheduling. With the four teams this year, it was easy to schedule. But GFA has been really accommodating in letting us use the facility and we've developed a good partnership with them. We can definitely make it work," said Chris.
Final Team Results
1st: St. John's White
2nd: St. John's Red
3rd: Tiyan Titans
4th: Harvest Eagles
Final Tournament Results
1st: "Cookies & Cream" – Hallie Wigsten/Tylee Shepherd
2nd: Kristen Serrano/Yasmeen Lopez
3rd: Laressa Halladay/Hana Fernandez
PHOTO GALLERY BROUGHT TO YOU BY: