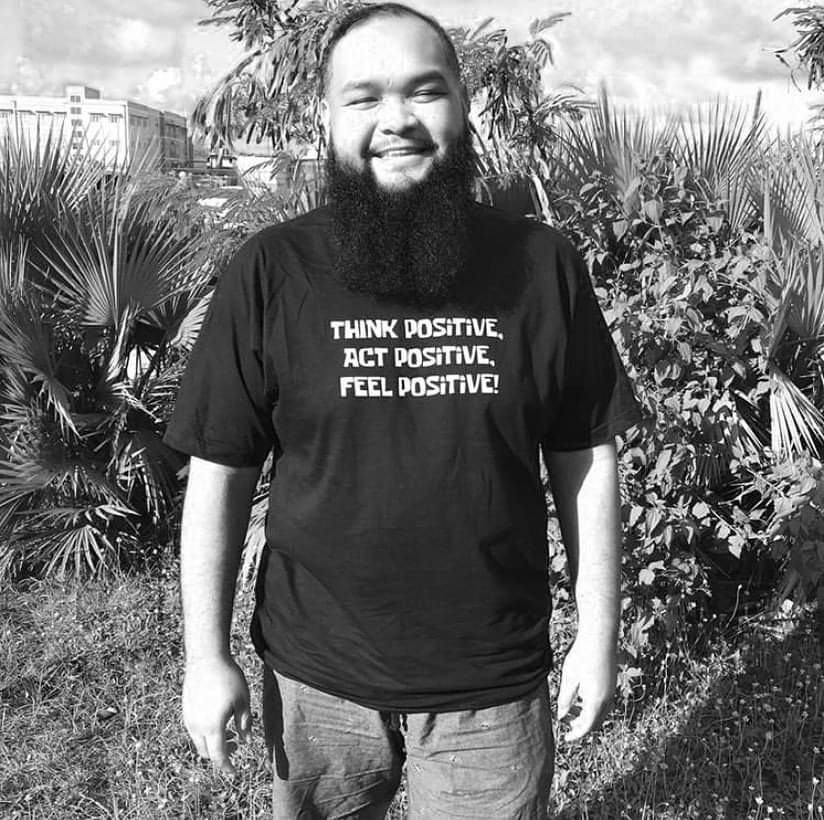 By Jay Leon Guerrero
Heaven gained another angel. The local community, and most especially the FSM community, mourned the untimely passing of an advocate, volunteer, peace maker and friend Edimund "Eddybo or Ed" Wengu. Wengu was an advocate for peace and had a vision of improving the welfare and image of the FSM people living on Guam.
"Eddybo" died suddenly of a heart attack last week and his death came as a huge blow to those he worked with in the community. Wengu was very close to his family and is survived by his mother Marisa Wengu Reyes, brother Welson Wengu, Sisters Delyn Dois and Eleina Reyes, Stepfather William Reyes and Biological father Welfred Edmund.
Journey back to Guam
Wengu moved from US and came back to Guam because he had a passion for helping the FSM community on the island. He made an immediate impact within the community shortly after relocating back to Guam helping various organizations like 4 Stars, Guam Elite and the Hammer Volleyball Club. He also worked closely in community programs with GPD, GDOE, GHURA and other agencies.
Wengu eventually found a home at MRCOSS (Micronesian Resource Center One Stop Shop), which is a special project of MANE'LU, aimed at providing informational and educational resources to assist Micronesians as they transition to a new life in Guam. He was the perfect man for the job at MRCOSS because his vision in "micrONEesia" which has the message of ONE people for Micronesia.
Part of his goals were to eliminate the negative stereotypes against people from the FSM living on Guam. Wengu was the driving force in jumpstarting programs for the youth via sports and community projects. "He always envisioned a bigger and brighter future for the youth of Micronesia and uniting the Micronesians with the concept of micrONEsia. The concept of micrONEsia happened because of him and it will live on forever," said friend Action Aiashy. 
Wengu established relationships with star athletes in Guam of Micronesian roots like Aiashy, Billy Belger, Maks Kepwe, Gino Soulik, Will Stinnett and many more. He molded close relationships with these athletes and worked together with them to help build a positive image for the micrONEsia community through sports.
"Ed has always had a big vision to want to bring together the top athletes in all sports from Micronesia. Whether you lived in the states or Micronesia, he wanted to bring everyone together to compete and use the platform to share the vision of micrONEsia where no matter who or where you come from we are ONE micrONEsia!," said Aiashy.
"It's heartbreaking," said Kepwe. Kepwe is a former IIAAG basketball MVP and worked with Wengu in various sports organizations including the 4 Stars Club and the Hammers Volleyball organization. "Ed has been a big part of my life since we first met, and he's been nothing but a blessing in disguise. He was a pillar in the FSM and Micronesian community. It would take me forever to mention the assistance, leadership and outgoing generosity to youth sports and many activities he was active in," said Kepwe.
"Working with him probably was or if not one of thee best partners ANYBODY can ever ask to work with just because of the drive he had to make sure whatever we set our minds too he made sure 120 percent happen. He was always big on doing things that people would doubt be IMPOSSIBLE and made it POSSIBLE," said Aiashy. Aiashy, also a well-skilled basketball player, worked closely with Wengu in projects like the youth 3×3 tournament at the Hemlani Apartments and the Fade-away from violence project with GPD.
Will and Derin Stinnett met Wengu shortly after partnering with Dominic Sablan in forming the Guam Elite Basketball Academy.
"He volunteered with us after we first met in 2017 at Guam Elite and gave countless hours of free service helping with camps, clinics and tournaments. He also helped form the FSM only tournaments to give the FSM community something to look forward too," said Will Stinnett.
"He was always around with positive energy and smile that lit up any room or gym," added Derin Stinnett.
Aiashy said that he was very close to his family and had a very close bond to his Mom, Marisa Wengu Reyes. His sister Delyn Dois said that people know him so well from his work and volunteering, but he was also a caring brother. Dois said she grew up with a single parent so the elder "Eddybo" was like a father to her.
"He was such a family loving guy! He was such a social butterfly and he knew how to adjust to each person's personality. He knew how to find happiness in different ways to different people," said Dois.
"He always pushed me to reach farther than what I think I can reach for," said Dois. According to Derin Stinnett, Dois was also the first RN (Registered Nurse) on Guam with FSM roots. Everyone must assume Wengu had a huge influence on pushing his sister in striving to accomplish her goals.
"Eddybo deserves to be remembered as a person who you could always count on; he would always want the best for you. He was someone I saw who had those shoulders to cry on when needed; he was so selfless and always made time for you when needed," said Dois.
Aiashy continued with the following:
"I truly believe that vision will be lived on through every athlete he has touched. He really made an impact with the youth through the platform we were given to show kids who do not have it as quite as easy as others that you can make no matter your circumstances. He believed using sports is that key to reach them life lessons to not only win, but when you fail you learn and grow and that's just how Ed was; he never let failure get to him he would simply use it as motivation to do it even bigger! Ed will live on forever in the FSM Community"!

COMING SOON …
High School Football starts Sept. 29
Brawl 3: Oct 13
Guam's Strongest Man and Woman Competition October 29
QUICK HITS
The Figo Islanders 40s women's softball team took gold in the Senior Softball World Championship in Las Vegas. Figo came out of the loser's bracket and beat the Arizona Belles 17-3 in the AA division championship game Sunday afternoon.
Other Guam teams that played in the 40s tournament were: Team SOTTA (women's) and Bud Light Guam, Friars 671 and Sindalun Guahan (men's).
Sindalu finished a respectable 4th out of 24 AAA division teams.