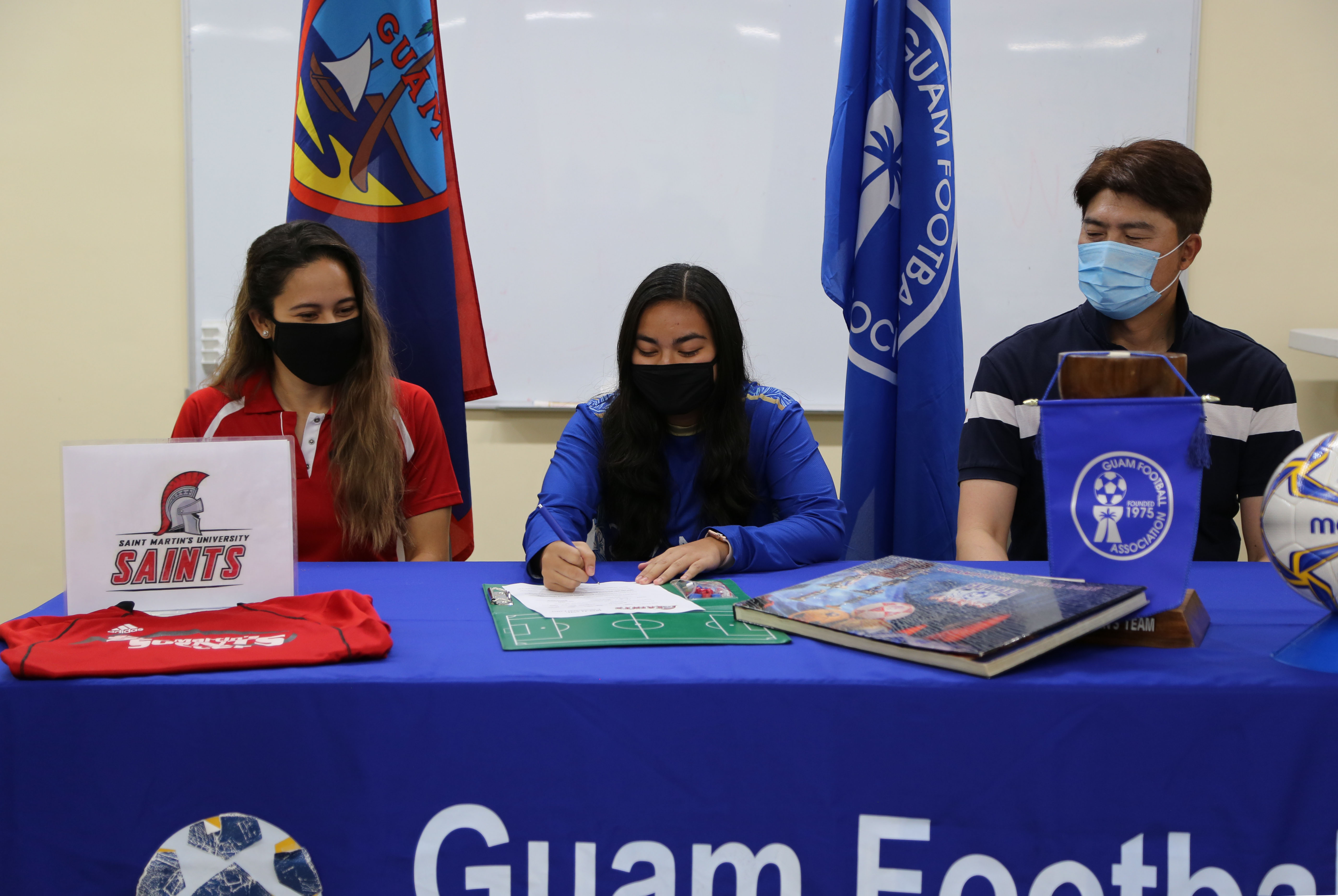 PRESS RELEASE – Kyle Halehale, Micah Hennegan, and Shyann Roberto officially committed to play intercollegiate soccer for their respective selected universities during a three-part signing event at the Guam Football Association Lecture Hall Saturday.
"On behalf of Guam Football Association, I would like to congratulate Shyann, Kyle, and Micah – the young athletes who have committed to play intercollegiate soccer beginning this Fall season," said Tino San Gil, GFA President. "This is a shining moment not only for the athletes and their families, but also for Guam and GFA. Through the years, we at GFA have invested in programs and activities for our youth athletes and it is inspiring to see them successfully move closer to their dreams through the sport.
"It's not easy to attract the attention of college coaches, so I commend the athletes for putting in the extra effort and hard work to earn their places at their selected university's team rosters," San Gil added.
Halehale, a 2020 graduate of Father Duenas Memorial School, signed to play for Central Connecticut State University in New Britain, Connecticut. Hennegan, a 2020 graduate of Harvest Christian Academy, signed to play for Bob Jones University in Greenville, South Carolina. Roberto, a 2020 graduate of Notre Dame High School, signed to play for Saint Martin's University in Lacey, Washington.
"I am pleased to see more of Guam's youth players moving up the elite player pathway by playing for U.S. college teams," said Sang Hoon Kim, GFA Technical Director. "They will experience a new level of football and different playing styles with new coaches and teammates, which will make them even better.
"I congratulate all the student athletes and look forward to tracking their progress. Their success will create more opportunities, not only for themselves, but also for others in Guam. I encourage even more youth players to work toward playing at higher levels of the game and to take full advantage of programs available to them at GFA now for their benefit in future opportunities," Kim added.
The Central Connecticut State University Blue Devils compete in NCAA Division I in the Northeast Conference. The university made the announcement of Halehale's commitment to the Blue Devils squad on May 7. The team's Head Coach David Kelly said on the team's Web site, "Kyle has had great experience and is a current international footballer. He has captained Guam's U17s and made six appearances for the senior team. He is a refined and very technical player. He will compete for time in center of the park for the Blue Devils."
Halehale most recently played for Guam as a 60th minute substitute in the Matao's FIFA World Cup Qatar 2022™ Qualifying Round of the Asian zone against the Maldives in the Maldives in November 2019.
Domestically, Halehale played for Wings FC at the youth level and currently for Manhoben Lalahi in the Budweiser Soccer League. He plans to major in Finance.
The Bob Jones University Bruins are currently transitioning to compete in NCAA Division III, while competing in Division II of the NCCAA, the National Christian College Athletic Association, the university's Web site states. The Bruins won the NCCAA Division II's championship title in 2016 and made national championship appearances in 2017 and 2018, according to the NCCAA Web site. The Bruins announced Hennegan's commitment Apr. 16 and described the Barrigada athlete as a "solid, versatile player with a knack for scoring goals." Hennegan has played for Guam at the youth level and was first called up to the Matao, Guam men's national team, for its FIFA World Cup 2022 Qatar™ Qualifier of the Asian zone match against the Philippines in September 2019.
Domestically, Hennegan played for the Tigers and the Bank of Guam Strykers at the youth level and currently for Manhoben Lalahi in the Budweiser Soccer League. He plans to major in Business Administration with a minor in Finance.
The Saint Martin's University Saints compete in NCAA Division II in the Great Northwest Athletic Conference. The Saints made the official announcement of Roberto's commitment May 6 online.
Roberto was first called up to the Masakåda, Guam Women's National Team, when she was 15 years old in 2017. Roberto played in Guam's international friendly match against Singapore in Singapore. Roberto played alongside Guam captain Anjelica Perez, an alumna of Saint Martin's University, who also played women's soccer for the Saints from 2009 to 2012, according to the university's Web site.
Domestically, Roberto played for the Guam Shipyard Wolverines at the youth level and currently for Guam Shipyard Women's in the Bud Light Women's Soccer League. Roberto plans to major in Business Administration.


Athletes Birthdays by W5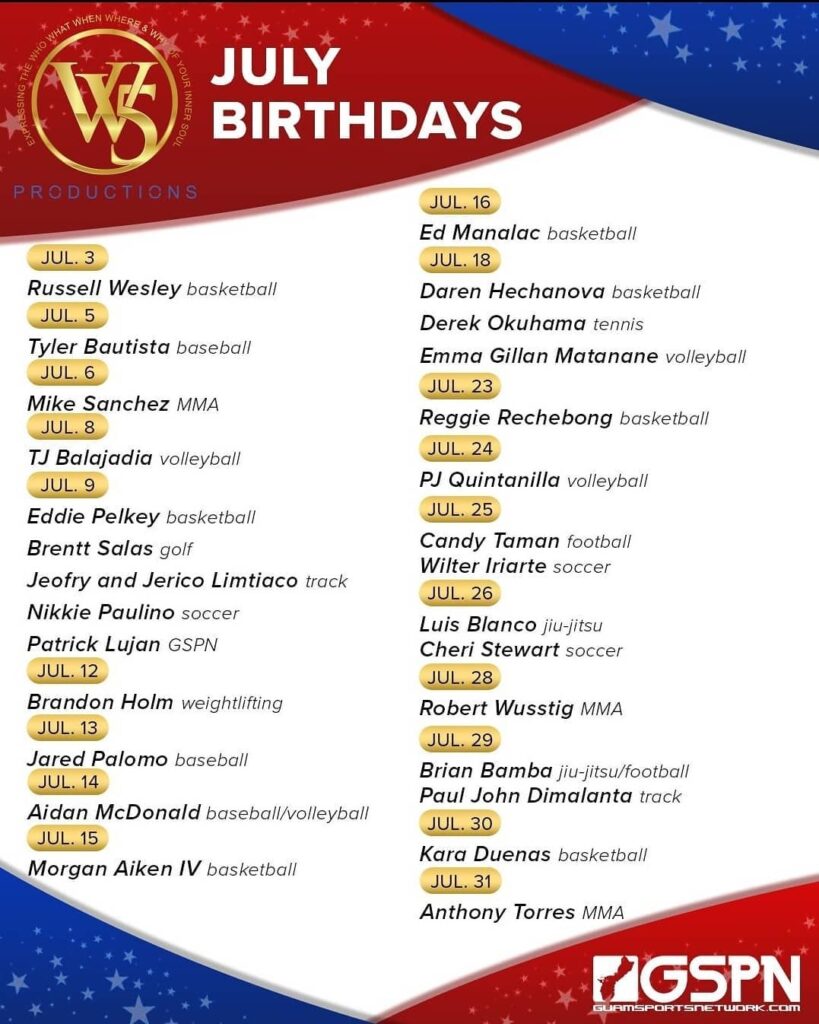 Foody's Fun Facts
Favorites From Year 2
COMING SOON …
2020 Tokyo Olympics
UFC Fight
Aug 1: Trevin Jones vs. Tony Kelley
QUICK HITS
Nicole Cruz had a chance to take a photo with USA gymnast and GOAT Simone Biles on her way to the Tokyo Olympics. How cool!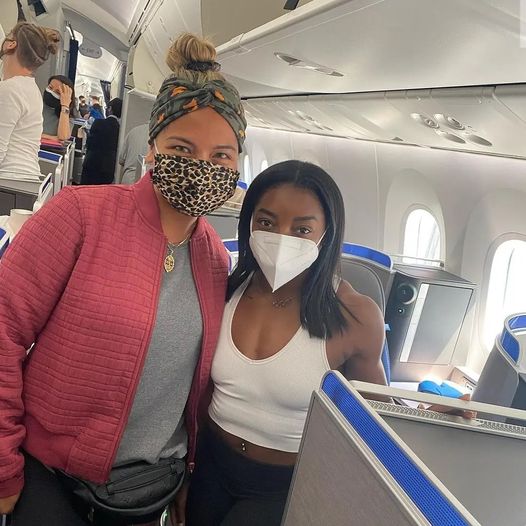 ————————————–
Guam's Joey Miranda met up with Chamorrita Softball Star Bubba Nickles and Olympic Teammates Dejah Mulipola and Aubree Munro out in Tokyo!
Photo credit: GNOC