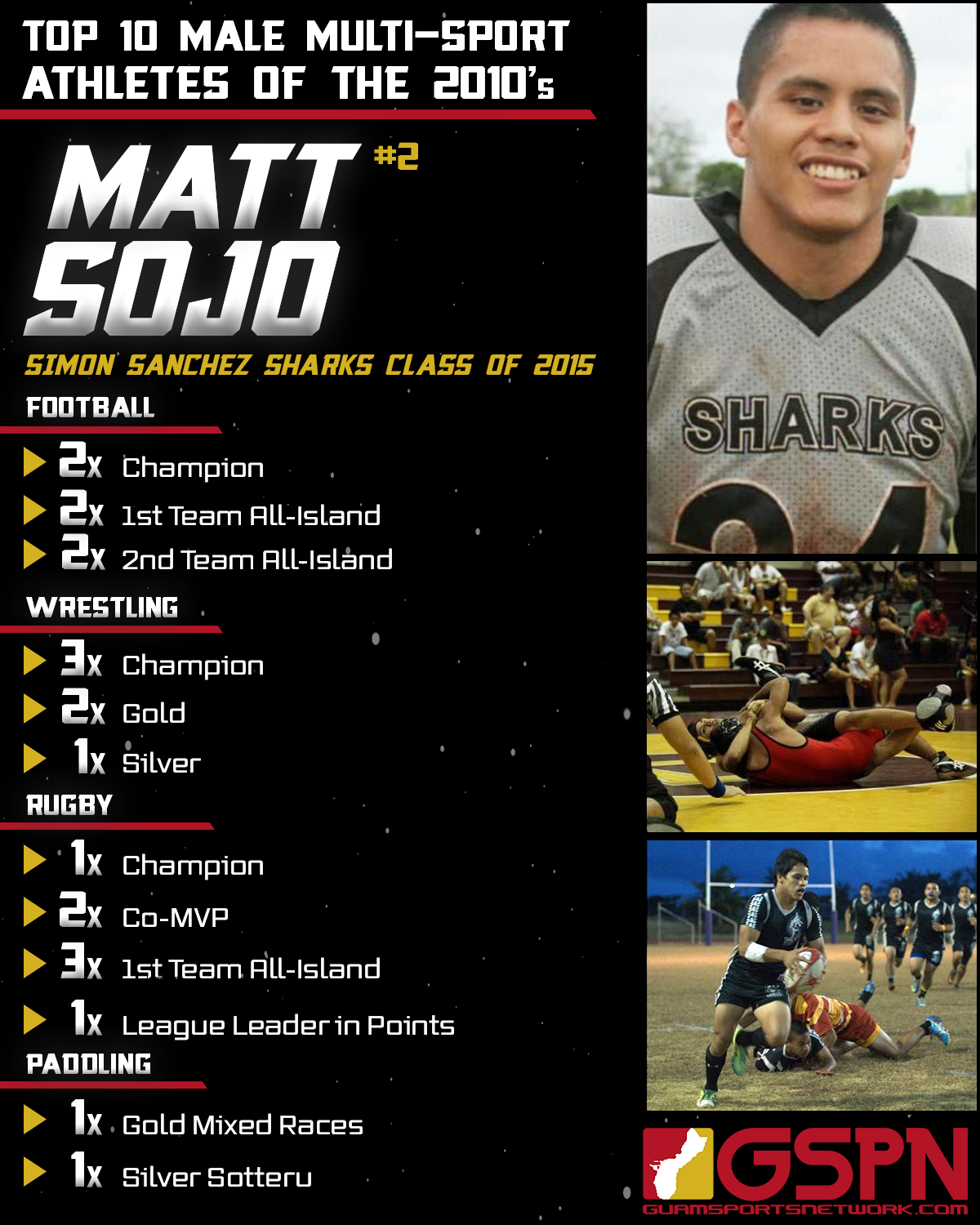 By Robert Balajadia
With high school sports officially wrapped up for 2020, we've decided to count down the top 10 male and female multi-sport high school athletes of the past decade (2010-2020). This list centers around athletes who were not only dominant in one sport, but were multi-faceted stars every time they took the field/court.
Following the direction of a list created by GSPN's Patrick Lujan four years ago on the best multi-sport athletes ever on Guam, 'like sports' (like cross country and track & field) will be ranked the same.
We continue the countdown with boys #2 Matt Sojo of the 2015 Sanchez Sharks.
Matt Sojo was the type of football player that never left the field. It wasn't due to a limited roster either, Sojo was just a plug-and-play kind of athlete that made your team better as long as he was on the field. Whether the team needed a half back to hit a hole, or an offensive lineman to make that hole, Sojo was your guy. Sojo played linebacker for the Sharks as well, being in the upper echelon of the league getting selected All-Island twice. Sojo's versatility played a big part in the team's back-to-back titles in 2014 and 2015.
Sojo's versatility on the football field translated to one of the best in rugby earning Co-MVP on two separate occasions. A sure tackler and a hard to bring down ball carrier made Sojo standout each game. Matt and the Sharks would validate their regular season dominance with a rugby title in 2014.
As if two contact sports weren't enough, Matt Sojo was also one of the Sharks best wrestlers. In each of their title winning seasons, Sojo was competing for a gold medal. He took silver as a sophomore, but never settled for less than gold as an upperclassman.
To round out the year, Sojo saddled up for the Sharks paddling team that is always in the conversation with the best in the league. The team would take gold in the mixed races while finishing 2nd place as a team.
Sojo's Accolades
Football – 2x Champion, 2x 1st Team All-Island (offense), 3x 2nd Team All-Island (defense)
Rugby – 1x Champion, 2x Co-MVP, 3x 1st Team All-Island, 1x League leader in points
Wrestling – 3x Champion, 2x Gold Medalist, 1x Silver Medalist
Paddling – 1x Gold Mixed Races, 2x Silver Sotteru
Sojo's reaction to making the list
"I'm just shocked… I really couldn't have done this without my teammates."
Previous revealed athletes
3. Aiden Ferrara
4. Xavier Naputi
5. Valiant Borja
6. Matias Calvo
7. Boise Hocog
8. Marlon Evans
9. Juan King Jr.
10. Nathaniel Kyle Gaitan
Honorable Mention
Dylan Naputi (GW)
Ryan Quitugua (GW)
Devin Maluwelmeng (GW)
Noah Quichocho (GW)
Shelby Meeks (GW)
Damon Hocog (GW)
Bryton Cepeda (FD)
Noah Diaz (FD)
Roy Taimanglo (FD)
Jake Benito (FD)
RJ Rokop (FD)
Jujuan King (Guam High)
Aaron Blaz (Okkodo)
Maks Kepwe (Okkodo)
Dezdin Fikes (Okkodo)
LJ Aguon (Guam High)
Nolan Chamberlain (JFK)
Wayne Blas (JFK)
Jonah Hahn (JFK)
Patrick Cruz  (Sanchez)
Wes Shiroma (Sanchez)
Josh Sablan (Sanchez)
Kobe Sotelo (Harvest)
Sean Evans (Harvest)
Mason Caldwell (Harvest)
Takumi Simon (St. John's)
Brandon Miranda (St. Paul)

National Guard Athletes
Scott Eclavea
Scott Eclavea is a jiu-jitsu black belt and an accomplished MMA fighter. The Guard has given him an outlet in combatives to display his martial art skills, where he's become a head instructor for that program. Eclavea has served since coming out of high school and the Guard has only changed his life for the better.
COMING SOON …
LIVE FOOTBALL ON GSPN
Semifinals: #1 FD vs. #4 Southern (Friday 7 pm)
GSPN Preseason Basketball Tournament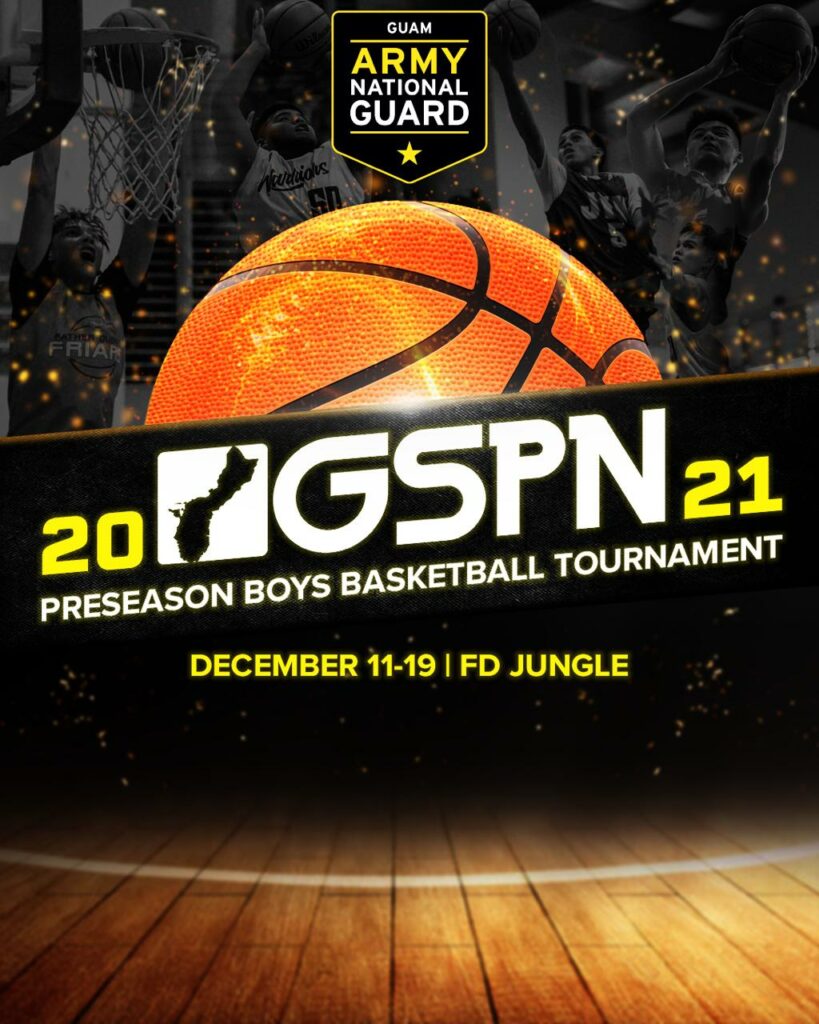 QUICK HITS
Robert Artero Maley recently captured the 182-lb. division of the Costa Mesa Classic, winning via pin in 4 out of 5 matches. Robert is a 4-year varsity wrestler at San Clemente HS (Tritons) and is currently ranked 15th in California's high school scene. He is the son of Jacque Artero Maley (AOLG 1991).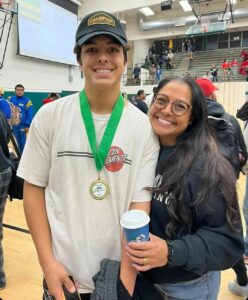 ——————————————–
Pat Taitano and Rich Abiador, teammates on the 1995 SPG volleyball team, have led their high school girls volleyball teams to the Washington State Championships in Yakima, Wa.
Taitano coaches Mt. Rainier High while Abiador leads North Creek High.
There for support is Dr. Mark Perez, a health professor at Central Washington University and a former UOG volleyball player.