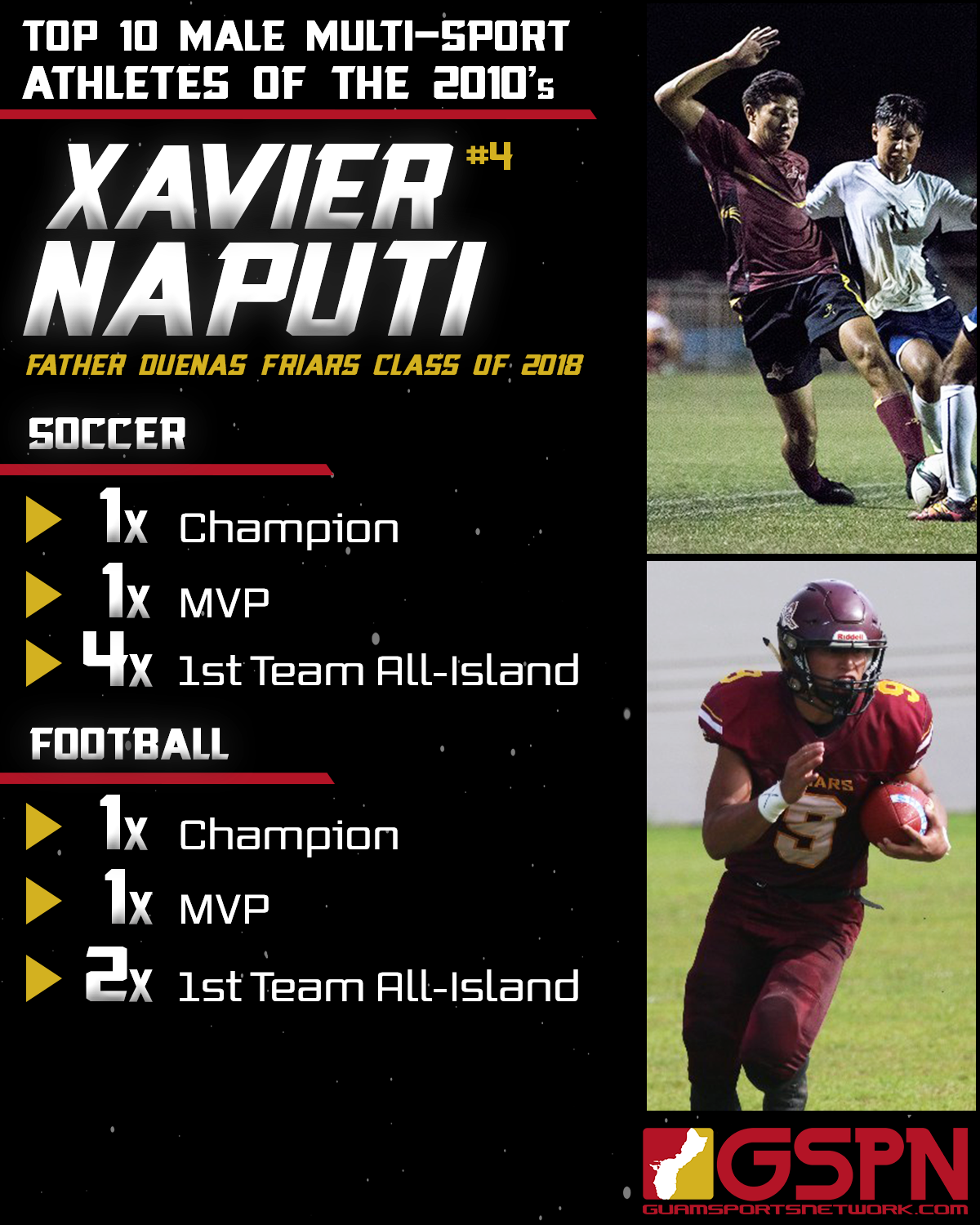 By Robert Balajadia
With high school sports officially wrapped up for 2020, we've decided to count down the top 10 male and female multi-sport high school athletes of the past decade (2010-2020). This list centers around athletes who were not only dominant in one sport, but were multi-faceted stars every time they took the field/court.
Following the direction of a list created by GSPN's Patrick Lujan four years ago on the best multi-sport athletes ever on Guam, 'like sports' (like cross country and track & field) will be ranked the same.
We continue the countdown with boys #4 Xavier Naputi of the 2018 FD Friars and former GW Gecko.
When you get collegiate offers for both football and soccer then it's apparent you have a wide range of athletic ability.
Xavier Naputi started his high school career as a GW Gecko, raking in accolades for soccer every season seeing nothing less than a 1st Team All-Island selection. Naputi would help keep the Geckos in the upper echelon of teams while getting MVP honors his junior season. Naputi would transfer to FD his senior year where he'd continue his success, winning a title with the team in a shootout vs. JFK.
Naputi was an all-purpose threat when playing for the Geckos, returning punts, catching touchdowns and even playing in the secondary to make use of his speed. In his one year with the Friars, Naputi would become the leagues leading touchdown receptionist while earning the honor of MVP with his consistent and un-guardable play. Xavier hung four touchdowns on the Sanchez Sharks in just the first half, a theme that would follow throughout the season.
Xavier decided to pursue football after high school taking a spot on the North Park roster.
Xavier's high school accolades
Soccer – 1x Champion, 1x MVP, 4x All-Island 1st Team
Football – 1x Champion, 1x MVP, 2x All-Island 1st Team
Xavier's reaction to making the list
"Wow! I'm honored. Guam has so many tremendous athletes right now. I'm shocked to be a part of [the list]. I wish I had more to say but I'm in awe right now."
Previous revealed athletes
5. Valiant Borja
6. Matias Calvo
7. Boise Hocog
8. Marlon Evans
9. Juan King Jr.
10. Nathaniel Kyle Gaitan
Honorable Mention
Dylan Naputi (GW)
Ryan Quitugua (GW)
Devin Maluwelmeng (GW)
Noah Quichicho (GW)
Shelby Meeks (GW)
Damon Hocog (GW)
Bryton Cepeda (FD)
Noah Diaz (FD)
Roy Taimanglo (FD)
Jake Benito (FD)
RJ Rokop (FD)
Jujuan King (Guam High)
Aaron Blaz (Okkodo)
Maks Kepwe (Okkodo)
Dezdin Fikes (Okkodo)
LJ Aguon (Guam High)
Nolan Chamberlain (JFK)
Wayne Blas (JFK)
Jonah Hahn (JFK)
Patrick Cruz  (Sanchez)
Wes Shiroma (Sanchez)
Josh Sablan (Sanchez)
Kobe Sotelo (Harvest)
Sean Evans (Harvest)
Mason Caldwell (Harvest)
Takumi Simon (St. John's)
Brandon Miranda (St. Paul)