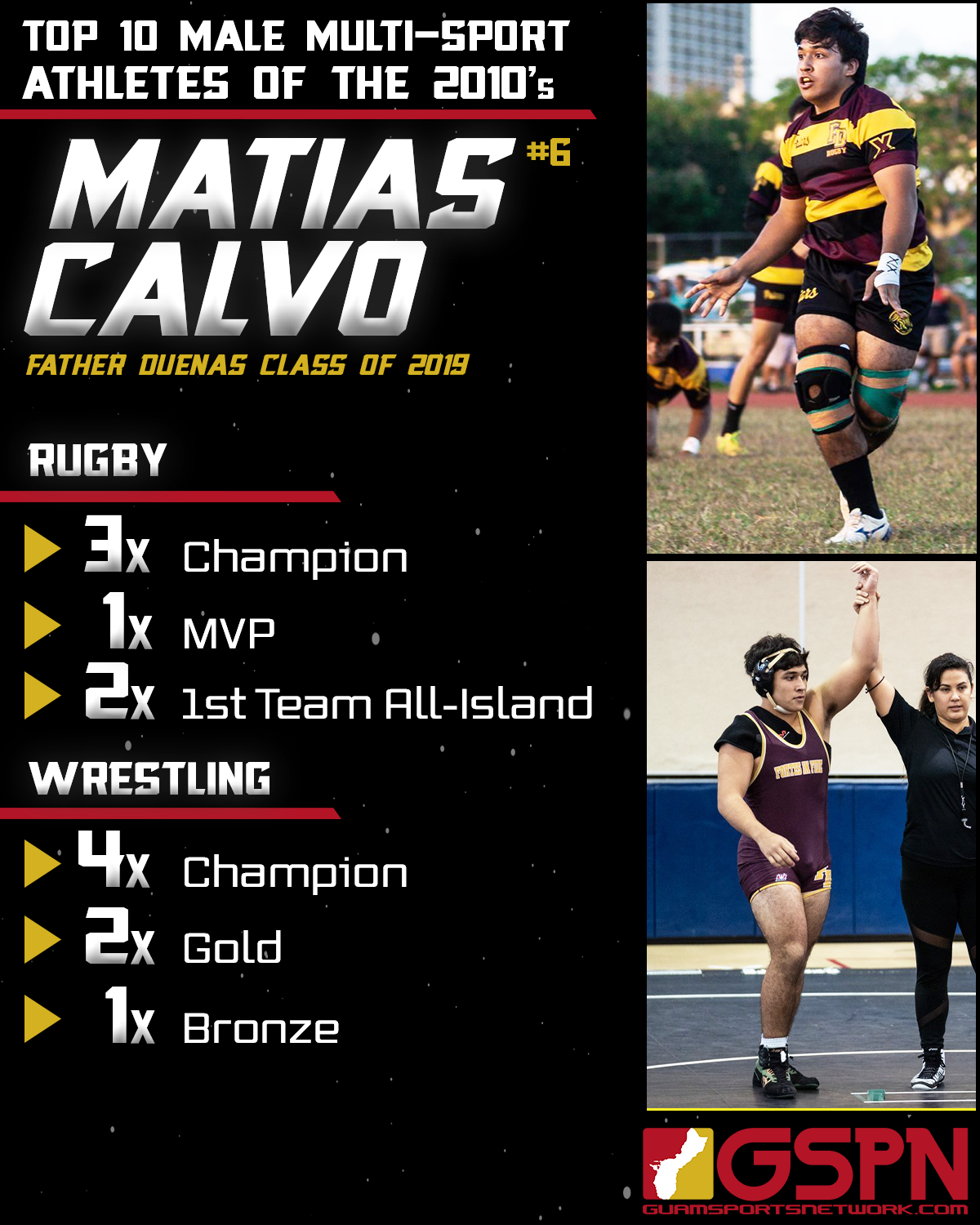 By Robert Balajadia
With high school sports officially wrapped up for 2020, we've decided to count down the top 10 male and female multi-sport high school athletes of the past decade (2010-2020). This list centers around athletes who were not only dominant in one sport, but were multi-faceted stars every time they took the field/court.
Following the direction of a list created by GSPN's Patrick Lujan four years ago on the best multi-sport athletes ever on Guam, 'like sports' (like cross country and track & field) will be ranked the same.
We continue the countdown with boys #6 Matias Calvo of the FD Friars.
The youngest brother of a prolific set of wrestlers and the son of 'The Godfather of Rugby' in Leonard Calvo, Matias managed to find a successful balance between both sports.
Matias found his true passion rugby. He was a fixture in FD's three title winning seasons, winning MVP his junior year along with being the league leader in points scored. Calvo was injured his senior season missing more than half the year with his team finishing 2nd place.
When it came to wrestling, Matias held his own winning gold for two seasons and silver in one, always being in the mix at the top of his weight class. Matias was also integral in the teams ability to secure four straight wrestling titles with his gold medal performances being the difference on what has been very close score cards in the past three seasons.
Matias would further pursue rugby in college by committing to Dartmouth, a Division I rugby school that is tough to get into on academics alone.
Calvo's high school accolades
Rugby – 3x Champion, 1x MVP, 2x 1st Team All-Island
Wrestling – 4x Champion, 2x Gold, 1x Bronze
Shieh Scholar Athlete of the Year 2019
Calvo's reaction to being on the list
"Im' very humbled to be recognized for this list. This selection will motivate me to always do my best to represent Guam in my athletic and academic careers in the future. Si Yu'us Ma'ase!"
Previous revealed athletes
7. Boise Hocog
8. Marlon Evans
9. Juan King Jr.
10. Nathaniel Kyle Gaitan
Honorable Mention
Dylan Naputi (GW)
Ryan Quitugua (GW)
Devin Maluwelmeng (GW)
Noah Quichocho (GW)
Shelby Meeks (GW)
Damon Hocog (GW)
Bryton Cepeda (FD)
Noah Diaz (FD)
Roy Taimanglo (FD)
Jake Benito (FD)
RJ Rokop (FD)
Jujuan King (Guam High)
Aaron Blaz (Okkodo)
Maks Kepwe (Okkodo)
Dezdin Fikes (Okkodo)
LJ Aguon (Guam High)
Nolan Chamberlain (JFK)
Wayne Blas (JFK)
Jonah Hahn (JFK)
Patrick Cruz  (Sanchez)
Wes Shiroma (Sanchez)
Josh Sablan (Sanchez)
Kobe Sotelo (Harvest)
Sean Evans (Harvest)
Mason Caldwell (Harvest)
Takumi Simon (St. John's)
Brandon Miranda (St. Paul)