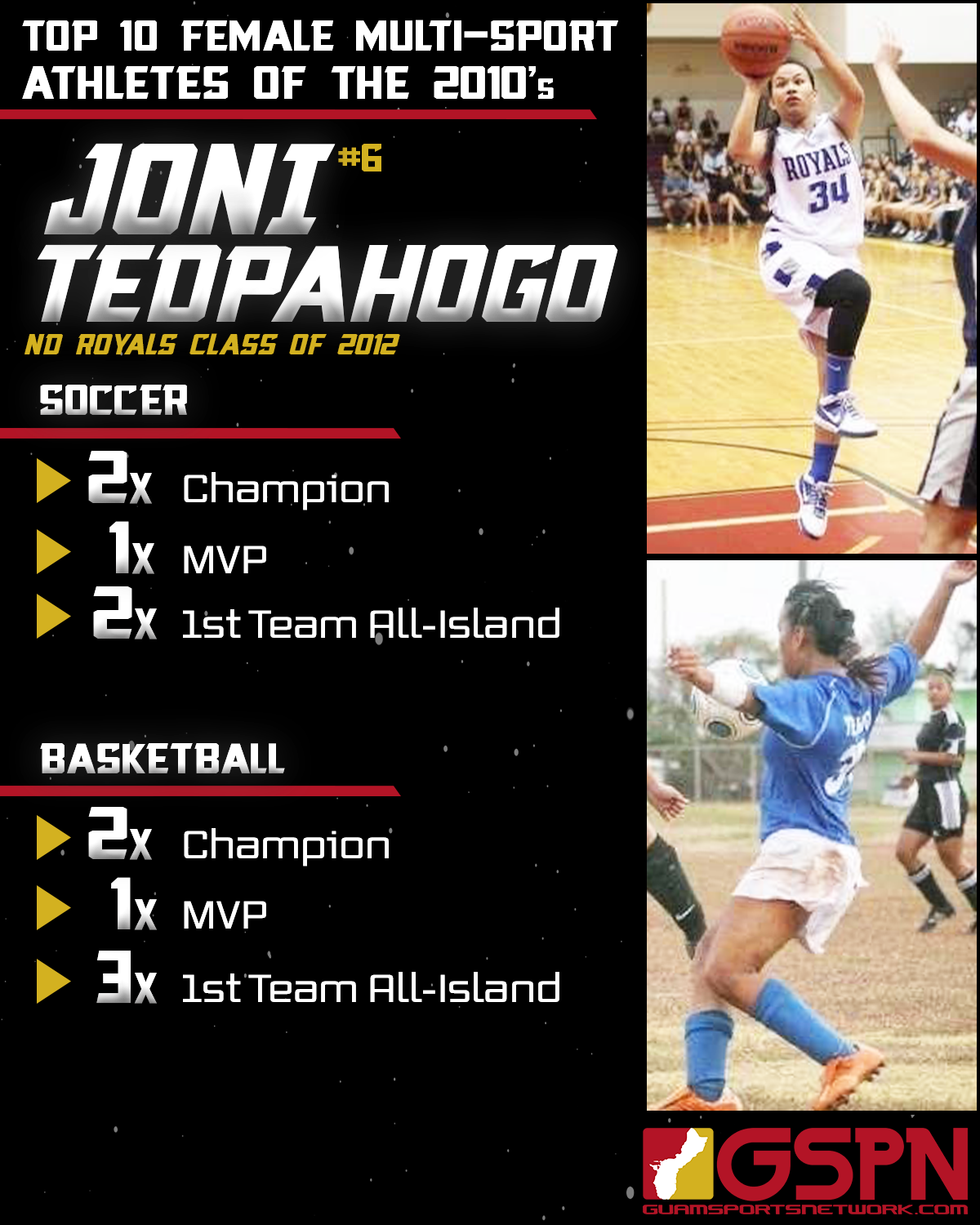 By Robert Balajadia
With high school sports officially wrapped up for 2020, we've decided to count down the top 10 male and female multi-sport high school athletes of the past decade (2010-2020). This list centers around athletes who were not only dominant in one sport, but were multi-faceted stars every time they took the field/court.
Following the direction of a list created by GSPN's Patrick Lujan four years ago on the best multi-sport athletes ever on Guam, 'like sports' (like cross country and track & field) will be ranked the same.
We continue the countdown with girls #6 Joni Tedpahogo of the 2012 ND Royals.
The early 2010's saw the becoming of one of the most dominant athletes in the generation in ND's Joni Tedpahogo. She brought excitement to soccer and basketball with an aggressive, yet skillful approach.
Tedpahogo won back-to-back basketball titles her sophomore and junior year, winning the MVP award a season later. She was an aggressive guard who wasn't afraid of contact, adept at finishing in heavily guarded lanes, but also loved getting her teammates involved.
On the soccer field, Joni was a dangerous forward who put goals away every chance she could. She would also win MVP her junior season, winning two titles in what would be the 4th straight for one of the many Royals Dynasties.
Joni's high school accolades
Soccer – 2x Champion, 1x MVP, 2x 1st Team All-Island
Basketball – 2x Champion, 1x MVP, 3x 1st Team All-Island
Joni's reaction to making the list
"After 2012 I slowly slipped away from sports because of adult hood. Being contacted after 8 years while I'm no longer living in Guam, I am truly and deeply humbled to be rewarded with this recognition."
Previous revealed athletes
7. Mia San Nicolas
8. Olivia Flores
9. Alison Bowman
10. Regina Shiroma
Honorable Mention
Mya Sanchez (Academy)
Brianna Benito (Academy)
Gemilie Ilao (Academy)
Dyonii Quitugua (GW)
Colleen Quinata (GW)
Sam Quinata (GW)
Tasha Palomo (GW)
Alexia Brown (Guam High)
Shania Bulala (Okkodo)
Regine Tugade (JFK)
Kiana Rivera (JFK)
Mary Gillan (ND)
Mames Blas (ND)
Brielle Meno (Southern)
Chloe Miranda (St. Paul)
Monica Giger (St. Paul)
Jenna Han (St. John's)
Hallie Wigsten (St. John's)