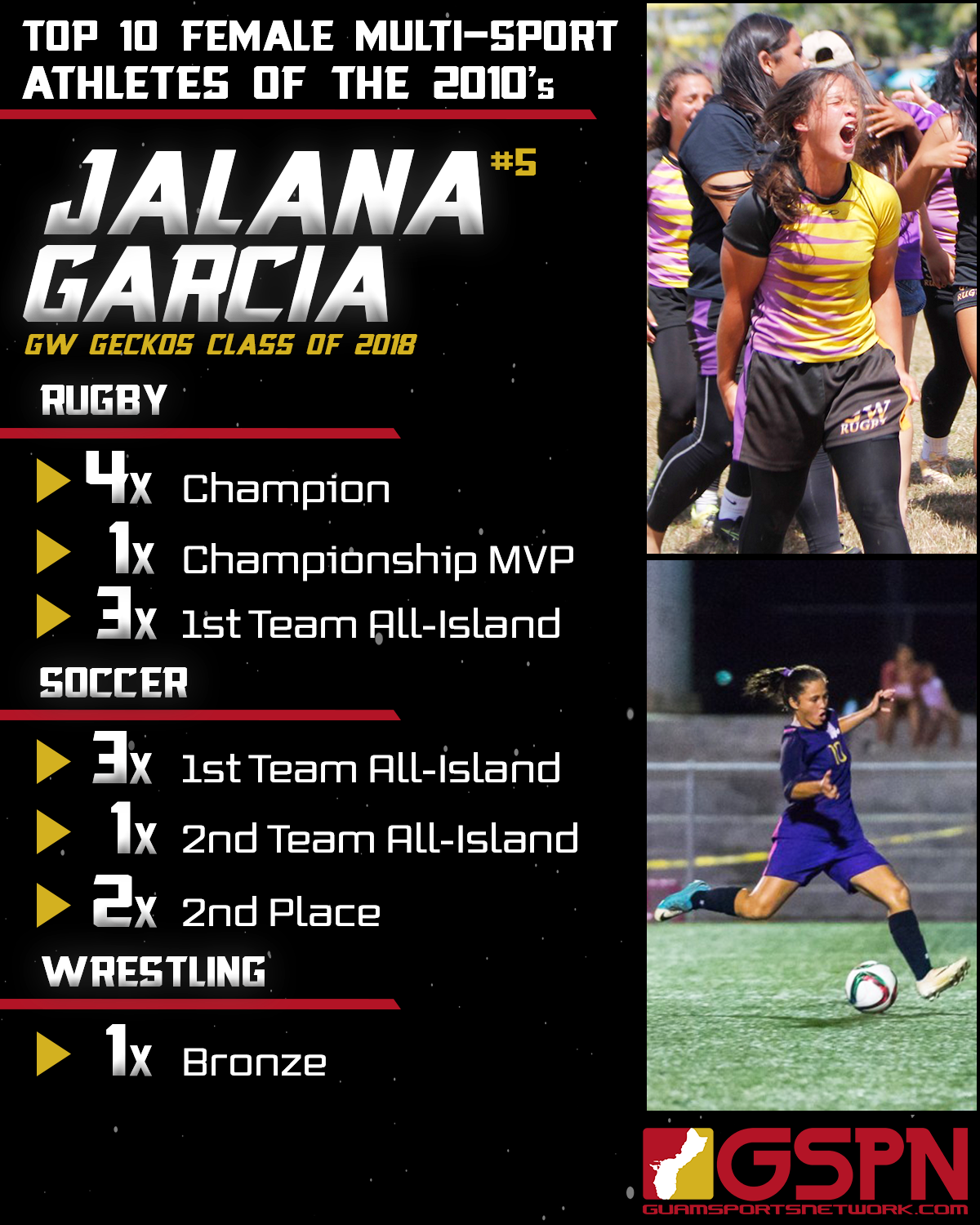 By Robert Balajadia
With high school sports officially wrapped up for 2020, we've decided to count down the top 10 male and female multi-sport high school athletes of the past decade (2010-2020). This list centers around athletes who were not only dominant in one sport, but were multi-faceted stars every time they took the field/court.
Following the direction of a list created by GSPN's Patrick Lujan four years ago on the best multi-sport athletes ever on Guam, 'like sports' (like cross country and track & field) will be ranked the same.
We continue the countdown with girls #5 Jalana Garcia of the 2018 GW Geckos.
Jalana Garcia was already taking an unconventional path towards athletic recognition before hitting high school as she was a perennial starter for the Giants in the GNYFF, at running back no less. Garcia had always possessed above average speed, but her game speed still appeared to be faster when watching her in person.
Garcia still competed in the GNYFF her freshman season of high school while transitioning to contact rugby, which was an instant fit for the GW star. Jalana was a force of nature in the sport, often appearing too fast in the field of sevens where she won a title to help push a seven-year Gecko dynasty, garnering 1st team appearances from sophomore year up. Her most memorable was in her final game of high school rugby, leading a 12-0 come from behind win for the title in 2018.
Jalana was also a dangerous forward in soccer getting three 1st team nods and just one 2nd team nod coming as close as 2nd place for a league title.
Garcia also dabbled in wrestling her senior season winning a bronze medal in the All-Island meet.
Jalana wouldn't be away from football long as she suited up to play in the GWTFL as a sophomore. She instantly became a difference maker for Legacy as she ran her way to three titles with the team in their already storied run, capping off her final year as the league MVP in a thrilling title game.
Garcia would join The Mount to further pursue rugby at the collegiate level, along with fellow Guamies Mara Tamayo and Lavona Aromin.
Jalana's high school accolades
Rugby – 4x Champion, 3x 1st Team All-Island, 1x Championship MVP
Soccer – 3x 1st Team All-Island, 1x 2nd Team All-Island, 2x 2nd Place Finish
Women's Football – 1x MVP, 2x Champion
Wrestling – Bronze Medal
U19 Rugby – MVP in Hong Kong Tournament
Jalana's reaction to making the list
"It is an honor to have made the list for the top 10 multi sport athletes of the decade. I wouldn't have been successful in my sports achievements without the coaches and teammates that I have, grooming me into the player that I am today. I greatly appreciate my family and friends because without their support and guidance throughout my years of playing sports, I would not be where I am today without their help. However, there is always room for improvement and I continue strive to be a better athlete and individual. Lastly, I would like to thank all my coaches, teammates, family, and friends for being a huge part of the athlete that I am today."
Previous revealed athletes
6. Joni Tedpahogo
7. Mia San Nicolas
8. Olivia Flores
9. Alison Bowman
10. Regina Shiroma
Honorable Mention
Mya Sanchez (Academy)
Brianna Benito (Academy)
Gemilie Ilao (Academy)
Dyonii Quitugua (GW)
Colleen Quinata (GW)
Sam Quinata (GW)
Tasha Palomo (GW)
Alexia Brown (Guam High)
Shania Bulala (Okkodo)
Regine Tugade (JFK)
Kiana Rivera (JFK)
Mary Gillan (ND)
Mames Blas (ND)
Brielle Meno (Southern)
Chloe Miranda (St. Paul)
Monica Giger (St. Paul)
Jenna Han (St. John's)
Hallie Wigsten (St. John's)