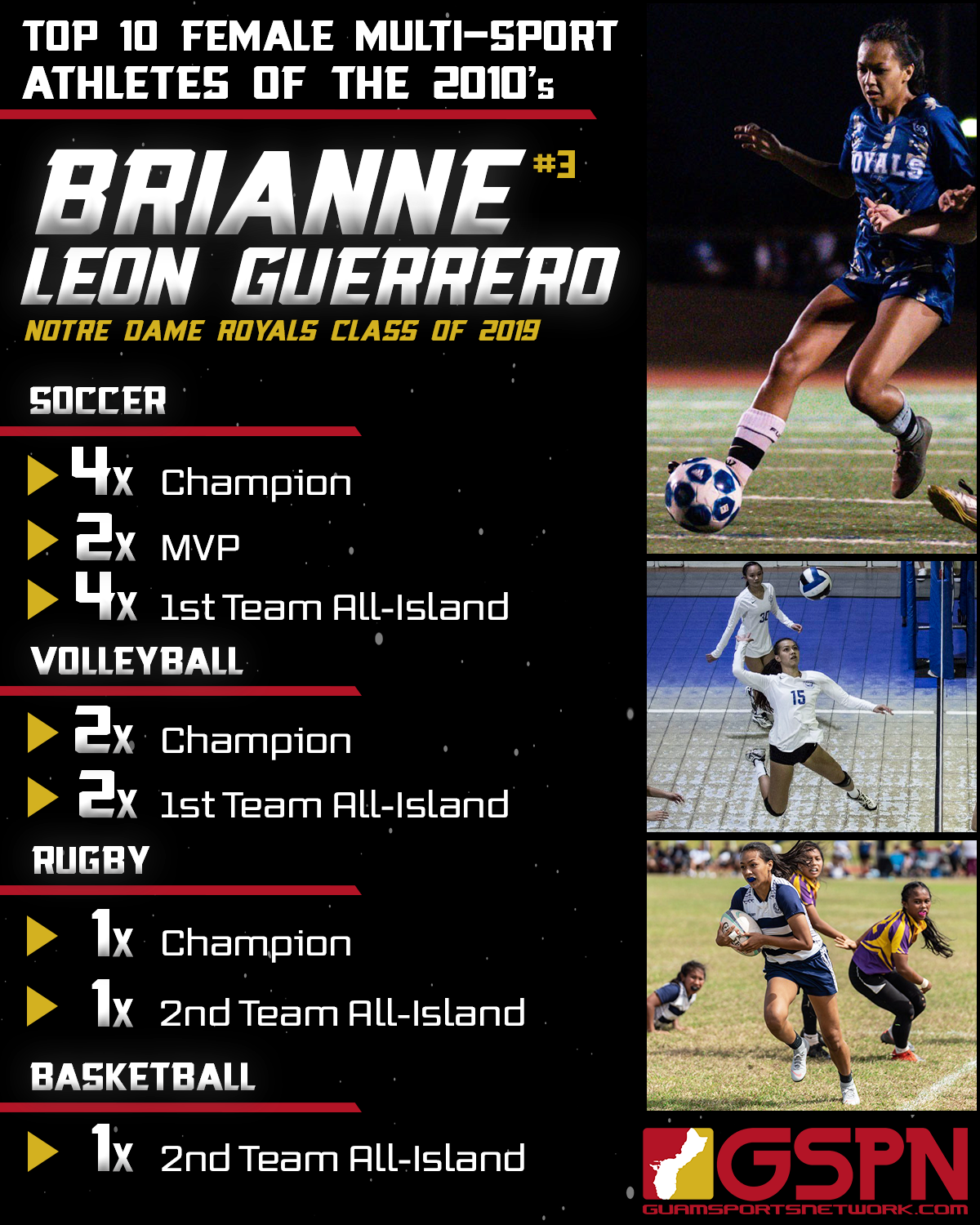 By Robert Balajadia
With high school sports officially wrapped up for 2020, we've decided to count down the top 10 male and female multi-sport high school athletes of the past decade (2010-2020). This list centers around athletes who were not only dominant in one sport, but were multi-faceted stars every time they took the field/court.
Following the direction of a list created by GSPN's Patrick Lujan four years ago on the best multi-sport athletes ever on Guam, 'like sports' (like cross country and track & field) will be ranked the same.
We continue the countdown with girls #3 Brianne Leon Guerrero of the 2019 ND Royals.
Everything Brianne Leon Guerrero touches turns to gold. She was a winner the instant she came into the league and had never stopped winning through out her four years in high school. Leon Guerrero is 7-1 in Championship Games throughout high school.
Throughout her entire four year career, Brianne and the Royals had only lost one soccer game. ND is widely known to be a power house in the sport of soccer and one of their most dominant runs took place from Brianne's freshman to senior year where they won four titles. As loaded as the roster was, Bri was still shining bright winning league MVP for back-to-back seasons. Plus she was the MVP for three of her title winning games proving her worth.
Brianne was also extremely effective as the opposite side hitter in volleyball after completing back-to-back titles in their junior and senior season. What many also would claim was a power house roster, Brianne still rose a top the league after claiming two 1st Team All-Island selections.
Leon Guerrero only decided to play rugby her senior season, and as you can expect, those Royals would win the 2019 title. Brianne spent a wealth of the season adjusting to the game, but she got better each week, saving her best performance for last where she scored two tries in the Championship Game to lead a comeback.
Brianne was an all-purpose basketball player and helped her Royals keep pace with the upper half of the league each season. Leon Guerrero's best year in the sport earned her a 2nd Team nod.
Brianne's high school accolades
Soccer – 4x Champion, 2x MVP, 3x 1st Team All-Island, 3x Championship MVP
Volleyball – 2x Champion, 2x 1st Team All-Island
Rugby – 1x Champion, 1x All-Island 1st Team
Basketball – 1x All Island 2nd Team
Brianne's reaction to making the list
"Being a multi-sport athlete helped me excel in every sport I played which resulted in numerous championships. It feels great to know that all my hard work and dedication to sports is recognized."
Previous revealed athletes
4. Paige Surber
5. Jalana Garcia
6. Joni Tedpahogo
7. Mia San Nicolas
8. Olivia Flores
9. Alison Bowman
10. Regina Shiroma
Honorable Mention
Mya Sanchez (Academy)
Brianna Benito (Academy)
Gemilie Ilao (Academy)
Dyonii Quitugua (GW)
Colleen Quinata (GW)
Sam Quinata (GW)
Tasha Palomo (GW)
Alexia Brown (Guam High)
Shania Bulala (Okkodo)
Regine Tugade (JFK)
Kiana Rivera (JFK)
Mary Gillan (ND)
Mames Blas (ND)
Brielle Meno (Southern)
Chloe Miranda (St. Paul)
Monica Giger (St. Paul)
Jenna Han (St. John's)
Hallie Wigsten (St. John's)