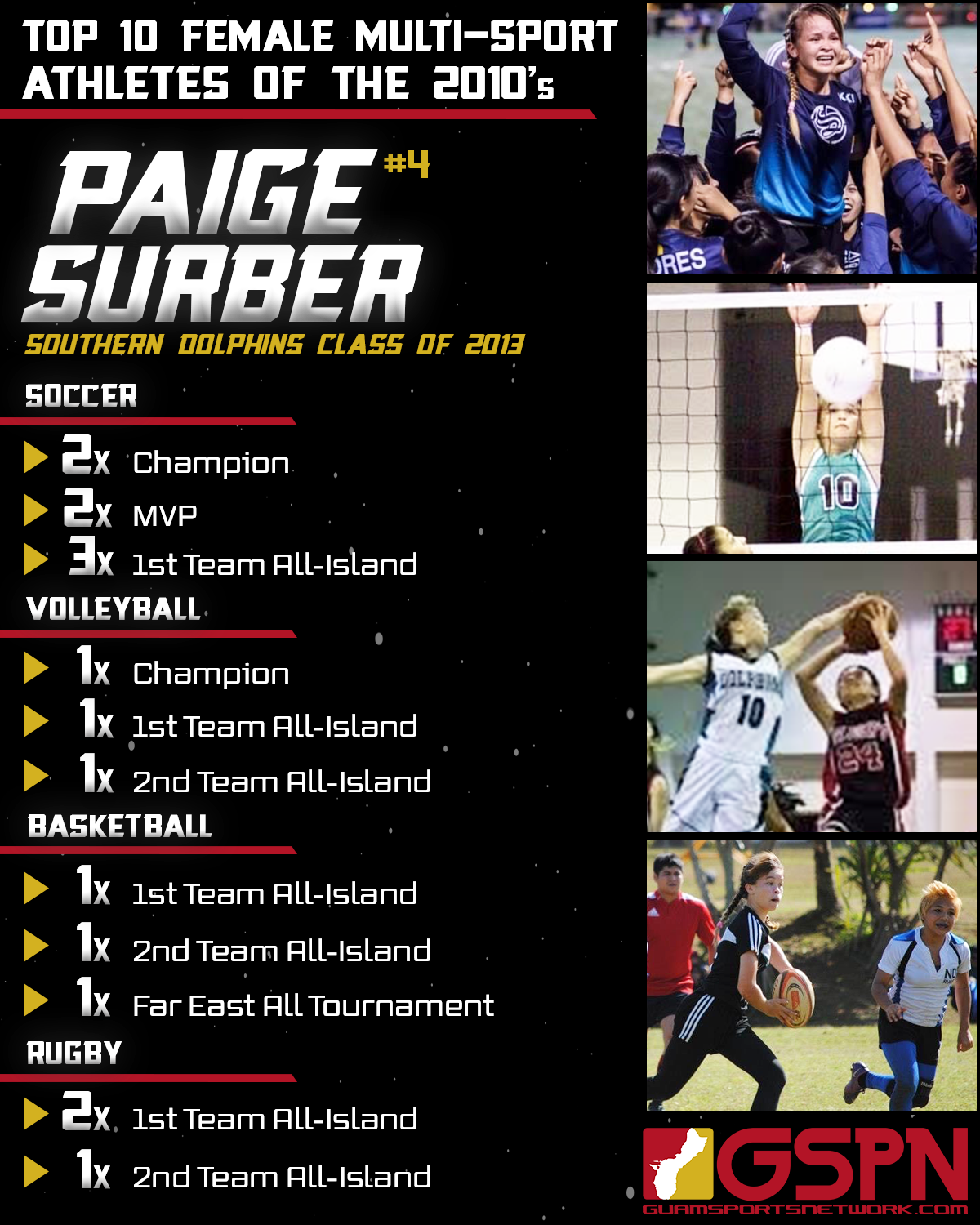 By Robert Balajadia
With high school sports officially wrapped up for 2020, we've decided to count down the top 10 male and female multi-sport high school athletes of the past decade (2010-2020). This list centers around athletes who were not only dominant in one sport, but were multi-faceted stars every time they took the field/court.
Following the direction of a list created by GSPN's Patrick Lujan four years ago on the best multi-sport athletes ever on Guam, 'like sports' (like cross country and track & field) will be ranked the same.
We continue the countdown with girls #4 Paige Surber of the 2013 Southern Dolphins.
A generational talent with leadership skills that could inspire any generation, Paige Surber often led by example. Paige is the voice of any team she is a part of and her no-nonsense approach has not only brought the best out of her, but often her teammates as well.
Paige was the 'Queen of the soccer field' her junior and senior seasons winning back-to-back titles as well as back-to-back MVP honors. Her performance in the 2013 title game was memorable and emotional with a goal and assist to seal the teams repeat. She suited up for the Mini Masakada since the age of 15 and has been playing with the women's team since.
Surber's senior season was also highlighted by a volleyball title, working as one of the leagues best hitters as she took center stage in the title game against the GW Geckos.
Paige even stood out in International play earning a spot on the All-Tournament Basketball team in 2012 with her team getting as high as a 3rd place finish her senior year.
Paige would eventually work her way up the rugby ranks getting honorable mention her freshman year to a two time 1st team selection her junior and senior seasons.
After high school, Paige continued to live an active lifestyle playing women's tackle football, where she'd win three straight titles with Team Legacy along with a Rookie of the Year honors. She can be found coaching up Southern from soccer to rugby while also spending time with the Women's National Rugby team, so Surber's sports story is still being written!
Paige's high school accolades
Soccer: 2x Champion, 2x MVP, 3x 1st Team All-Island
Volleyball: 1x Champion, 1x 1st Team, 1x 2nd Team
Basketball: 1x 1st Team All Island, 1x 2nd Team, 1x Far East All Tournament Team
Rugby: 2x 1st Team All Island, 1x 2nd Team All Island
*National Women's Soccer Team since 15
Paige's reaction to making the list
"This is such an honor for me honestly. It just shows that hard work, sacrificing  and dedication will always pay off. All the hours, blood sweat and tears, putting in work during practices and then finally show casing your talent through game day or even being called up to represent Guåhan is a humbling honor or feeling. It makes me feel honored to be on the list and reminds me that as long as you work hard for something you love and feel passionate about, it'll never go unrecognized
It's been an amazing flashback to see my journey since I was old enough to pick up a soccer ball, a rugby ball, a volleyball, a basketball and a football. Being a multi sport athlete is ridiculously crazy, cause not many people can have the privilege of saying I did that or I worked hard to be at the top for people to finally recognize the athlete I worked my ass off to become. Not many people know that being a multi sport athlete comes with responsibilities and sacrificing your time with family, friends and other hobbies you want to squeeze into your schedule, but then you really how busy you are with multiple practices either it's school leagues or outside league and my career of being a multi sport athlete consisted of both. Being an athlete in general I learned that you got to be all in, you can't half-ass anything or you get half as results, you have to work hard for what you want, turn your weaknesses into strengths, and always remain humble in everything you do.
I  just want to thank my mom, my family, my friends, my coaches, Southern Cobras, My Southern Top Team Familia and my teammates, but especially to God for blessing me with the opportunities that sports has given me, blessing me with athletic abilities to do the play the sports I love and for opening doors for my future. Always blessed for all my achievements throughout my sports career and I thank god everyday for keeping me health. Also for getting me through the hard days while I was sick, and allowing me to grow as an athlete and a person, but for also teaching me to come out stronger than I was before. I'm thankful for the friendships I built along the way, for the amazing coaches I had the pleasure of being coached under and for the fans that always supported me throughout my entire journey. God bless everyone and the athletes to come. "
Previous revealed athletes
5. Jalana Garcia
6. Joni Tedpahogo
7. Mia San Nicolas
8. Olivia Flores
9. Alison Bowman
10. Regina Shiroma
Honorable Mention
Mya Sanchez (Academy)
Brianna Benito (Academy)
Gemilie Ilao (Academy)
Dyonii Quitugua (GW)
Colleen Quinata (GW)
Sam Quinata (GW)
Tasha Palomo (GW)
Alexia Brown (Guam High)
Shania Bulala (Okkodo)
Regine Tugade (JFK)
Kiana Rivera (JFK)
Mary Gillan (ND)
Mames Blas (ND)
Brielle Meno (Southern)
Chloe Miranda (St. Paul)
Monica Giger (St. Paul)
Jenna Han (St. John's)
Hallie Wigsten (St. John's)

COMING SOON …
High school girls volleyball playoffs
Brawl 3: Oct 13
Guam's Strongest Man and Woman Competition October 29
QUICK HITS
The Figo Islanders 40s women's softball team took gold in the Senior Softball World Championship in Las Vegas. Figo came out of the loser's bracket and beat the Arizona Belles 17-3 in the AA division championship game Sunday afternoon.
Other Guam teams that played in the 40s tournament were: Team SOTTA (women's) and Bud Light Guam, Friars 671 and Sindalun Guahan (men's).
Sindalu finished a respectable 4th out of 24 AAA division teams.