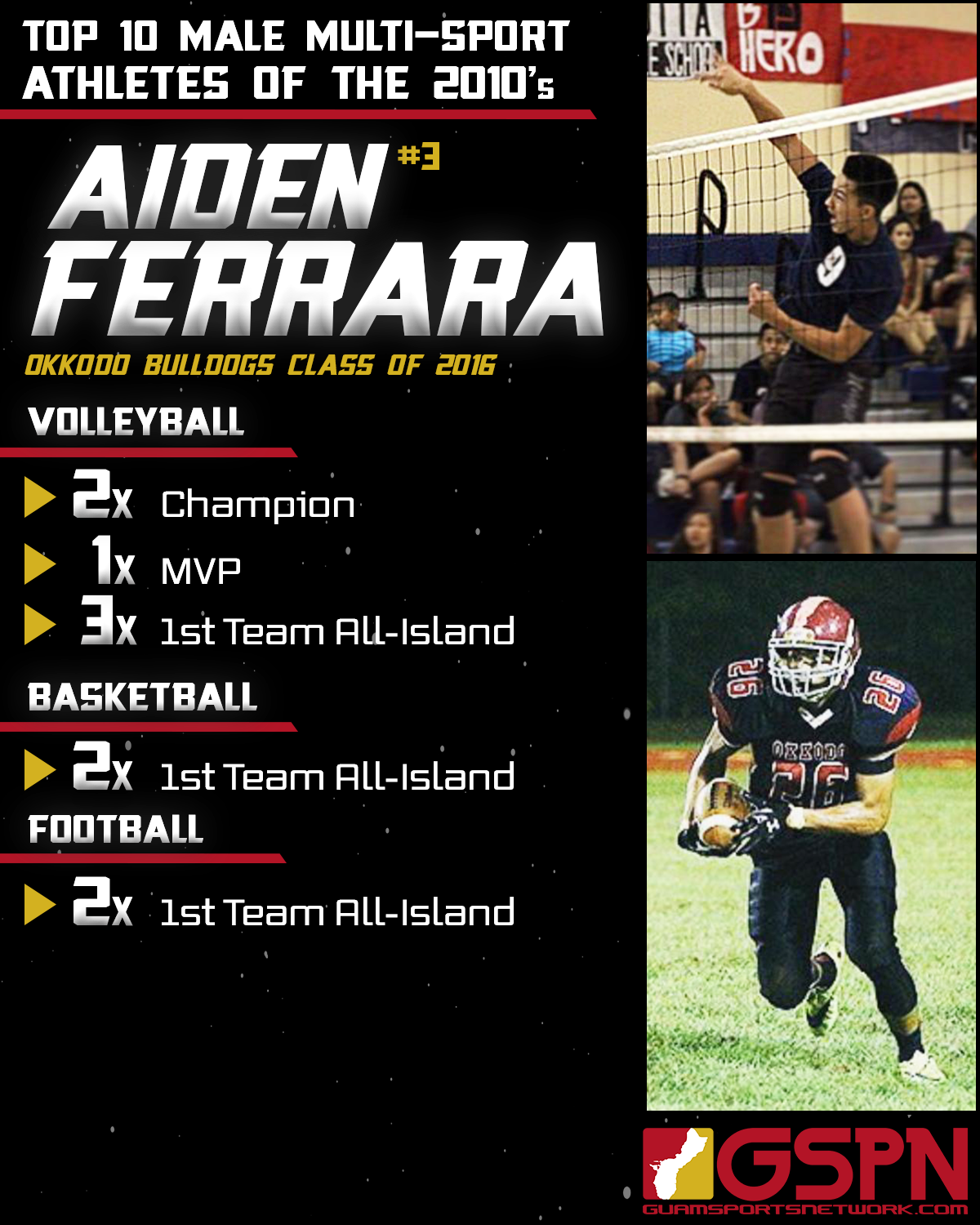 By Robert Balajadia
With high school sports officially wrapped up for 2020, we've decided to count down the top 10 male and female multi-sport high school athletes of the past decade (2010-2020). This list centers around athletes who were not only dominant in one sport, but were multi-faceted stars every time they took the field/court.
Following the direction of a list created by GSPN's Patrick Lujan four years ago on the best multi-sport athletes ever on Guam, 'like sports' (like cross country and track & field) will be ranked the same.
We continue the countdown with boys #3 Aiden Ferrara of the 2016 Okkodo Bulldogs.
Not many took off like Aiden Ferrara did in high school volleyball over the past decade and the two-time champion and one-year MVP was hard to stop. With his height and leaping ability, Ferrara would put kills away like not many could and his play in each of the two Championship Games was a sight to see.
Aiden's play on the football field was consistent, earning him a spot as one of the best receivers ever in the young history of the Okkodo Bulldogs (established in 2009). Aiden was a two-time 1st team All-Island selection, earning a spot as a football All-Star as well.
Ferrara was a large part of the Bulldog basketball team after climbing to the final four on two different occasions. Ferrara led the team in scoring while securing back-to-back selections as a 1st Team Forward.
Aiden also spent time playing soccer to complete a four-year athletic term earning three All-Island 2nd Team selections.
Ferrara's high school accolades
Volleyball – 2x Champion, 1x MVP, 3x 1st Team All-Island
Basketball – 2x 1st Team All-Island, x1 MVP All-Island Basketball Tournament
Football – 2x 1st Team All-Island
Soccer – 3x All-Island 2nd Team
Ferrara's reaction to making the list
"It's a honor! Playing sports throughout my life instilled teamwork, discipline and definitely kept me out of trouble. My high school career was very memorable. I hope the future generations of athletes seek success and always remember to have fun while playing the sport they love."
Previous revealed athletes
4. Xavier Naputi
5. Valiant Borja
6. Matias Calvo
7. Boise Hocog
8. Marlon Evans
9. Juan King Jr.
10. Nathaniel Kyle Gaitan
Honorable Mention
Dylan Naputi (GW)
Ryan Quitugua (GW)
Devin Maluwelmeng (GW)
Noah Quichocho (GW)
Shelby Meeks (GW)
Damon Hocog (GW)
Bryton Cepeda (FD)
Noah Diaz (FD)
Roy Taimanglo (FD)
Jake Benito (FD)
RJ Rokop (FD)
Jujuan King (Guam High)
Aaron Blaz (Okkodo)
Maks Kepwe (Okkodo)
Dezdin Fikes (Okkodo)
LJ Aguon (Guam High)
Nolan Chamberlain (JFK)
Wayne Blas (JFK)
Jonah Hahn (JFK)
Patrick Cruz  (Sanchez)
Wes Shiroma (Sanchez)
Josh Sablan (Sanchez)
Kobe Sotelo (Harvest)
Sean Evans (Harvest)
Mason Caldwell (Harvest)
Takumi Simon (St. John's)
Brandon Miranda (St. Paul)

Athletes Birthdays by W5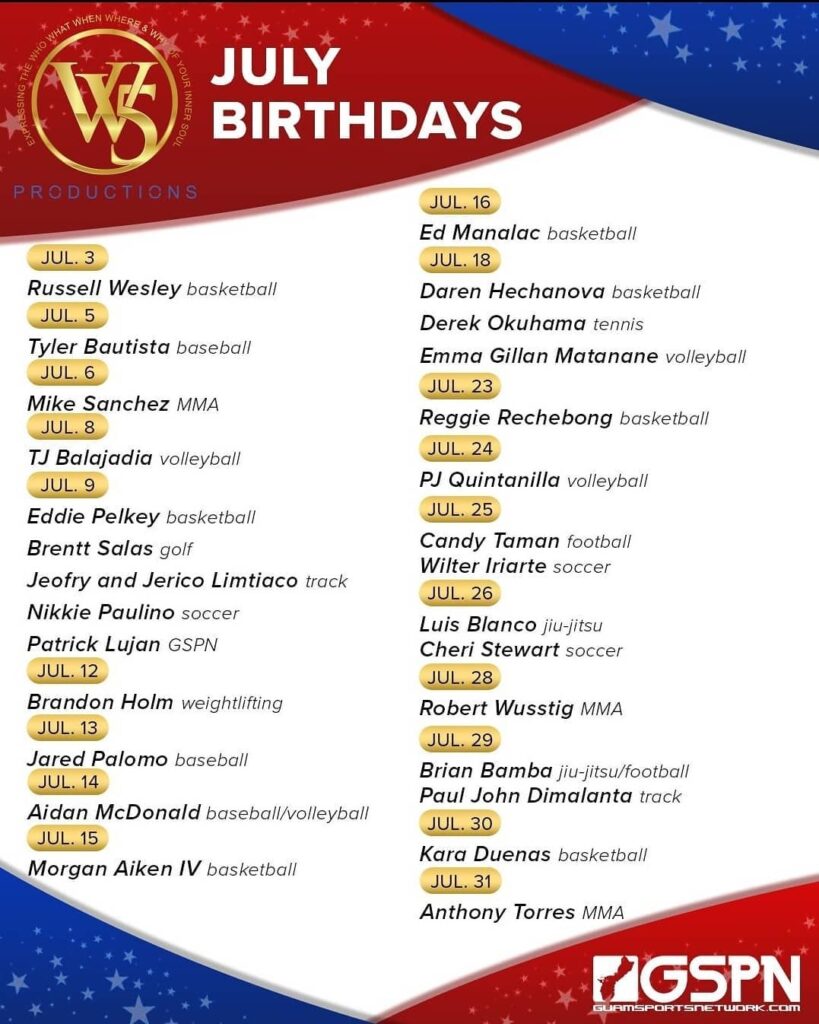 Foody's Fun Facts
Favorites From Year 2
COMING SOON …
2020 Tokyo Olympics
UFC Fight
Aug 1: Trevin Jones vs. Tony Kelley
QUICK HITS
——————————————————–
Guam's Joey Miranda met up with Chamorrita Softball Star Bubba Nickles and Olympic Teammates Dejah Mulipola and Aubree Munro out in Tokyo as we approach the Olympics!
Photo credit: GNOC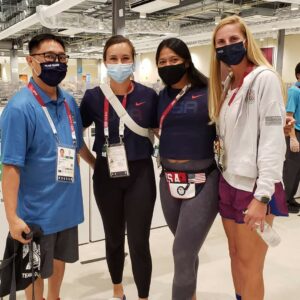 ——————————————————–
Former Guam resident Tre Taylor has committed to play cornerback for the Southwestern Junior College Jags.
Turner attended Harvest and FD before transferring to Hawaii where he played for Saint Louis, the 5th ranked team in the nation.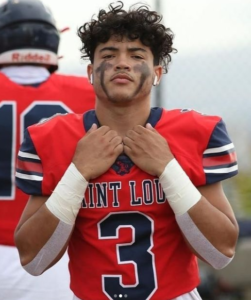 ——————————————————–
The big man Zach Banner getting to throw out the first pitch earlier today for the Pittsburgh Pirates!