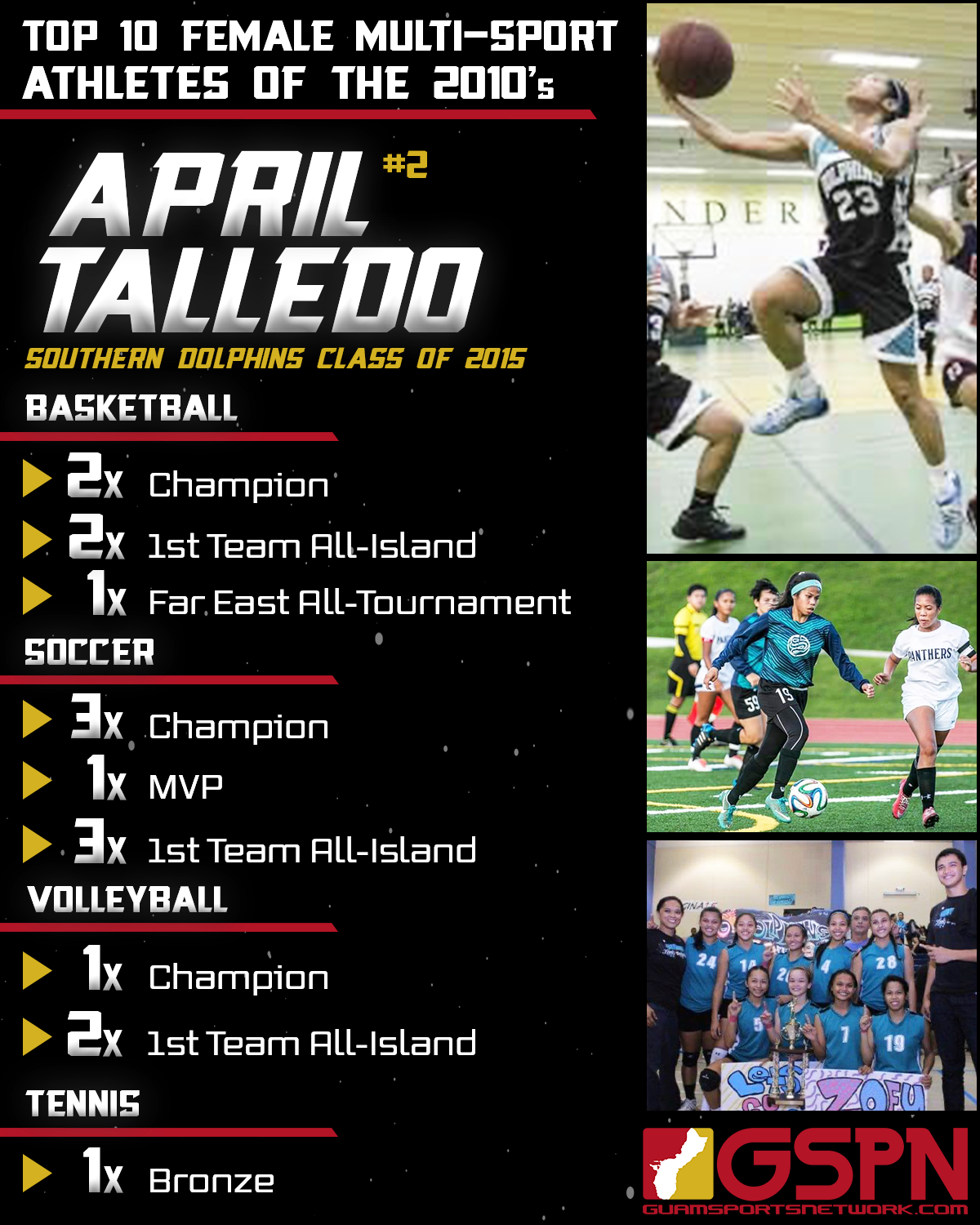 By Robert Balajadia
With high school sports officially wrapped up for 2020, we've decided to count down the top 10 male and female multi-sport high school athletes of the past decade (2010-2020). This list centers around athletes who were not only dominant in one sport, but were multi-faceted stars every time they took the field/court.
Following the direction of a list created by GSPN's Patrick Lujan four years ago on the best multi-sport athletes ever on Guam, 'like sports' (like cross country and track & field) will be ranked the same.
We continue the countdown with girls #2 April Talledo of the 2015 Southern Dolphins.
Don't be fooled by her small stature, Southern's April 'Speedy' Talledo has proven to be the most dangerous person on any field or court she steps on. Talledo might also be the most overlooked athlete as she's appeared to be second, and sometimes third, fiddle when it comes to the selection of individual accolades. That hasn't phased her one bit as she has only been concerned about winning championships, something she's found repeated success in every year.
After the Paige Surber era, April came in and gave the Dolphins an immediate successor in soccer. She would capture MVP her senior season while completing a third straight successful title run, scoring the game's lone goal in the championship game, one of her many 'big-time' moments. She wouldn't be denied the recognition in soccer, being selected to 1stTeams for three years.
When it came to basketball, she proved to be nearly unstoppable. You'd be surprised to hear she was left off 1st Team selections, let alone had never won an MVP award, despite her dominance. April made her statements in the playoffs, leading the team in scoring all throughout while coming in clutch in both 4th quarters against the Cougars and Bulldogs in back-to-back championship games to grab two consecutive titles. Talledo was big off-island as well earning a spot in the Far East All-Tournament Team.
Talledo became the Dolphins most consistent hitter and her leaping ability played big in the teams ability to keep pace with the best of the league. The transition to volleyball proved another successful venture, winning a title with the team her sophomore season.
April's first year playing tennis resulted in a bronze medal finish in doubles. She had never picked up a racket before giving it a go her senior year, but her winning ways would continue hitting 3rd place in the All-Island Tournament.
April's high school accolades
Basketball – 2x Champion, 2x 1st Team All-Island
Soccer – 3x Champion, 1x MVP, 3x 1st Team All-Island
Volleyball – 1x Champion, 2x 1st Team All-Island
Tennis – Bronze Medal
April's reaction to making the list
"I'm just shocked I made it… Congratulations to everyone else on the top list!#stayhome#staysafe"
Previous revealed athletes
3. Brianne Leon Guerrero
4. Paige Surber
5. Jalana Garcia
6. Joni Tedpahogo
7. Mia San Nicolas
8. Olivia Flores
9. Alison Bowman
10. Regina Shiroma
Honorable Mention
Mya Sanchez (Academy)
Brianna Benito (Academy)
Gemilie Ilao (Academy)
Dyonii Quitugua (GW)
Colleen Quinata (GW)
Sam Quinata (GW)
Tasha Palomo (GW)
Alexia Brown (Guam High)
Shania Bulala (Okkodo)
Regine Tugade (JFK)
Kiana Rivera (JFK)
Mary Gillan (ND)
Mames Blas (ND)
Brielle Meno (Southern)
Chloe Miranda (St. Paul)
Monica Giger (St. Paul)
Jenna Han (St. John's)
Hallie Wigsten (St. John's)

QUICK HITS
The Figo Islanders 40s women's softball team took gold in the Senior Softball World Championship in Las Vegas. Figo came out of the loser's bracket and beat the Arizona Belles 17-3 in the AA division championship game Sunday afternoon.
Other Guam teams that played in the 40s tournament were: Team SOTTA (women's) and Bud Light Guam, Friars 671 and Sindalun Guahan (men's).
Sindalu finished a respectable 4th out of 24 AAA division teams.