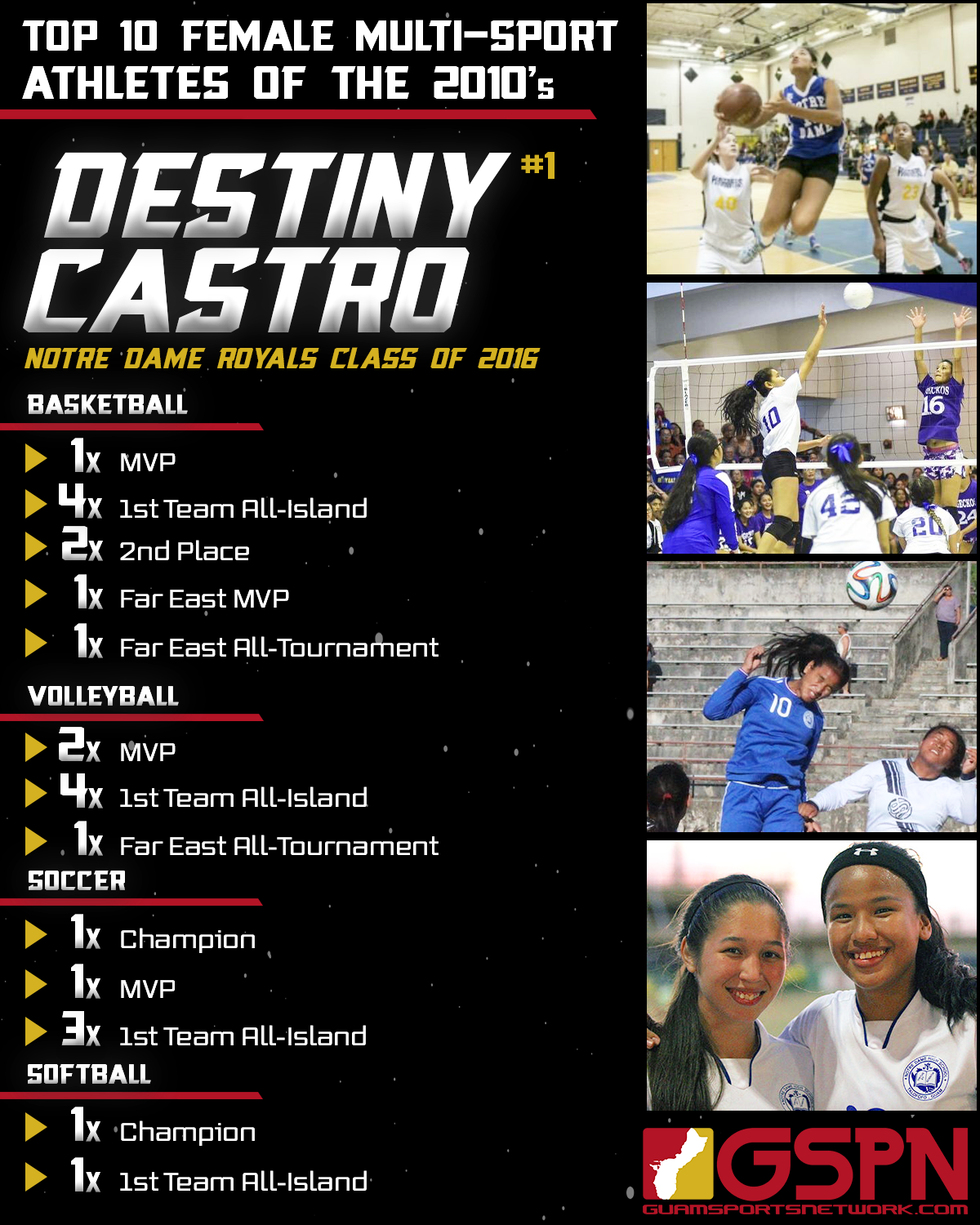 By Robert Balajadia
With high school sports officially wrapped up for 2020, we've decided to count down the top 10 male and female multi-sport high school athletes of the past decade (2010-2020). This list centers around athletes who were not only dominant in one sport, but were multi-faceted stars every time they took the field/court.
Following the direction of a list created by GSPN's Patrick Lujan four years ago on the best multi-sport athletes ever on Guam, 'like sports' (like cross country and track & field) will be ranked the same.
We've reached the top! Today we reveal #1 Destiny Castro of the 2016 ND Royals.
The inspiration behind compiling this list of particular multi-sport athletes was Destiny 'Queen B' Castro. Destiny is widely recognized by her basketball accolades and accomplishments through the years, but the inspiration behind this list came from speaking with her coaches from the other sports she played.
The fact that the answer to these questions:
– "Who was the best volleyball player you've ever coached?"
– "Who was the best soccer player you've coached?"
– "Who was the best athlete you've ever seen?"
Was all "Destiny Castro" had only reinforced what we believed to be true about the generational talent. The rest of the league was also in agreement after Castro earned MVP titles in three of the four sports she played, given that she only played softball for one season (but made 1st team).
Destiny had built up quite the hype during her youth basketball days and she didn't disappoint when she cam into the high school scene. As a freshman for the St. John's Knights, she and Kali Benavente would help their team reach the finals in a loss to ND. She would transfer to ND for the rest of her high school career, capturing an MVP title and finishing as high as 2nd place her senior season.
There was a regular season game the Royals had won 49-43. Castro had scored 42 of those points in the win, nearly outscoring the opposing team by herself.
Take her talents to soccer and Destiny was instantly one of the leagues best strikers. She would capture a league MVP and finally captured the elusive title her senior season while leading her team in scoring each season when healthy. In the title-winning game, Castro would capture MVP of the match.
Castro was an immediate impact volleyball player and evolved into the teams best hitter as a Royal. From her versatility to being able to put balls away better than anyone in the league, it was only a matter of time before she would be named league MVP in 2015. A title would elude her in volleyball after finishing as high as 2nd place. In off-island competition, Castro was also amongst the few Guam members to be selected to the All-Tournament team in Far East.
Castro's lone season in softball for the Southern Dolphins was a memorable one, winning her first league title. She instantly became one of the leagues best hitters by getting a 1st team selection.
Castro would go on to play basketball at Chaminade, becoming the school's all-time leading scorer midway through her senior season. The real question is where would Destiny land on an All-Time list? She just might be the best multi-talented female athlete we've ever seen.
Destiny's high school accolades
Basketball – 1x MVP, 4x 1st Team All-Island, 1x Far East MVP, 1x Fart East All-Tournament, 2x 2nd Place Finish
Volleyball – 2x MVP, 4x 1st Team All-Island, 1x Far East All-Tournament
Soccer – 1x Champion, 1x MVP, 1x Championship Game MVP, 3x 1st Team All-Island,
Softball – 1x Champion, 1x 1st Team All-Island
Destiny's reaction to being selected
"When I first saw [the] message, I was shocked and extremely grateful to be chosen for such a great honor. Out of all the amazing athletes on the island, it must've been tough for you all to decide on only 10 throughout the past decade, and I thank you for using one of those spots on me."
Previous revealed athletes
2. April Talledo
3. Brianne Leon Guerrero
4. Paige Surber
5. Jalana Garcia
6. Joni Tedpahogo
7. Mia San Nicolas
8. Olivia Flores
9. Alison Bowman
10. Regina Shiroma
Honorable Mention
Mya Sanchez (Academy)
Brianna Benito (Academy)
Gemilie Ilao (Academy)
Dyonii Quitugua (GW)
Colleen Quinata (GW)
Sam Quinata (GW)
Tasha Palomo (GW)
Alexia Brown (Guam High)
Shania Bulala (Okkodo)
Regine Tugade (JFK)
Kiana Rivera (JFK)
Mary Gillan (ND)
Mames Blas (ND)
Brielle Meno (Southern)
Chloe Miranda (St. Paul)
Monica Giger (St. Paul)
Jenna Han (St. John's)
Hallie Wigsten (St. John's)

QUICK HITS
Bishop Obispos beat Mt. Carmel for the IIAAG Middle School Girls Basketball championship 37-25.
—————————————-
The Benavente Roadrunners crushed the Agueda Pirates 17-1 to win the 76 PONY Middle School Baseball League. Rodney San Nicolas was a beat, striking out 13 batters in a complete game while going 4-for-4 at the plate, including a homer and 4 RBI.