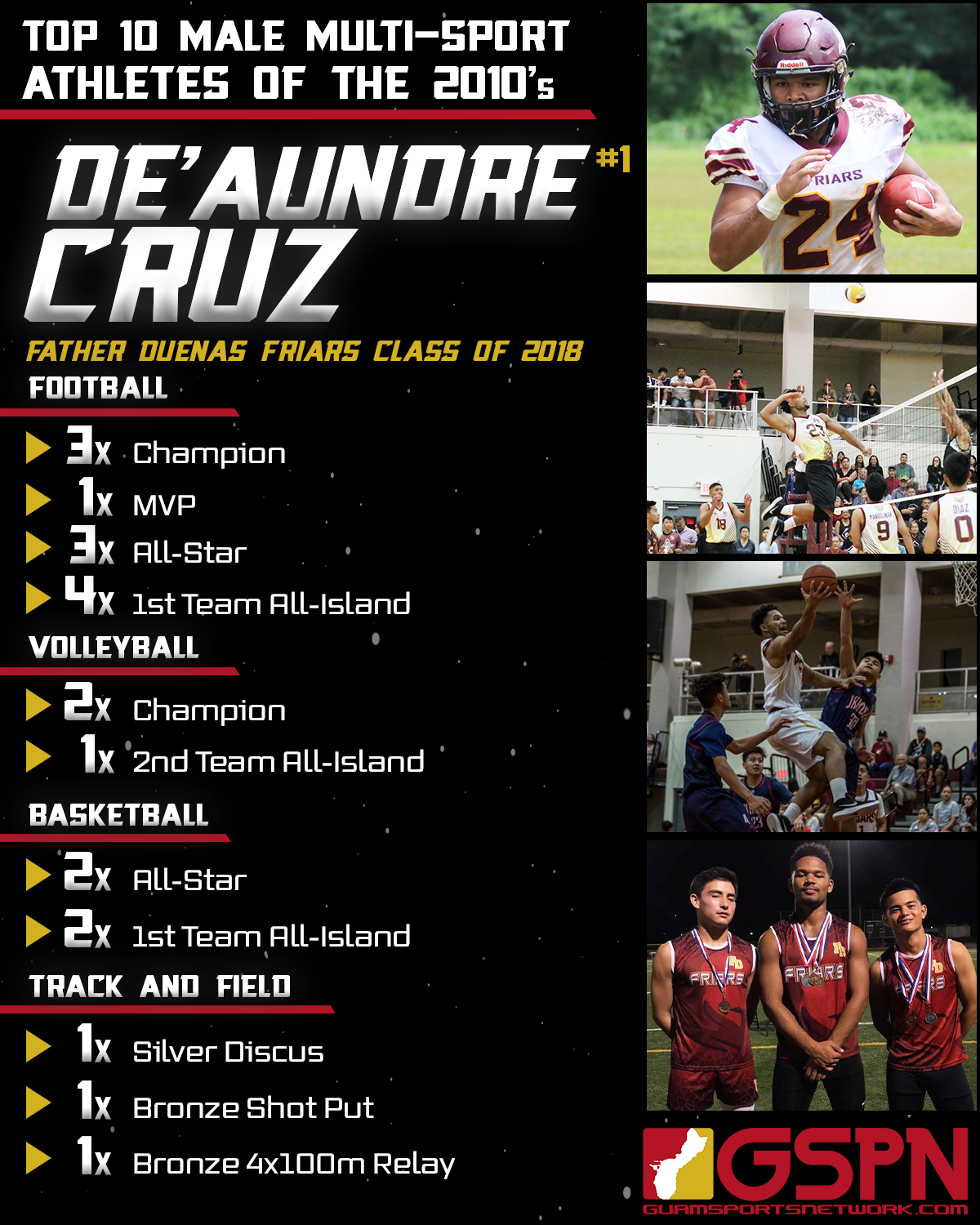 By Robert Balajadia
With high school sports officially wrapped up for 2020, we've decided to count down the top 10 male and female multi-sport high school athletes of the past decade (2010-2020). This list centers around athletes who were not only dominant in one sport, but were multi-faceted stars every time they took the field/court.
Following the direction of a list created by GSPN's Patrick Lujan four years ago on the best multi-sport athletes ever on Guam, 'like sports' (like cross country and track & field) will be ranked the same.
We've reached the top! Today we reveal the boys #1 De'Aundre Cruz of the 2018 FD Friars.
The amount of attention De'Aundre Cruz gets by just walking in the building is already a good indication of the kind of athlete he was. Physically built different than his peers, Cruz provided a great burst of speed and power in each sport he played that had many shaking their heads in disbelief of his athleticism.
A freakish athlete who dominated the football field as a running back. Realistically, Cruz could have excelled at any other skill position on the field, but the Friars were content at handing him the ball and watching him run past, and often times through people.
Cruz would amass a 100-yard multi-touchdown night before halftime during most nights and the coaching staff used him conservatively, letting him play just two quarters before retiring him for the night. Cruz was a four-time starter for FD, playing a huge part in their dynasty over the years. A league MVP with light mileage had fans clamoring over what kind of numbers he would put up given the green light to play a whole game. The Friars would retire Cruz's number at the end of his senior season.
Cruz was a middle blocker in volleyball and he proved to have a stellar leaping ability which aided in the team's two titles his sophomore and senior season. Cruz really took over in the championship games, recording five monstrous blocks to stun the unbeaten Geckos in 2016 and then a handful more in the team's dominant win over the Titans in 2018.
De'Aundre had played basketball as a youth and he was committed to the Friar basketball program where he developed into a double-double machine. He was the teams starting center and provided a bruising presence down low while providing consistent points in the paint. Cruz was voted as the leagues best center for two straight years, with the Friars unable to capture a title during his run, taking 2nd place twice.
Cruz often contemplated suiting up for rugby, which would have undoubtedly ushered in more accolades given the Friars three-year reign, but his commitment to basketball would keep him on the court.
Cruz would give Track & Field just one go as a junior and he'd still find his way to the podium taking 2nd in the discuss throw and two bronze medals in the shot put and 4×100.
Post high school, De'Aundre transitioned to linebacker playing in junior college, and his next venture is to make it to a DI program before eventually taking a shot at the NFL.
De'Aundre's high school accolades
Football – 3x Champion, 1x MVP, 4x 1st Team All-Island, 3x All-Star
Volleyball – 2x Champion, 1x 2nd Team All-Island, 1x Honorable Mention
Basketball – 2x 1st Team All-Island, 2x All-Star
All-Island Track & Field – 2nd Place Discuss, 3rd place Shot put, 3rd place 4x100m
De'Aundre's reaction to being on the list
"It feels amazing knowing that I was selected amongst all the multi-sport athletes within the last decade. I feel very accomplished and proud I was able to excel in all the sports I played and that it didn't go unnoticed!"
Previous revealed athletes
2. Matt Sojo
3. Aiden Ferrara
4. Xavier Naputi
5. Valiant Borja
6. Matias Calvo
7. Boise Hocog
8. Marlon Evans
9. Juan King Jr.
10. Nathaniel Kyle Gaitan
Honorable Mention
Dylan Naputi (GW)
Ryan Quitugua (GW)
Devin Maluwelmeng (GW)
Noah Quichocho (GW)
Shelby Meeks (GW)
Damon Hocog (GW)
Bryton Cepeda (FD)
Noah Diaz (FD)
Roy Taimanglo (FD)
Jake Benito (FD)
RJ Rokop (FD)
Jujuan King (Guam High)
Aaron Blaz (Okkodo)
Maks Kepwe (Okkodo)
Dezdin Fikes (Okkodo)
LJ Aguon (Guam High)
Nolan Chamberlain (JFK)
Wayne Blas (JFK)
Jonah Hahn (JFK)
Patrick Cruz  (Sanchez)
Wes Shiroma (Sanchez)
Josh Sablan (Sanchez)
Kobe Sotelo (Harvest)
Sean Evans (Harvest)
Mason Caldwell (Harvest)
Takumi Simon (St. John's)
Brandon Miranda (St. Paul)