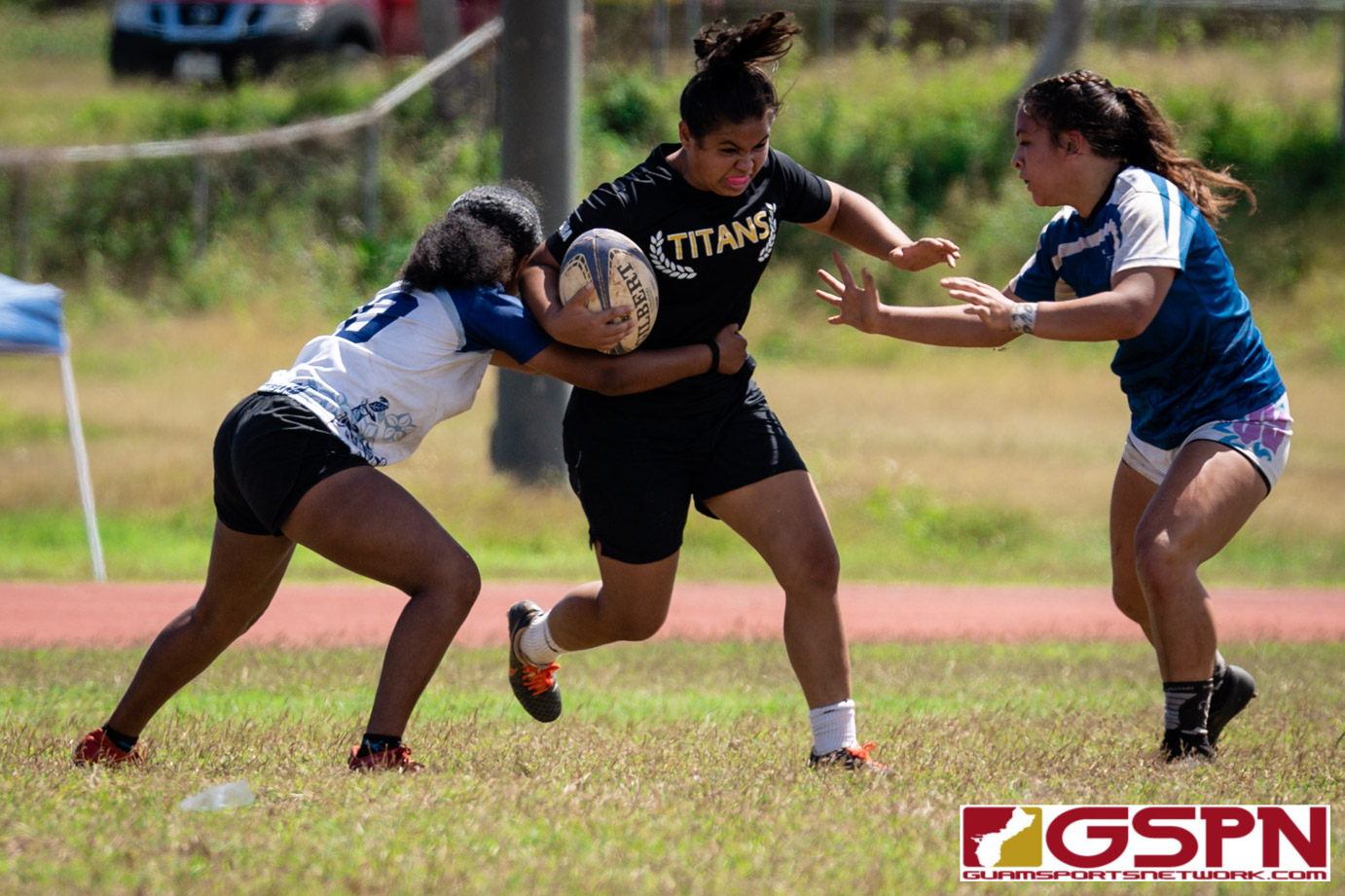 Week 3 in the GRFU/ISA Rugby League saw some change in standing with the Lady Titans and Sanchez Sharks moving up in the ranks with Saturday wins.
The Tiyan Titans came within a try of defeating the unbeaten ND Royals in the morning game, and then responded with two more wins to round out the day to slide into 2nd place.
In the boys varsity Sanchez Sharks pulled off a big win over the GW Geckos to grab 2nd place with a higher 'points scored' total than the (3-0) Okkodo Bulldogs.
The Boys got an extra serving of action during the week with action at Guam High, highlighted by a Championship Rematch between the FD Friars and GW Geckos.
Saturday Games
09:00
OHS
7
NDHS
19
Girls Varsity
09:30
GHS
5
SHS
0
Girls Varsity
10:00
AOLG
0
SSHS
29
Girls Varsity
10:30
NDHS
14
THS
10
Girls Varsity
11:00
GWHS
15
GHS
0
Girls Varsity
11:30
SHS
5
OHS
0
Girls Varsity
12:00
AOLG
12
THS
19
Girls Varsity
12:30
SSHS
5
GWHS
12
Girls Varsity
01:15
AOLG
0
NDHS
52
Girls Varsity
01:45
THS
36
SHS
5
Girls Varsity
02:15
OHS
22
SHS
6
Boys Varsity
03:45
THS
17
GHS
12
Boys Varsity
05:00
GWHS
0
SSHS
17
Boys Varsity
Girls Standings
| | | | | | | |
| --- | --- | --- | --- | --- | --- | --- |
| Team | Record | PF | PA | PD | Bonus | Total |
| ND | 7-0 | 190 | 36 | 154 | 3 | 24 |
| Tiyan | 6-2 | 136 | 84 | 52 | 3 | 21 |
| GW | 5-1 | 119 | 34 | 85 | 2 | 17 |
| Sanchez | 3-2-1 | 78 | 43 | 35 | 3 | 13 |
| Okkodo | 3-4 | 75 | 71 | 4 | 1 | 10 |
| Academy | 1-7-1 | 48 | 208 | -160 | 2 | 6 |
| Southern | 1-5-1 | 38 | 123 | -85 | 1 | 5 |
| Guam High | 1-6-1 | 42 | 127 | -85 | 1 | 5 |
Boys Standings
| | | | | | | |
| --- | --- | --- | --- | --- | --- | --- |
| Team | Record | PF | PA | PD | Bonus | Total |
| FD | 3-0 | 142 | 5 | 137 | 3 | 12 |
| Sanchez | 3-1 | 97 | 17 | 80 | 2 | 11 |
| Okkodo | 3-0 | 50 | 18 | 32 | 0 | 9 |
| GW | 1-3 | 39 | 63 | -24 | 2 | 5 |
| Southern | 1-2 | 39 | 60 | -21 | 1 | 4 |
| Tiyan | 1-2 | 17 | 85 | -68 | 0 | 3 |
| Guam High | 0-4 | 12 | 146 | -134 | 1 | 1 |
Girls JV Standings
| | | | | | | |
| --- | --- | --- | --- | --- | --- | --- |
| Team | Record | PF | PA | PD | Bonus | Total |
| ND | 3-1 | 62 | 39 | 23 | 2 | 11 |
| Sanchez | 2-2 | 70 | 60 | 10 | 2 | 8 |
| Tiyan | 2-2 | 41 | 36 | 5 | 2 | 8 |
| Academy | 1-2-1 | 27 | 32 | -5 | 2 | 6 |
| Okkodo | 1-2-1 | 34 | 67 | -33 | 0 | 4 |
| | | | | | | |
| | | | | | | |
| | | | | | | |
Boys JV Standings
| | | | | | | |
| --- | --- | --- | --- | --- | --- | --- |
| Team | Record | PF | PA | PD | Bonus | Total |
| FD (Maroon) | 4-0 | 102 | 15 | 87 | 3 | 15 |
| Okkodo | 3-1 | 73 | 52 | 21 | 2 | 11 |
| Sanchez | 2-2 | 55 | 82 | -27 | 1 | 7 |
| Southern | 1-3 | 50 | 62 | -12 | 2 | 5 |
| FD (White) | 0-4 | 22 | 91 | -69 | 0 | 0 |
| | | | | | | |
| | | | | | | |
PHOTO GALLERY BROUGHT TO YOU BY: