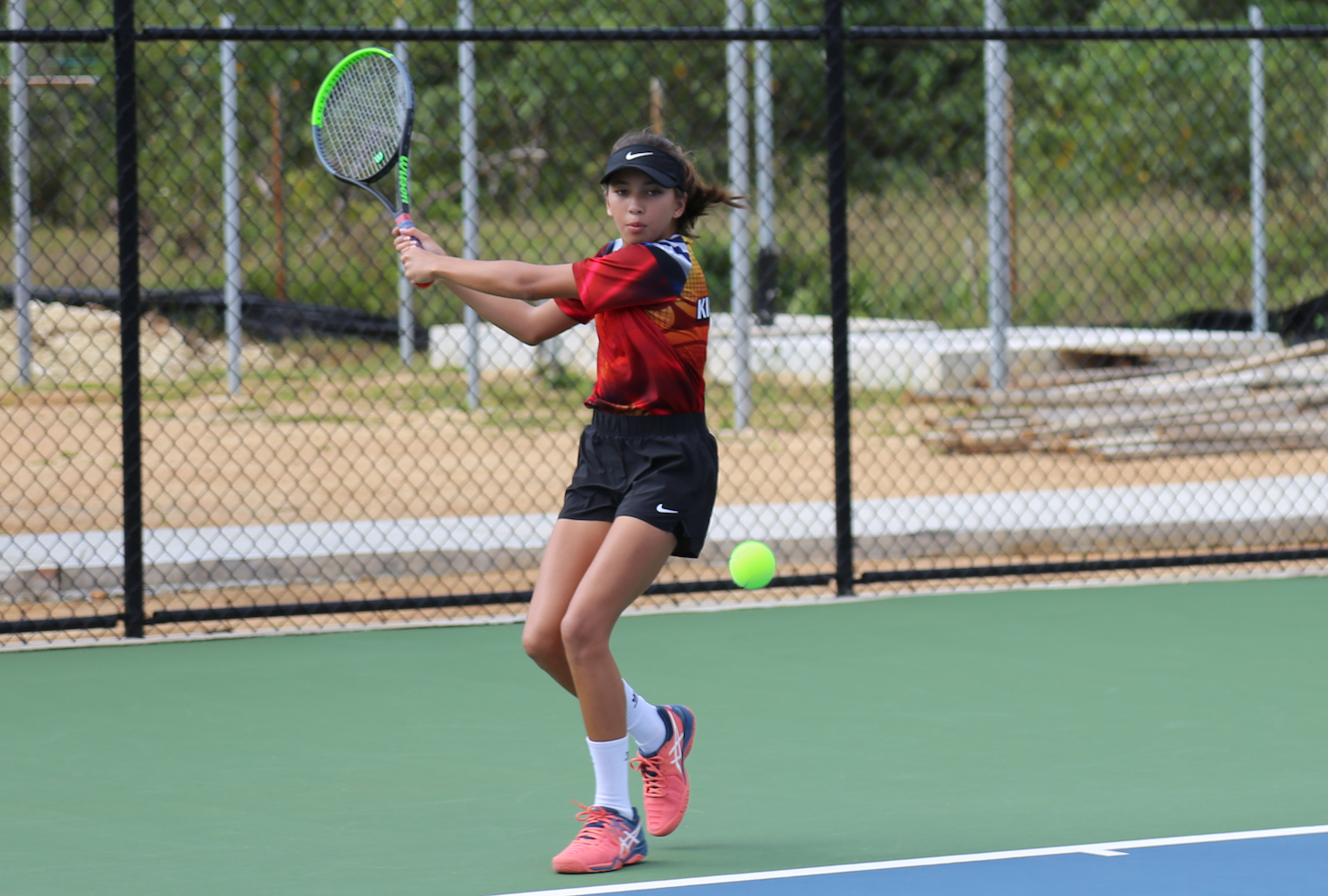 PRESS RELEASE – The 2020 Calvo's SelectCare Grand Prix Tennis Tournament completed the 2.5, 3.5, and 4.5 Men's and Women's Skilled Singles events and the Men's and Women's Aged Doubles over the past weekend. Over 70 entries were played at the new Guam National Tennis Center in Harmon, making it the single biggest draw to date.
In the Men's 4.5 Skilled Singles, unseeded Richard Hawes defeated 7th seed Aarman Sachdev in a grueling three sets 6-2, 2-6, 10-8. Hawes started the match very caustiously by moving Sachdev left and right, forcing him to make errors. Hawes was able to move the young player all over the court by hitting a drop shot forcing Sachdev to make another error, which ended the set.
After losing the first set, Sachdev turned things around by attacking any short ball that he was given, taking advantage of his volleys at the net, and hitting big serves at crucial points. He was able to force a third set in which the winner will be determined by a 10-point tiebreaker.
Hawes and Sachdev were neck and neck as each player forced each another to make the mistake. Hawes was serving for the match as he was up 9-8 when he hit a big serve causing Sachdev to hit his return into the net ending the match.
Hawes commented, "I just took each point as if it was match point. A great match and fine young junior Davis Cup player, so well behaved and very respectful to me. It was the first time I have entered a singles competition in 20 years and was so happy to win the 4.5!"
The other champions and finalists are as follows:
Men's 3.5

Steven Guevarra def. 2nd seed Anthony Gregoire 6-2, 6-4

Men's 2.5

Kotaro Roesch def. 2nd seed Venancio Quiel 6-4, 6-4

Women's 3.5

1st seed Sydney Packbier def. 2nd seed Fremont Gibson 7-6(3), 6-3

Women's 2.5

2nd seed Manarava Kawaguchi def. Eternity Nishiyama 6-0, 6-0

Men's 35+ Aged Doubles

1st Benjamin Dunn and Wendell Roden def. Ric Estella and Hirokazu Kuge 6-1, 6-4

Men's 45+ Aged Doubles

1st seed Herman Paul and David Underwood def. 2nd seed Antonio Camacho and Ric Estella 4-6, 7-5, 10-5

Men's 55+ Aged Doubles Round Robin

Champions: Jeff Bristol and Richard Hawes
Finalists: Tom Camacho and Peter Nedlic

Women's 35+ Aged Doubles

Diane Lee and Tess Pennell def. 2nd seed Millie Leon Guerrero and Tara Steffy 6-1, 6-1

Women's 55+ Aged Doubles

Mae Hsieh and Atsuko Yamauchi def. Arn Diaz and Mona Taijeron 6-0, 6-2
This weekend, Feb 14-16, is the 2.0, 3.0, 4.0, and Open Men's and Women's Skilled Singles events. Matches will begin Friday, Feb 14, 5:30pm at the Guam National Tennis Center in Harmon. The other events are their deadlines:
Combined Skilled Doubles: Feb 21-23
Combined Skilled Mixed Doubles: Feb 28-Mar 1
Junior Singles is now scheduled for Mar 6-8
To register and for more information, go to www.tennisacademyguam.com or call Tournament Director Josh Cepeda at 483-8524


Foody's Fun Facts
Favorites From Year 2
COMING SOON …
SATURDAY
Boys Volleyball: Champion vs. Champion
Saturday 6 pm: FD vs. Tiyan
UFC Fight
July 25: Trevin Jones vs. Tony Kelley
QUICK HITS
Nadine Del Carmen graduated from Santa Clara University on June 11. She was named captain of the Santa Clara women's tennis team in her senior year and she will be attending Georgetown University in the fall to pursue her masters and will be playing for the Hoyas women's tennis team.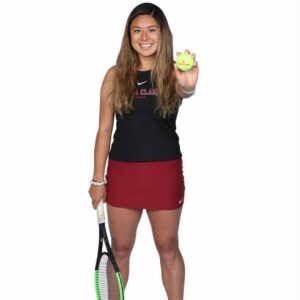 ——————————————————–
After a star-studded collegiate career at UCLA, Bubba Nickles turns her focus on the Tokyo Olympics with Team USA after the Bruins were eliminated in the College World Series. Nickles endured a broken arm on April 7 and worked her way back into the Bruins lineup for the WCWS. She will go down as one of UCLA's best softball players in its storied history.