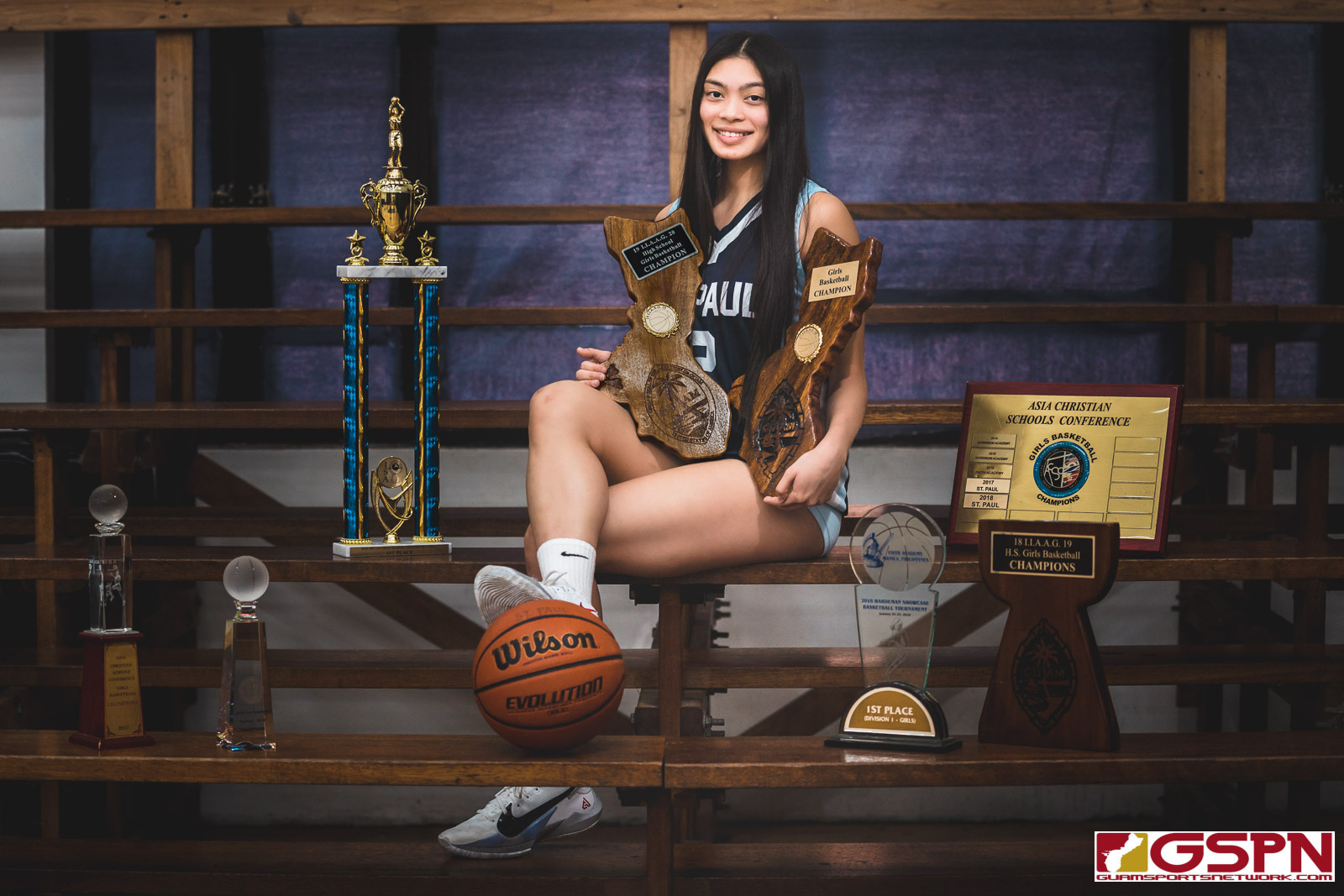 By Robert Balajadia
St. Paul Warrior Janniliese Quintanilla is the last four-time high school basketball champion we've seen since former Warrior Derin Santos Stinnett did it from 2005-08. Quintanilla has been the Warriors leading scorer from her sophomore season to her senior year and has proven that the bigger the stage the bigger her game gets.
You'd assume that the four-time champion, who's arguably been the best player every time she's stepped on the court the past two years, would have a long list of individual accolades to accompany her titles.
Spoiler alert: she doesn't.
Nothing quite triggers a St. Paul Warriors basketball fan in recent years more than seeing Quintanilla's name omitted from the title of league MVP. Even though, Quintanilla began to realize the bigger picture early in her young basketball career that league titles are all she'll ever need.
"When I first hear about it I get confused, but I get over it quickly. Everyone has their own opinions about me, but all I really care about are the championships. I would rather win a championship than an MVP," said Quintanilla, which she has done four times now.
Quintanilla has two 1st Team All-Island selections as a senior and junior and cracked into the 2nd Team All-Island as a sophomore as selected by coaches during All-Island meetings (not by media internet tough guys). So Jan is recognized by her talents at the least, but coaches just don't seem to agree that she's the best in the league, based on their voting – of course. The last multiple champion who was also left off of MVP voting was Southern Dolphin April Tolledo who won titles in the 2014-15 seasons.
"My coaches are funny. It bothers them and my teammates a lot. My team sees me as their MVP, so when they hear that I'm not [the MVP] they get so mad. I tell them it's okay, but I take [their anger] as them showing love to me," laughed Jan.
Jan has adopted the Mamba-mentality of only putting energy into things she can control and she's been the surest thing since entering the league, proving her weight in league titles.
Championship Mentality
There's not much sweeter to Jan than being able to prove her doubters wrong. It's safe to believe that not winning a single MVP award has served as bulletin board material for the decorated Warrior but how has she performed when under the brightest lights? Only by leading her team in scoring in three of her four championships: 22 points as a sophomore in 2017-18, 24 points as a junior in the 2018-19 game and a near quadruple double with 24 points, 11 assists and six boards and six steals in the 2021 title game.
This past season was likely the most rewarding for Quintanilla as her doubters had plenty of ammunition: the Warriors didn't win the preseason tourney, weren't the top seed of the league and nearly lost in the semifinals against a gritty Okkodo team.
Standing between her and her fourth title were the undefeated Academy Cougars, who had beaten St. Paul twice already this year.
"I feel like everyone doubted us this year. I knew what my team was capable of. I knew that we could blow out any team if we wanted to and it was all about our mindset. I told our girls that we can't let the doubters get to you and we have to prove them wrong. That's all that ran through our minds when it came down to the championship game, to prove everyone wrong, and I think we did," said Quintanilla.
Jan and the Warriors took control from the opening quarter against the undefeated Cougars and never looked back, securing her fourth straight title – a feat that hasn't been accomplished in over a decade.
Quintanilla also has three ACSC titles with a ACSC Philippines Top Scorer award her sophomore season to add to the Warriors trophy case.
What fuels Jan
Jan's basketball journey started at Jose Rios where she was recruited to St. Paul for high school. Quintanilla came into a loaded St. Paul roster her freshman year and really started to show her potential midway through her sophomore season. Come junior year, the Warriors were Jan's team and the real test of whether or not the pressure was too much for her really began.
Quintanilla has been a by product of leading by example and she gives all the credit to her coaches Paul Pineda and Stu Schaefer for squeezing every ounce of potential they could out of her.
"My coaches see my full potential even when I don't. They'll push me to my breaking point just to make me realize that. If it wasn't for them then I wouldn't be where I am," said Jan.
Not to say that Jan herself isn't already self motivated.
"I'm very competitive. When I feel there's competition on the court I always want to be the best one out there. What pushes me is wanting to outperform the best player on the other team and that really drives me."
And the fear of letting her believers down of course.
"A lot is expected of me and I have fear of disappointing my coaches and teammates. I play for them and I want to reach the expectations they have for me."
What's next?
Quintanilla is still unsure if basketball is in her collegiate future despite the amount of offers she currently has on the table. If coach Pineda is at the helm of the Women's National Team then Jan is also highly considering suiting up for Team Guam.
But how exactly does Jan want to be remembered aside from a four-time champion? Feared. A lot of respect comes out of being feared but don't get it twisted, if you're standing on the other side of Quintanilla on the court then just remember she's there to break your heart.
"I want to be remembered as the person people see on the court and freak out about or get scared to face," laughed Jan.
MVP fallout on social media
EDITORS NOTE: The worst thing to do when an All-Island list comes out is to attack the players involved like they had something to do with it. The ugly side of the MVP award this past season was the unfair backlash that JFK Islander Jada Han was getting like she had anything to do with being named MVP. It's okay to voice out your frustration at what you think is unjust, but let's all do a better job at not trying to tear down someone else in the process with unmerited remarks! (We're looking at you fake/burner Instagram account users)
PHOTO GALLERY BROUGHT TO YOU BY: