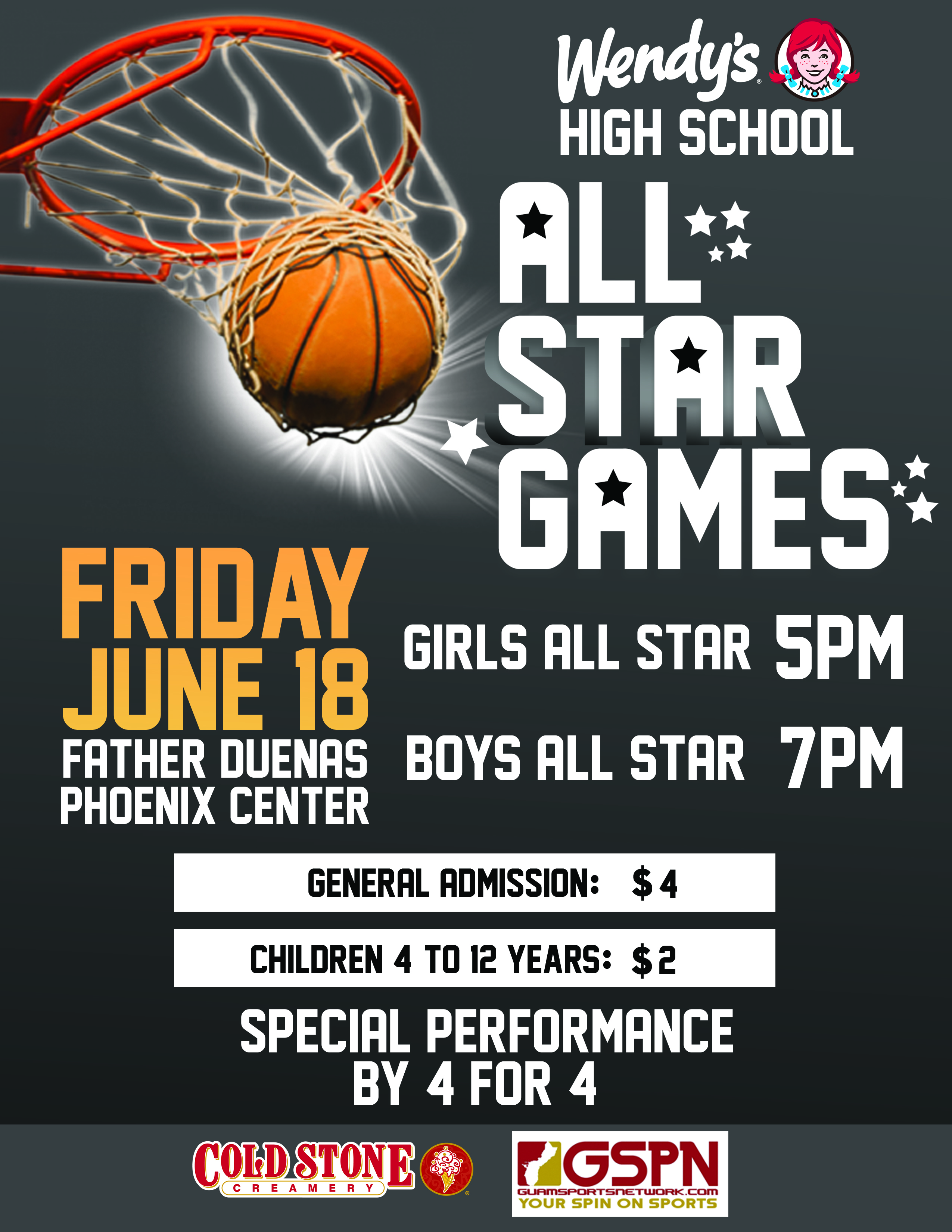 The original and 6th Annual Wendy's High School Basketball All-Star Game will tip off at the FD Phoenix Center on Friday June 18th!
Last years All-Star was forced to be canceled due to the COVID-19 Pandemic. We did still commemorate the 2020 players with an All-Star Game Draft that was done online! (click link to see draft and players list)
By popular demand for the first time ever, we're excited to introduce a Girls All-Star Game featuring the best players from this past season! Last week, 20 boys and girls were drafted by the two Championship Game coaches for a classic battle of Team Elite vs. Team Supreme!
Tickets will be sold at the door, but also this game will also be streamed live on GSPN so tune in there if you can't make the game!
All-Star Game Info
General admission: $4
Children 4-12: $2
Children under 4: free
–
Girls Game tips off at 5 pm
–
Boys Game tips off at 7 pm
4 for 4 will perform at the halftime of the boys game
2021 ALL STAR GAME JERSEYS
Girls Game @ 5 pm
Team Supreme ~ Coach Paul Pineda
(number denotes draft selection)
1st: Janniliese Quintanilla, SP 12
4th: Anjanette Ponce, Oklodo 12
5th: Jada Han, JFK 10
8th: Ori Sevilla, AOLG 11
9th: Laila Smart, JFK 10
12th: Torie Rapadas, AOLG 9
13th: Amanda Uncangco, GW 11
16th: Nevea Salas, Southern 12
17th: Anaya Mudzimurema, SP 10
20th: Kat Santos, SP 12
Team Elite ~ Coach Jimmie Yi
(number denotes draft selection)
2nd: Nicolette Perez, ND 12
3rd: Mia Taitano, AOLG 12
6th: Keisha Eter, SP 11
7th: Amaiya Fontanilla, Okkodo 11
10th: Vaneza Gustillo, Okkodo 12
11th: Myka Jo Terlaje, AOLG 11
14th: Heather Reyes, Sanchez 12
15th: Arie Arceo, ND 11
18th: Hannah Gogue, JFK 11
19th: Ronofe Ollet, Sanchez 10
Boys Game @ 7 pm
Team Supreme ~ Coach Julian Canovas
(number denotes draft selection)
1st: Daryll Robles, FD 12
4th: Matt Santos, FD 12
5th: John Macaldo, Sanchez 11
8th: Kirston Guzman, JFK 11
9th: Jeremiah Kintoki, JFK 12
12th: Justin Arjona, Oklodo 12
13th: Karl Vinca, JFK 11
16th: Xander Sanchez, SP 10
17th: Jacob Miranda, SP 11
20th: Jeff Labanza, SP 12
Team Elite ~ Coach Eddie Pelkey
(number denotes draft selection)
2nd: Josiah Quintanilla, St. Paul 11
3rd: E.J. Cruz, Southern 11
6th: Blaise Ada, FD 10
7th: Jesse Martin, Oklodo 12
10th: Kyler Afleje, Southern 11
11th: Rylen Cajigal, Oklodo 11
14th: Nathaniel Carreon, Sanchez 12
15th: Brock Ada, FD 12
18th: Bryce Chargualaf, ND 12
19th: Jeremiah David, FD 12

QUICK HITS
3rd place: Big ups to the Para Todu Rugby Club for finishing 3rd out of 16 teams in the Manila 10's Rugby Tournament today. Biba Guam Rugby!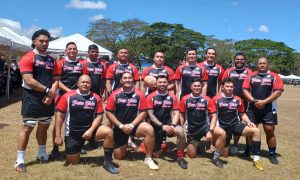 ——————————————
Guam MTB National Championship: Edward Oingerang and Jennifer Camacho are your 2023 MTB national champions. Oingerang finished the course in 1:13:24 while Camacho won her second straight title in 54:08.