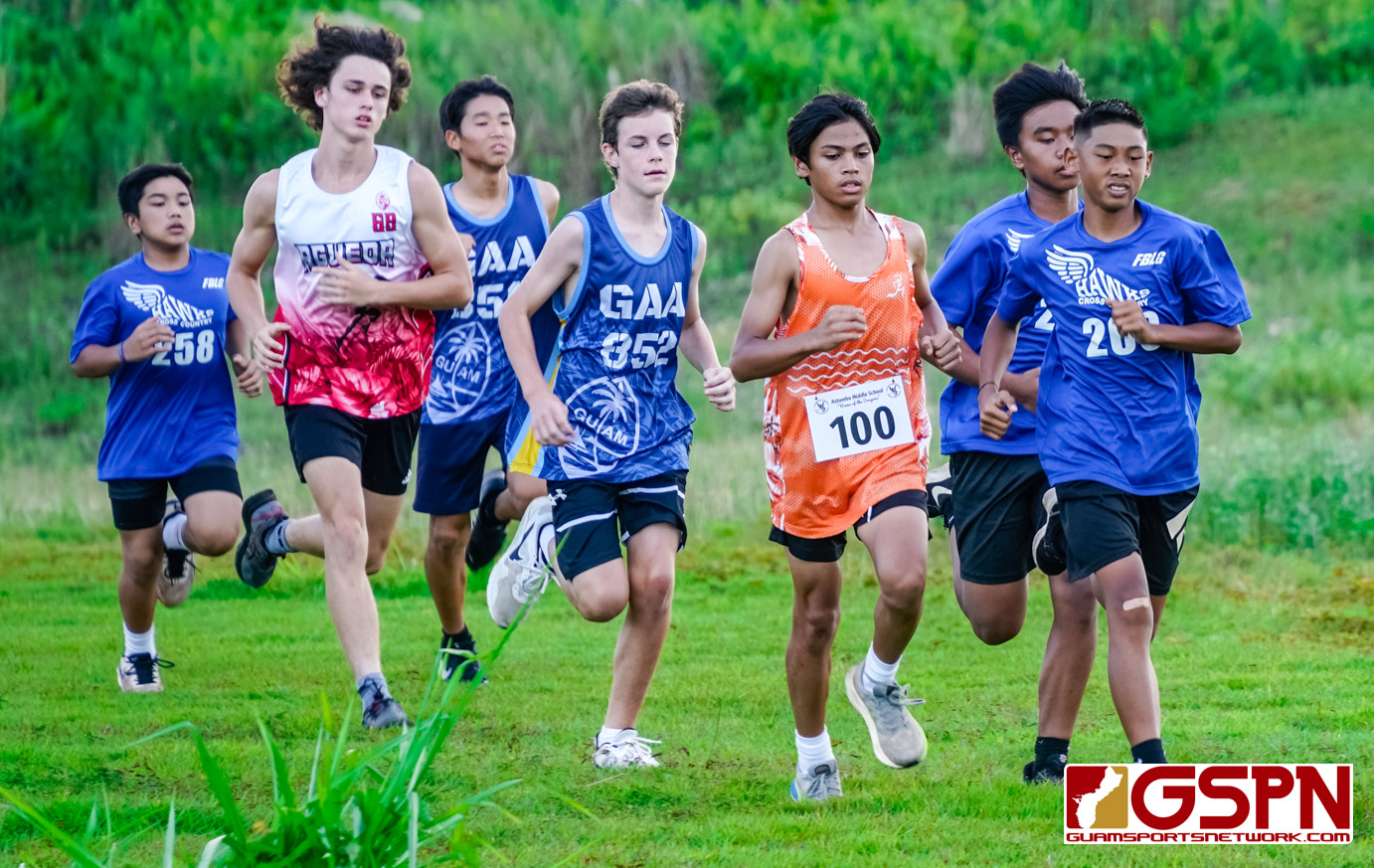 By Jay Leon Guerrero
An estimated 200 middle school cross country runners gathered at the Tiyan Course for the third meet in the ISA Middle Cross Country League. The 3 kilometer race started off with the girls and it was Agueda Johnston 7th grader Aviah Valenzuela coming under 11-minutes to win the top honors.
"I got burst as soon we got to the hill of the second lap and was able to hold the lead going into the downhill finish," said Valenzuela. "I felt confident after the first lap, but not too confident in the second lap because I was thinking Ali'Rha (Munoz) was going to catch me."
Valenzuela gave praises to Munoz from Untalan Middle School who clocked in seven seconds behind her. The All-Island Meet is in three weeks and the showdown between the two runners along with rest of the top five runners were separated by 40 seconds. The top five had different runners from five different schools: Valenzuela (Agueda), Munoz (Untalan),  Marion Finney (Inarajan), Mia Sablan (Jose Rios) and Kyrie Reyes (FBLG).
With the season ending next month, runners in the female division are improving and looking to make the top 10 or 20 in the all-event to accomplish their season goals.
Shyloh'Rae Phillips, a sixth grader from Benavente Middle School, has shown improvement since the first meet. "I would say a good goal is to try and make the top 20," said Phillips. Phillips also said she is having fun this season and making friends along the way.
Emani Villegas from FBLG said her team will make the most of the season. "We are having so much fun in team practices and we are really bonding as a team," said Villegas.
"It's so good to see all of us improve little by little. I also enjoy seeing other people encouraging runners to finish stronger by cheering for them on their last lap – I really like seeing that."
Villegas said a goal is to make the top 5 at the All-Island. "Our team goal is to win a championship and we are all working hard to make that top 10."

Pascua wins three in a row
The Astumbo Dragons are looking good mid-season with four boys making the top 10. Doniefer Pascua won his third straight race and remains undefeated. He is the runner setting the bar thus far this season.
Pascua said the race went well and his strategy was to take the lead towards the end behind staying in the leaders draft. In the final stretch, Pascua sprinted downhill in front of the softball fields in Tiyan to finish ahead of Agueda's Henry Rudolf by six seconds.
"Our team is there. We need to get more of us in the top five so we can get the 'W'," said Pascua. "As a team, we can still improve by working on our speed and stamina".
Reggie Deguzman (6th), Gavin Paet (7th) and Mason Duenas (10th) made the top 10 at the Tiyan Course. With four runners in the top 10, the Dragons are heavy favorites to win the team title next month at the All-Island.
Henry Rudolf (Agueda) finished at 9:07, Zaiden Paulino (Untalan) finished at 9:10, Joshua Song (GAA) finished at 9:14 and Vincent Rudolf (Agueda) finished at 9:17 to round out the top 5.
The All-Island champions will be determined on Oct. 6 at the Tiyan Course. Agueda's Henry Rudolf and Vincent Rudolf are contenders for the top spot.

Girls Top 10
1. Aviah Valenzuela, Agueda – 10:58
2. Ali'Rha Munoz, Untalan – 11:05
3. Marion Finney, Inarajan – 11:16
4. Mia Sablan, Jose Rios – 11:18
5. Kyrie Reyes, FBLG – 11:25
6. Cheylie Gumabon, Agueda – 11:38
7. Nova Ragan, FBLG – 11:43
8. Riley Treltas, Agueda – 11:49
9. Chloe Borja, Jose Rios – 11:56
10. Lana Quinata, Jose Rios – 11:59
Boys Top 10
1. Doniefer Pascua, Astumbo – 9:01
2. Henry Rudolf, Agueda – 9:07
3. Zaiden Paulino, Untalan – 9:10
4. Joshua Sung, GAA – 9:14
5. Vincent Rudolf, Agueda – 9:17
6. Reggie DeGuzman, Astumbo – 9:19
7. Gavin Paet, Astumbo – 9:20
8. Tristan Park, FBLG – 9:21
9. Lucas Billany, Agueda – 9:22
10. Mason Duenas, Astumbo – 9:28
PHOTO GALLERY BROUGHT TO YOU BY:

QUICK HITS
Bishop Obispos beat Mt. Carmel for the IIAAG Middle School Girls Basketball championship 37-25.
—————————————-
The Benavente Roadrunners crushed the Agueda Pirates 17-1 to win the 76 PONY Middle School Baseball League. Rodney San Nicolas was a beat, striking out 13 batters in a complete game while going 4-for-4 at the plate, including a homer and 4 RBI.