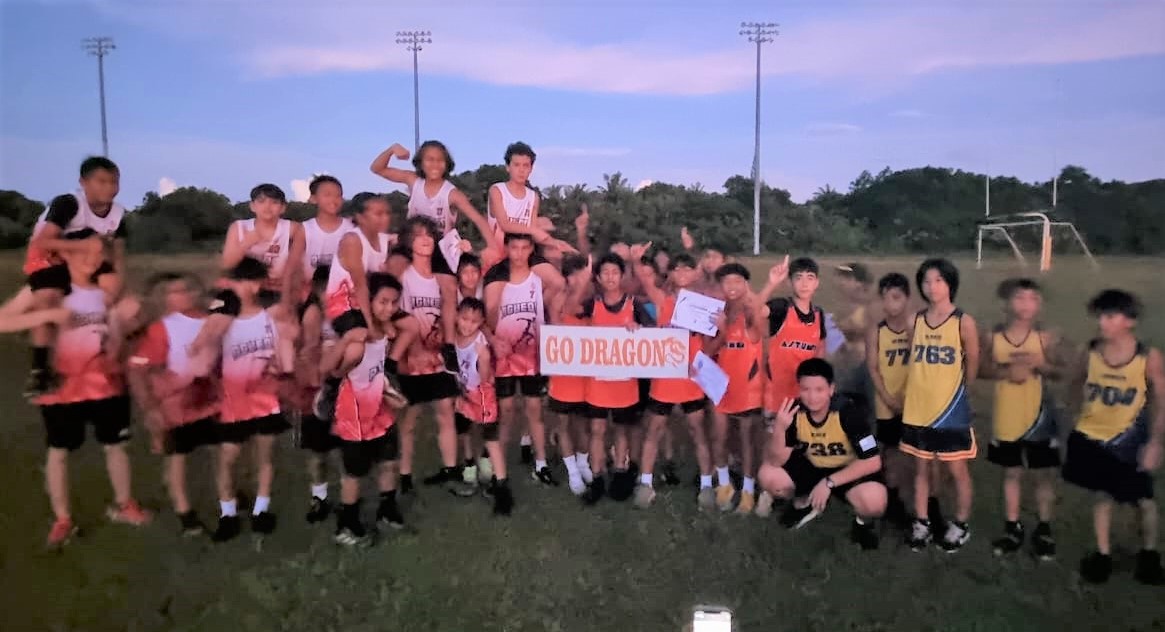 By Jay Leon Guerrero
The Agueda Johnston Pirates girls team and the Astumbo Dragons boys team won the ISA Middle School Cross Country Championships Thursday at the Okkodo High School course. The course was wet and the hills provided a challenge for the middle school runners in their final race of the season.
The Pirates were able to hold off the FBLG Hawks and won by 10 points led by Riley Treltas who finished with a time of 12:22.
The Dragons won by 12 points and had four runners finishing in the top 10.
Team scores
Girls:
1. Agueda Johnston MS – 50
2. FBLG – 60
3. Jose Rios MS – 94
4. Untalan MS – 143
5. Astumbo MS – 146
6. Oceanview MS – 150
7. Guam Adventis Academy – 159
8. Benavente MS – 194
Boys:
1. Astumbo MS – 34
2. Agueda Johnston MS – 46
3. Benavente MS – 100
4. FBLG – 102
5. Guam Adventis Academy – 104
6. Untalan MS – 131
7. Oceanview MS – 193
8. Jose Rios MS – 232
Pascua finishes undefeated
Doniefer Pascua from Astumbo finished with a perfect season, winning all his races. Pascua's time of 10:32 at the Okkodo course was good enough to hang on for the win.
Pascua entered the track for the finish 400 meters with Agueda's Henry Rudolph and Untalan's Zaiden Paulino. Pascua kicked into high gear and pulled away with 150 meters left, sprinting his way to the individual championship.
"As I made that last kick, I just remembered my coach (Sherwin Paet) telling the team about the three 'F's': Focus, Faith and Finish," said Pascua. "I remembered that quote and I just kept pushing."
"Winning the championship and the All-Island is a wonderful way to finish the season. I'm eighth grade so this is my last year before I move into high school which is going to be more of a challenge," said Pascua.
Marion Finney from Inarajan Middle School saved her best race for last and won the All-Island race with a time of 12:21. "I was really focused coming into the race today, I really wanted to win the All-Island," said Finney.
"The course was hard and I couldn't really see some of the cones so that threw me and some of the other girls off as well," said Finney. "I missed the first race of the season but in the last four races I came in 4th, 3rd, 2nd and now I came in first for this race."
Girl's top 10:
1. Marion Finney, Inarajan – 12:21
2. Riley Treltas, Agueda – 12:22
3. Ali'rha Munoz, Untalan – 12:32
4. Nova Pagan, FBLG – 12:35
5. Cheylie Gumabon, Agueda – 12:36
6. Mia Sablan, JRMS – 12:42
7. Lana Quinata, JRMS – 12:44
8. Mayah Miyagi, GAA – 12:47
9. Kyrie Reyes, FBLG – 12:48
10. Chloe Borja, JRMS – 12:58
Boy's top 10:
1. Donifer Pascua, Astumbo – 10:32
2. Henry Rudolph, Agueda – 10:40
3. Zaiden Paulino, Untalan – 10:40
4. Vincent Rudolph,  Agueda – 10:44
5. Reggie DeGuzman  Astumbo – 10:45
6. Gavin Paet, Astumbo – 10:46
7. Joshua Jung, GAA – 10:48
8. Tristan Park, FBLG – 10:58
9. Mason Duenas, Astumbo – 11:00
10. Caleb Lopez, FBLG – 11:06

2022 GSPN I MÅS METGOT COMPETITION
2022 GSPN I Mås Metgot Competition Recap
2022 GSPN I MÅS METGOT COMPETITION
2022 GSPN I Mås Metgot Competition Recap
2022 GSPN I MÅS METGOT COMPETITION
2022 GSPN I Mås Metgot Competition Recap
COMING SOON …