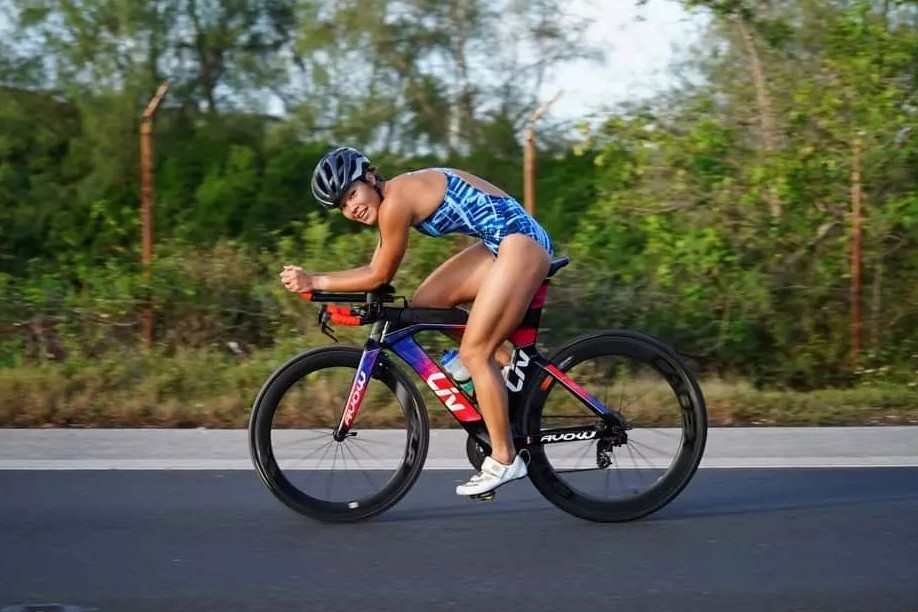 In her first segment of her journal, pro triathlete and former GSPN Athlete of the Year Manami Iijima-Martin shares her first-person point of view on her quest to qualify for the 2024 OIympic Games.
So I officially qualified for a spot on Team Guam to try to make it to the 2024 Olympics.
It's been a crazy journey getting here.
Step 1: Changed my citizenship.
I've lived on Guam since 1997 when I was 5, married the sweetest (😂) local guy, and call Guam my home. I swam and represented my island in the 2005 Arafura Games, 2005 Mini SPG, and 2006 Micro Games, until residency requirements changed. At age 12 and 13, I didn't understand why I wasn't able to go race again for Guam, and I was frustrated since no one explained the reasoning to me. I was the fastest swimmer on island (back then). Well, now I know and I have my U.S. citizenship. Check.
Step 2: Qualified for Team Guam.
On March 13, 2022, GTF's sprint triathlon, I came in at 1:06:10. The qualifying time was 1:06:30 – beat it by 20 seconds! I didn't have the race I wanted, but was relieved to come under their standard time. I swam hard solo, biked solo and ran solo. I felt flat on the bike and the run was not that great either. Training has been going well leading up to it, so I don't know what happened. Could be a combination of fatigue, under fueling, or the pressure I put on myself to perform. Again, relief. Check.
Step 3: Keep training and progressing.
Triathlon, like any other sport, takes consistency over a long period of time to get good. Most times, it's difficult to get to a high level. Most don't make it. Although, I could be fast on Guam, I am still back of the middle pack with the pros. So in order to climb the ladder, I need to train day in and day out, focus on recovery and nutrition, keep mentally sharp, and stay injury free. I hope I make it…
Step 4: Collection of points.
The first qualification period for triathlon starts on May 27, up until March 26, 2023. Then the final period is May 27, 2023 to May 27, 2024. Within this period, I need to collect points, be within the top 140 in the ranking, could get a place using the new flag rule. It all depends on points and placings.
I know I still have a lot of work to do with limited time. Two years is not that much to get faster and collect points. The physical, psychological and financial limitations are apparent, but I'm hoping with hard work and from the support of my sponsors, friends, family, our island, we can make it there. I hope to be the first triathlete from Guam to make it to the Olympics.
For now I am working on Step 3, and training in Saipan for 18 days. Head down and focused.
Thank you for reading.