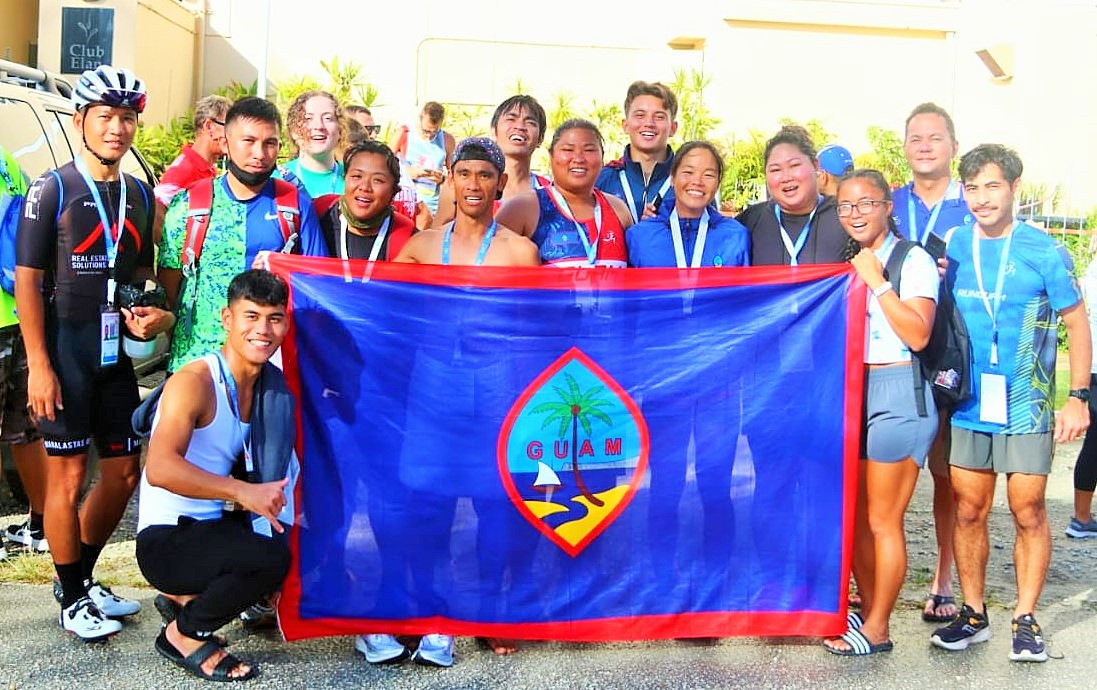 By Manami Iijima-Martin
The 2022 Northern Marianas Pacific Mini Games were my first games to represent Guam in triathlon, aquathlon and athletics.
Long story short, I'm proud of what I was able to achieve with the circumstances given, honored to represent Guam and thankful for the team I had around me. The main thing I had in my mind throughout the Games was that I wanted to show people my capabilities and the work I've been putting in since I turned pro.
Going into the Games, I knew I was fit. I had just come off racing Challenge Korea, finishing 2nd with the fastest half marathon off the bike in 1:22. I also raced the local sprint triathlon five days before departing to Saipan and had my best time on the course.
Flag Bearer
I had no idea that I was chosen to be the flag bearer until Team Guam met at the lobby to head to the Opening Ceremonies.
Prior to that, I was talking with Joey (MIranda from GNOC), if I could skip the ceremony to rest, as I was fully committed to my events…little did I know.
I was hesitant at first, as I didn't want to be leading Team Guam out. I don't like the attention and felt that I haven't proven myself yet, but thanks to my triathlon mates standing next to me, I felt comfortable and quickly changed my mindset to having fun and feeling honored.
Triathlon in Rota
I was intimidated by some of the girls, especially from New Caledonia. I've done some prerace research and saw that the lady who dominated the past two Games was here. She is an amazing swimmer and when I spoke to her, she had this strong aura, along with her teammates. They looked fit and ready.
All the triathletes stayed in the same hotel and we moved together. We all headed out for the race recon for swim, bike, and run. I tried to keep to myself and not get too excited when there was a little race pace effort happening.
Race Day
Our start time was delayed 30 minutes due to the thunderstorms. Waiting was the worst part: 30 more minutes of waiting felt like another day. I was nervous as heck.
Once we got called to the start line and got in the water, I felt comfortable and ready. I swam hard to the first buoy, and was in the lead, with the previous winner on my feet. I thought, 'Okay, if she is going to draft off of me, I won't swim too hard.' We came out of the water together, headed into T1, and I had the lead out. I biked quickly for the first half of the first lap, and noticed she was already 20 seconds behind and the lead kept growing. I stayed at a comfortable pace, and once I was off the bike, I knew that I had a sizable gap and held it to the finish.
Initial thought was, 'Yes, finally!' Hugged Mark Cruz, our manager and he had the GTF board on Facetime to celebrate with all of them. We did it. Relief.
After cheering for the guys, I did a recovery ride and mentally shifted to the next event: Aquathlon.
Aquathlon
My race plan was to run hard and see if anyone would follow. If I was alone, I'd swim and run the final portion relaxed, keeping in mind that I still had a half marathon to run a few days later.
I was able to stick to my plan. Another medal secured.
Half Marathon
We flew back to Saipan the next day after the aquathlon. My body was feeling fresh, as the two races were short and I wasn't training much.
I knew I was a little sleep deprived, but had trouble falling and staying asleep the next couple of days.
I woke up at 3 am on race day, had half a brown sugar cinnamon pop tart and some Gatorade. I was hoping to sleep and eat more, but couldn't.
I called our manager, who was already up, to see if I could wear just my sports bra. I felt relieved when she said, "Why not?" I ran to the race start, which was less than a mile away, my heart rate was higher than normal and I knew it was going to be a struggle.
Sharon Firisua, Tokyo Olympic Marathon runner from Solomon Islands, and I ran together until the turn around. We kept on pace to go a 1:25 half marathon.
Everytime I would try to take the lead, she wouldn't let me. So I tucked in behind her.
After the turn around, I could tell that she wasn't as smooth so I took the lead. I kept the same pace, but saw that she had dropped back. I still felt strong until I didn't at 18km. I stopped from light headedness and got worried that I wouldn't make it in first or to the finish line.
Luckily, our team manager, Riza, Gene and Arleen were following me. They noticed that something was wrong.
I quickly asked for a Coke. (Coke in the triathlon world is the secret sauce to get you to the finish, for the most part). If it weren't for them, I most definitely wouldn't have finished.
It was the toughest half marathon I'd run. The first time I was crying and wanted everything to be over.
I wanted to win so badly for Guam, but knew that the pace I was running wasn't fast enough and Sharon was slowly gaining back.
I crossed the finish line, thinking I got passed. I needed some alone time and to throw up, but our team manager, event doctor, and others kept a close eye.
I was so dehydrated and tired but more devastated that after all that effort, I still got passed at the very end and had told Riza, "I'm sorry I didn't win." Only to be told that I won…(insert embarrassed face here).
The win for that run was extra special. It was the final event for Team Guam and we ended on a positive note. I was super happy to have Team Guam athletics and triathlon with me to celebrate.
Extra story
I ended up not being able to eat or relax after the run. I felt sick but also was scared to tell others, as I was flying home the next day.
I took two Covid tests, both of which came back negative. Joey and Mary (Perez from GNOC) came to check on me, and thankfully they did. I ended up getting IV, and was told my sodium levels were low.
Our Chef De Mission got me pizza, and I spent the last day, alone in my room enjoying it and reflecting.
If anyone would like to follow my journey, follow me @manamitris on Instagram.

QUICK HITS
3rd place: Big ups to the Para Todu Rugby Club for finishing 3rd out of 16 teams in the Manila 10's Rugby Tournament today. Biba Guam Rugby!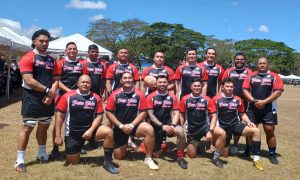 ——————————————
Guam MTB National Championship: Edward Oingerang and Jennifer Camacho are your 2023 MTB national champions. Oingerang finished the course in 1:13:24 while Camacho won her second straight title in 54:08.