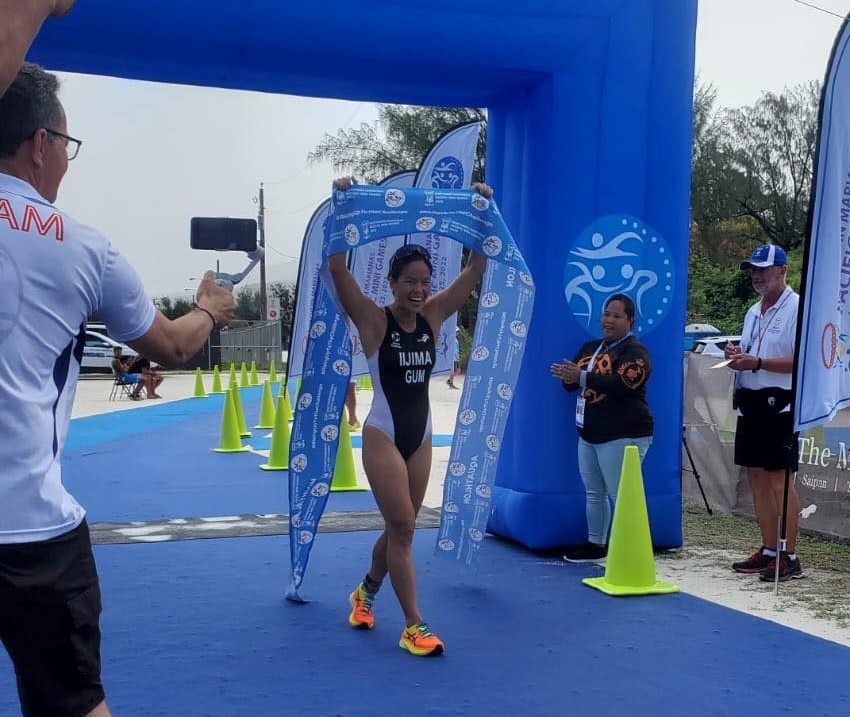 Manami Iijima-Martin captured her second gold of the 2022 Pacific Mini Games, easily taking the aquathlon Wednesday morning in Luta (Rota).
After winning the sprint triathlon Monday morning, Iijima-Martin was the favorite coming in to the midweek aquathlon that consisted of a 2.5k run-1k swim-2.5k run.
She came out charging on the first leg with a 9:03 split on the first 2.5k. Her next competitors was 41 seconds behind already.
Charlotte Robin of New Caledonia slightly bit into the lead on the swim portion, besting Iijima-Martin by five seconds (14:39 to Manami's 14:44 swim split).
The third leg was all Guam as Iijima-Martin was the lone competitor with a sub 10-minute split at 9:47, taking the gold at 34:21. Robin finished second at 35:53.
"I'm hungry to get better," Manami said after the race. "I'm nowhere near the top girls."
Get better? Look out for a better Manami!
This gives Guam its 19th medal of the Games so far.

2022 GSPN I MÅS METGOT COMPETITION
2022 GSPN I Mås Metgot Competition Recap
2022 GSPN I MÅS METGOT COMPETITION
2022 GSPN I Mås Metgot Competition Recap
2022 GSPN I MÅS METGOT COMPETITION
2022 GSPN I Mås Metgot Competition Recap
COMING SOON …