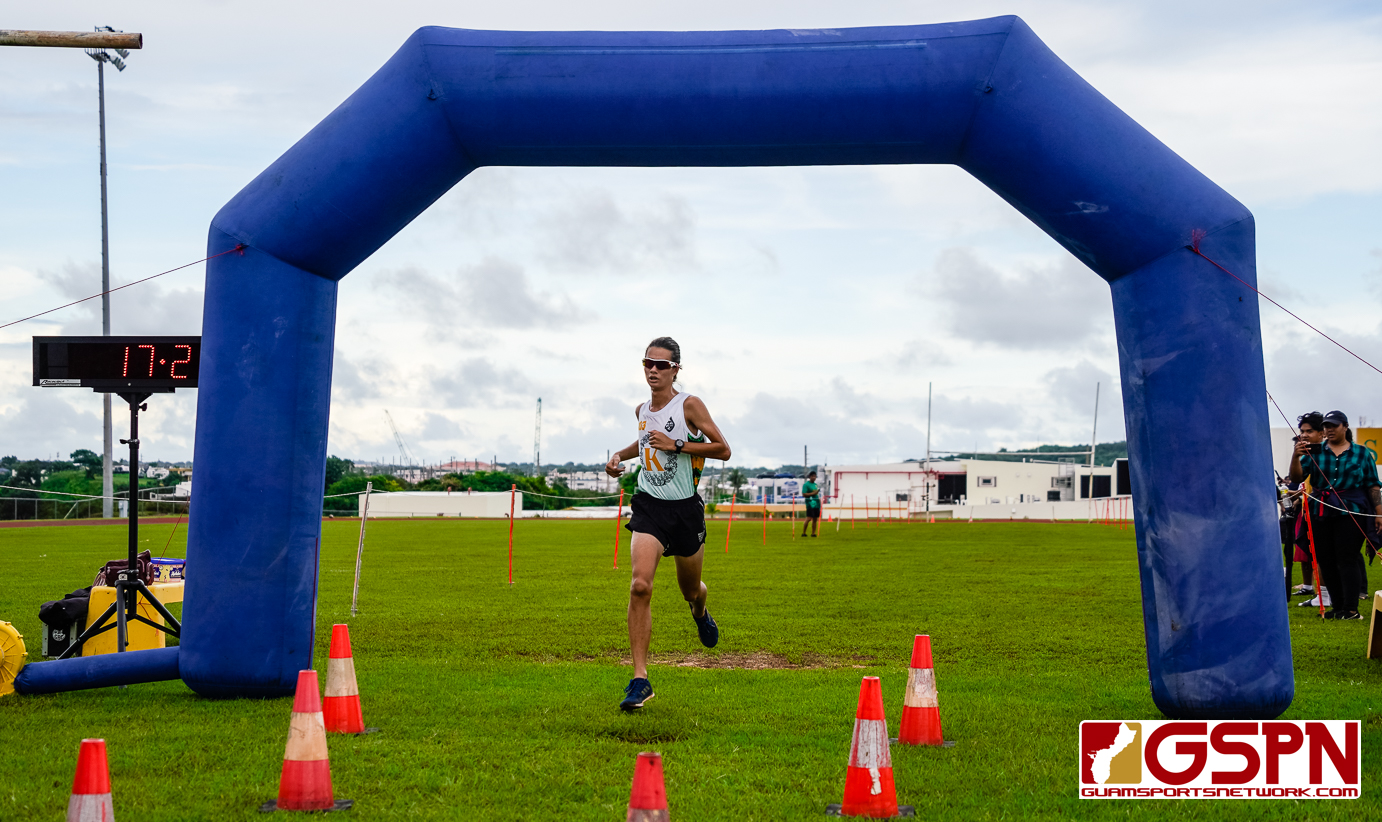 By Jay Leon Guerrero
The JFK Islanders completed the sweep for the second straight season to win the 2022 ISA Cross Country Championships for both boys and girls divisions. The race was held at JFK and the Islanders used their home turf to their advantage.
Team scores
Boys:
1. John F Kennedy Islanders – 25 points
2. George Washington Geckos – 77 points
3. Simon Sanchez Sharks – 79 points
4. Southern High School Dolphins – 80 points
5. Guam Adventist Academy Angels – 101 points
6. Okkodo High School Bulldogs – 153 points
Girls:
1. John F Kennedy Islanders – 33 points
2. George Washinton Geckos – 49 points
3. Simon Sanchez Sharks – 86 points
4. Southern High School Dolphins – 87 points
The individual honors went to JFK junior Hugh Kent and GW junior Robin Cruz.
3-time champion
For the third straight year, Kent has come out victorious in the All-Island finale. Kent ran solo for the second half of the race and clocked in with a time of 17:21. Kent will look to accomplish a rare feat and win it all next year to have four All-Island individual titles.
Kent went undefeated for the season and will look to use his international experience in the Asia Pacific Invitational (API) this Friday.
The API will be held at JFK and will feature the best from Guam and the region, with most schools coming from Japan.
Kent said the experience in Australia (U20 Oceania Championships) and Saipan (Pacific Mini Games) will help him and he is looking forward to the challenge of the API. "The competition in Australia was just at another level. I dont think the racers for the API will be as fast (as the competition from Australia) but I'm looking to just stay with them and finish," said Kent.
Kent said he is glad his team won another championship and is happy the seniors finished well. "I believe there were two seniors on our team that made the top ten," said Kent. Kent said he will be looking forward to the track season because some of the cross country runners are strong at shorter distances.
"Some athletes do shorter distance and I'm confident we will do well this season," said Kent. Track will be in the third quarter.
Simon Sanchez freshman Rynier Diramos finished second to Kent with a time of 18:36. The Middle School All-Island champion last season was pleased with his performance.
"With how I race, I set my expectations a bit higher. It was a battle out there, but I'm happy with this second place finish," said Diramos. JFK's Isaac Valdez (18:59) and Thomas Cepeda (19:25) came in third and fourth place, respectively.
Girls race
GW's Robin Cruz finished first in the girls division. Cruz said she was nervous prior to the race but once the race started, Cruz held a steady pace and was able to pull away in the final 800 meters.
"I felt a bit jittery but I'm glad I finished strong," said Cruz. Cruz and the Geckos finished a respectable second place in the team totals to the Islanders.
"I'm so proud of our team. We had a lot of fun this season and this team always tried their best, said Cruz.
The Geckos will also be competing in the API this Friday. "I will just keep in my mind that I've ran this course before and will have more confidence," said Cruz.
Boys top 10:
1 KENT, HUGH, JFK – 17:21
2 DIRAMOS, RYNIER, SSHS – 18:36
3 VALDEZ, ISAAC, JFK – 18:59
4 CEPEDA, THOMAS, JFK – 19:25
5 HOLLINGSWORTH , GABRIEL, SHS – 19:27
6 AGUILAR, IVAN, JFK – 19:35
7 QUINATA, MATTHEW, SHS – 19:59
8 FACULO, KYLE, GW – 20:02
9 CRUZ, LANDON, GW – 20:09
10 POPPE, ISRAEL, GAA – 20:11
Girls top 10:
1 CRUZ, ROBIN, GW – 23:04
2 MICLAT, PATRICIA, JFK – 23:36
3 TAITANO, RHYLAIEH, GW – 24:40
4 MICLAT, ANNIKA, JFK – 25:12
5 AHN, CHEYOUNG, SHS – 25:23
6 AHN, CHEYUNNE, SHS – 25:44
7 GOGUE, GABRIELLA, JFK – 26:27
8 FUKUI, MARIN, SHS – 27:06
9 GARCIA, AVA, JFK – 27:16
10 STOREY, CAMELLIA, GAA -28:08 
PHOTO GALLERY BROUGHT TO YOU BY: