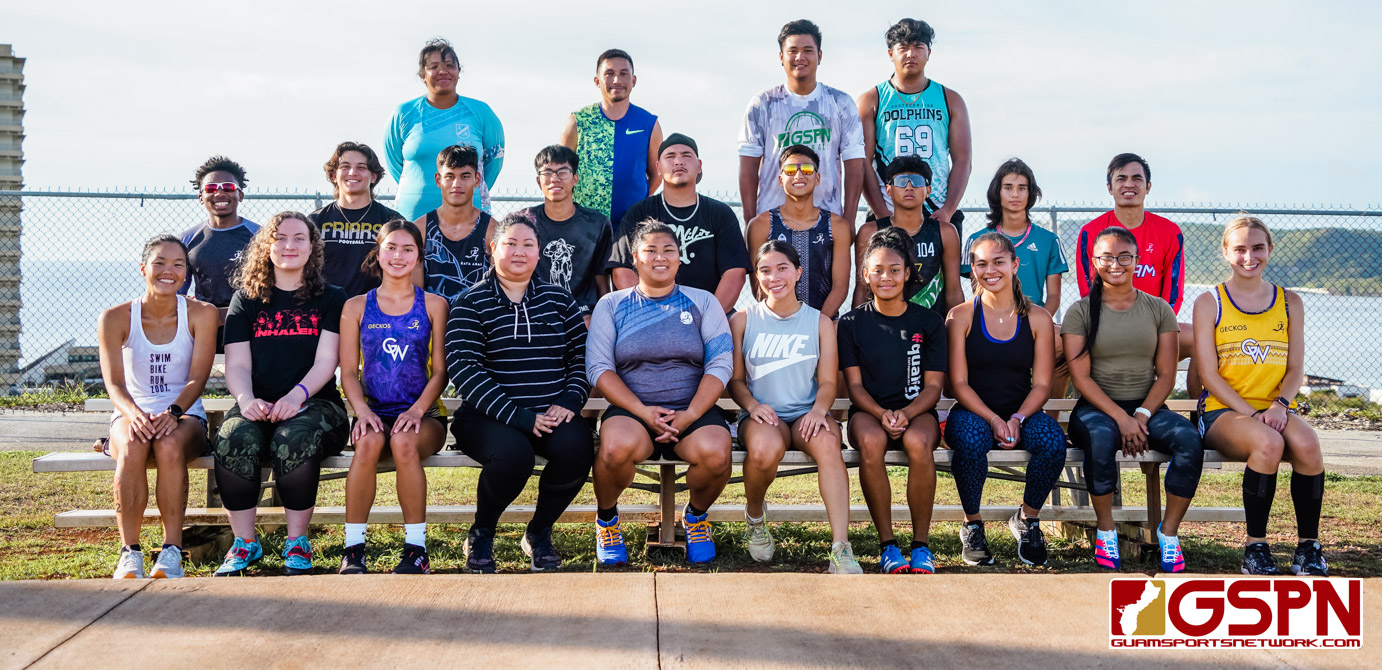 This is the fourth in a series of previews of Team Guam heading to Saipan for the 2022 Pacific Mini Games
By Jay Leon Guerrero
The 2022 National Track & Field Team has a mixture of veterans, college students and high school standouts. Athletics did not send large contingents to the previous three Mini Games, but with the Games being held in Saipan, the trip is close by and affordable.
Riza Tugade and Peter Rivera will travel with the team as managers. They have confidence and trust in the experienced athletes and are hopeful that the young prospects achieve PR's to bring some medals.
"This is my first year competing and I'm ecstatic to go out there and represent Guam the best I can," said Sprinter Nathan Castro.
Castro, who will be graduating from George Washington High School in a week, said that he will make the best of it. "I never thought that I would be chosen to represent Guam but I'm going to make the best of this opportunity," said Castro.
Gabrielle Kranz, an incoming senior at Yale University, will be throwing the discus in Saipan. The 21-year old said that she is honored to represent Guam and proud to follow her family footsteps in represent Guam.
"My entire family has represented Guam and I am just excited to be a part of that legacy."

– discus thrower Gabrielle Kranz
"Representing the island is so special to me. Everytime I travel outside of Guam, I'm always talking about Guam," said Kranz.
Entering her junior year in college, Madison Packbier said she has been waiting patiently to compete. "It's been two years since I've competed but I was still training during the pandemic."
After coming back to Guam after her semester was over, the track team has some new faces. "There are not as many veterans on this team as before but I'm so excited to see what the new (team members) have to bring."
Minot State sprinter Joseph Green has been running the fastest of his career and can't wait for the challenge at Mini Games. "I'm representing an island that has given me so much throughout the years and you want to do your best for your home," said Green.
Two-time Olympian Derek Mandell will be running the distance events in Saipan. Mandell will be looking to bring home some hardware in the 5k, 10k and half marathon events. Mandell, Ryan Matienzo, Manami Iijima-Martin and Arthur Toves will finish off the Games with the last event which is the half marathon.
With the Games being in Saipan, Team Guam is fortunate enough to have relay teams for the men's division. Guam will look to place in the 4×100 and 4×400 meter relays.
2 sport athletes
Iijima-Martin, Matienzo and Mark Imazu will be representing Guam in both track & field and the triathlon. The trio will compete in Rota and then fly up to Saipan to join the team at the Oleai Sports Complex. All three triathletes will be competing in long distance races.
Here is the team roster and their scheduled events:
CarriAnn Canal – 100m, 200m
Nathan Castro – 100m, 200m, 400m, 4×100, 4×400
April Flores – Shot Put, Hammer
Genie Gerardo – Shot Put, Discus, Hammer
Joseph Green – 100m, 200m, 400m, 4×100, 4×400
Manami Iijima-Martin – Half Marathon
Mark Imazu – 1500m, 4×400 alternate
Terrance Johnson – 800m, 1500m, 5000m
Hugh Kent – 1500m, 5000m
Gabrielle Kranz – Discus
Jeofry Limtiaco – 400m, 400m Hurdles, 4×100, 4×400
Derek Mandell – 5000m, 10000m, Half Marathon
Ryan Matienzo – Half Marathon, 5000m alternate
Madison Packbier – 100m, 200m
Jovan Pineda – 100m, 110m Hurdles, 4×100, triple jump
Arthur Toves – 800m, 4×400, Half Marathon
Games Overview
The 2022 Pacific Mini Games will commence from June 17-25 in the Northern Marianas Islands. A total of nine sports will be played with seven sports played in Saipan while the other two sports take place in Rota and Tinian.
Athletics, Badminton, Baseball, Beach Volleyball, Golf, Tennis, Va'a and Weightlifting will be in Saipan. Beach Volleyball consolation matches will be played in nearby Tinian and the triathlon will take place in Rota.
The Guam contingent will be the largest since the 2005 Mini Games held in Palau. Guam's best performance was in Palau with six gold medals, nine silvers and 14 bronze medals.
Guam sent small contingencies to the 2009 (Cook Islands), 2013 (Wallis and Futuna) and 2017 (Vanuatu) Mini Games but were unable to come home with a gold medal.
The 2022 games will be the first time since Palau hosted the Games in 2005 that Guam will be sending a larger contingent. Guam will be sending more than 50 athletes which is the largest to date.
PHOTO GALLERY BROUGHT TO YOU BY:

QUICK HITS
The Figo Islanders 40s women's softball team took gold in the Senior Softball World Championship in Las Vegas. Figo came out of the loser's bracket and beat the Arizona Belles 17-3 in the AA division championship game Sunday afternoon.
Other Guam teams that played in the 40s tournament were: Team SOTTA (women's) and Bud Light Guam, Friars 671 and Sindalun Guahan (men's).
Sindalu finished a respectable 4th out of 24 AAA division teams.