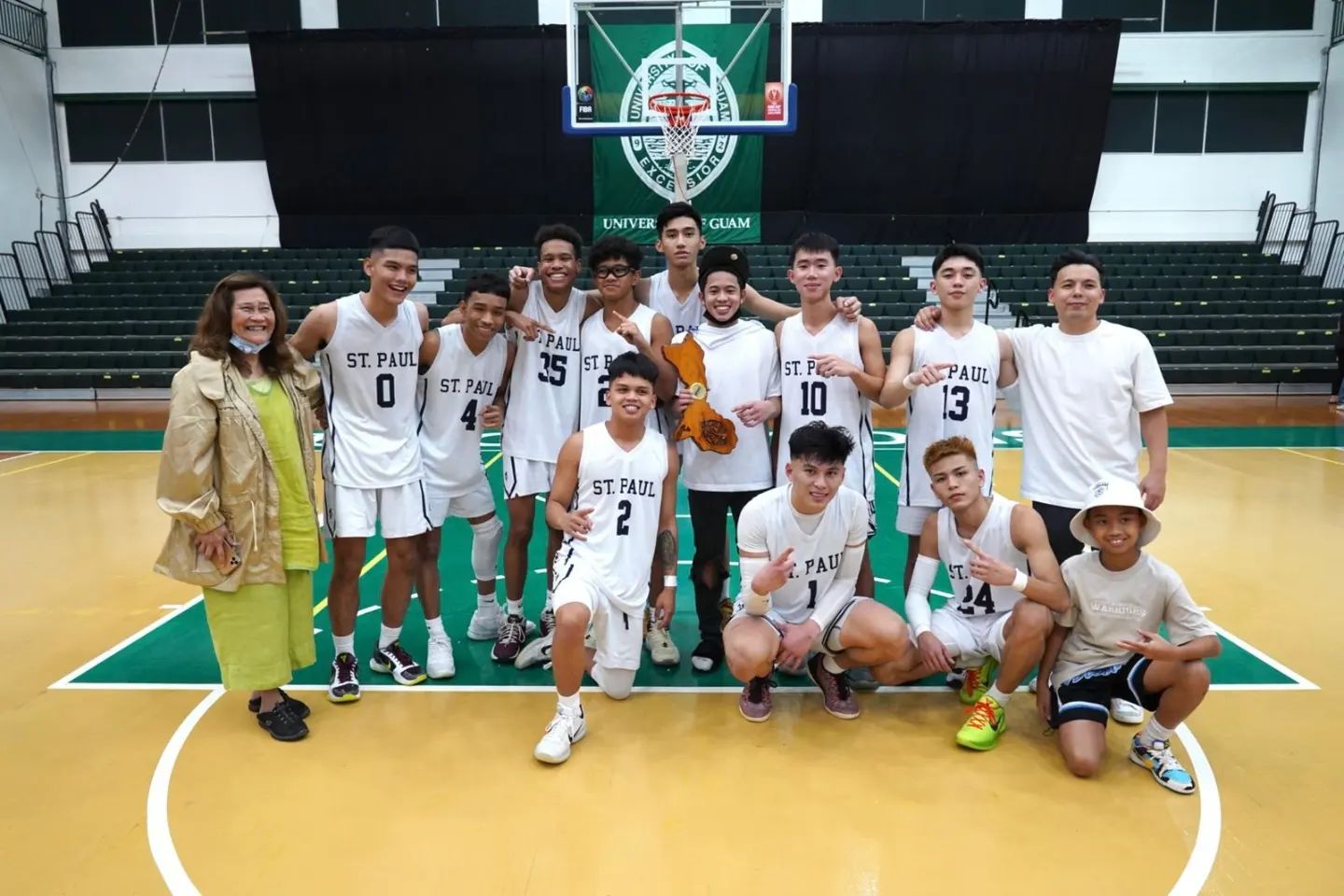 By Jay Leon Guerrero
The rivalry continued between two IIAAG powerhouse teams in boys basketball between the FD Friars and St. Paul Warriors. The championship game, played at the UOG Calvo Field House Wednesday night, went into overtime and the Warriors held off the Friars 55-45 to end the Friar run of two straight titles.
For four straight years, the Friars and Warriors battled it out in the championship game with each team winning two titles.
The atmosphere was intense despite a limited crowd with three passionate fans getting thrown out.
The Friars led by eight points in the second quarter but the Warrior defense stepped up in the third quarter to gain momentum back in their favor. They held the Friars to just five points in the third quarter, scrambling for loose balls and contesting every shot.
EJ Cruz and Josiah Quintanilla went off in the third quarter, scoring six points each and the Warriors were up 37-29.
The Warriors decided to kill the clock against the Friar zone defense in the fourth quarter but the Friars showed patience and slowly chipped away from their deficit.
The Friars needed big shots and got two big 3-pointers from Russell Maratita and Kaine Santos to tie the game with 14 seconds left.
Cruz had a shot for the game winner at the end of the regulation buzzer but his shot went in and out and the game went into overtime.
SANCHEZ SHINES IN OT
In overtime, Xander Sanchez from St Paul was instrumental, making plays on both sides of the court as the Warriors went on a 6-0 run and never looked back.
"To be completely honest, they (FD) were playing their best basketball and we weren't playing our best at all. It was a one point deficit at halftime and we realized that this is a one-and-done game for us. We won't have the opportunity to run this back," said Cruz.
Cruz, a senior, led all scorers with 17 points, Quintanilla contributed 15 points and five rebounds.
St. Paul center Rui Ventura stepped up for the Warriors with 10 points, 10 rebounds and three blocks for the game's only double-double.
"Going into overtime, we wanted to show how we really play. We didn't play like we usually did in the regular season during those first four quarters," said senior Jacob Miranda. Miranda's defense helped the Warriors steal momentum away from the Friars. Miranda had a game-high four steals and also grabbed seven rebounds.
The Friars need not hold their heads down. They were the underdogs and gave their fans a good show. Their high-low plays on offense with big men Michael Pangelinan, EJ Acda and Noah Tenorio found holes in the Warrior defense. Acda had seven rebounds and six assists.
Tenorio, a freshman, had six points and a game-high 12 rebounds. Kaine Santos, Jaden Santos and Russell Maratita each scored seven points for the Friars.
"The future is looking bright for us. I have high hopes for the next group coming up with Rui Ventura, Myles Perez, Owen Tretasco and Xander Sanchez coming back," said Quintanilla.
"It feels great to win this on my senior season and I really want to thank my family, friends and everyone else for supporting all of us," said Quintanilla.
PHOTO GALLERY BROUGHT TO YOU BY:

QUICK HITS
Guam MTB National Championship: Edward Oingerang and Jennifer Camacho are your 2023 MTB national champions. Oingerang finished the course in 1:13:24 while Camacho won her second straight title in 54:08.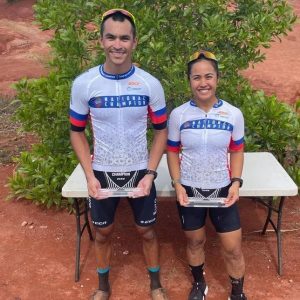 ——————————————
Kobe Miyashita, with St. John's coach Arvin Flores, was named the 2023 IIAAG Middle School Boys Volleyball MVP!