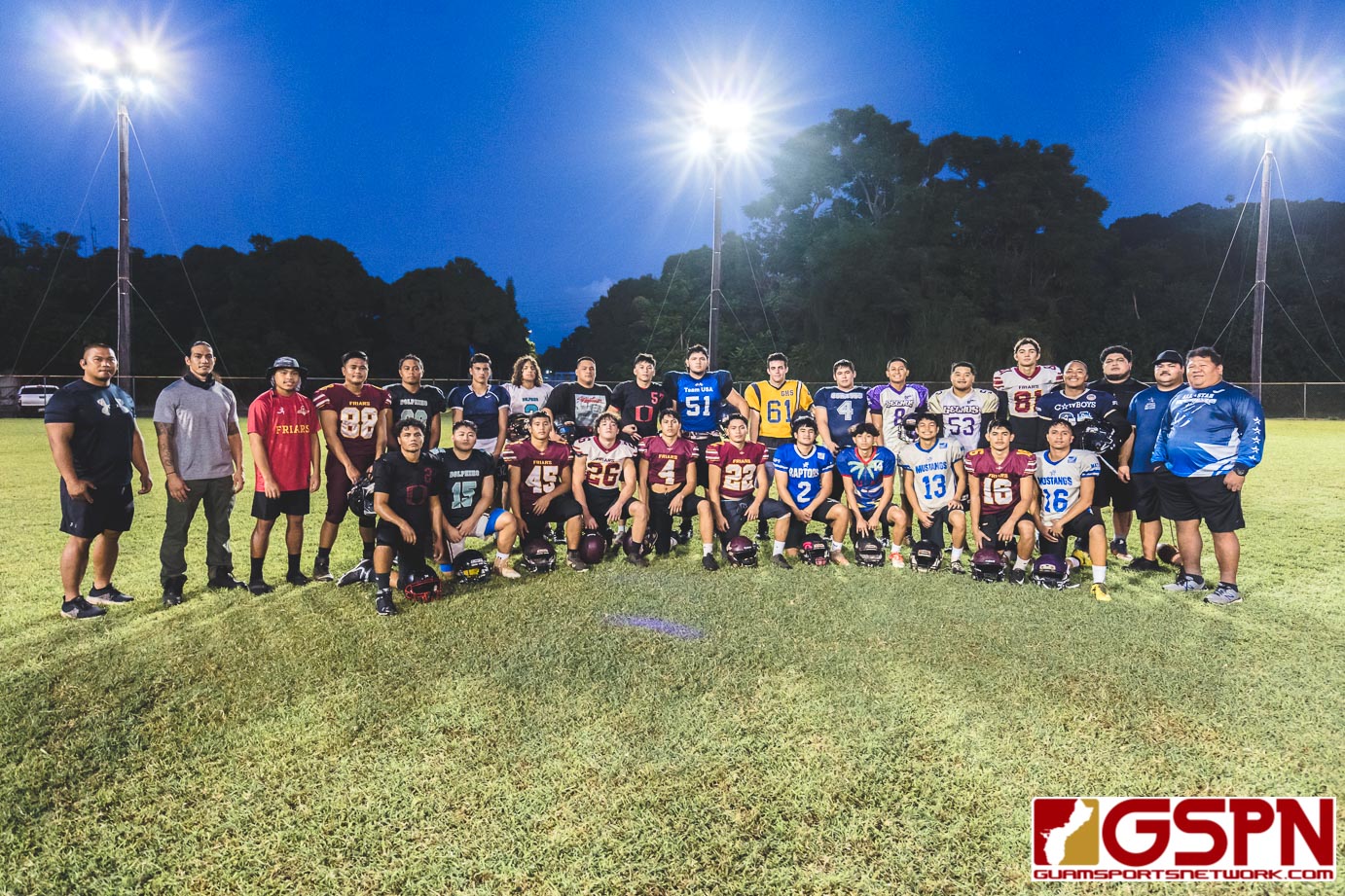 By GSPN
The 6th Annual Triple J High School Football All-Star Game, presented by GSPN, is back after a one-year hiatus! The Mustangs and Raptors are set to feature the stars of the 2021 ISA Football season as they go head-to-head this Friday at the GW Field.
The All-Star Game will feature the Mustangs, coached by Guam High Panther Jacob Dowdell, and the Raptors, coached by Southern Dolphin's Jonas Escuadra. Both coaching staffs participated in the All-Star Game Draft last December as each side selected 30 individuals from the 2021 All-Island list.
Building the Raptors
Coach Jonas Escuadra and Travis Meno knew the direction they wanted to take their team: build a wall on both ends. The Raptors grabbed 13 versatile offensive and defensive linemen, headed by Guam High Panther Avery Gamboa, along with MVP running back Caiyle Gogue and All-Island 1st team selectee Adin Lumba – two of the most explosive runners all season. Throw in bruising back Makai Blas from GW and the Raptors have a "pick your poison" style run game.
Southern Dolphin Josiah Quintanilla was selected 3rd overall, but the Raptors also managed to steal versatile QB/kicker/punter Alex Sojo in the later rounds. Their main weapons will be Panther receiver Jackson Ellis, Zach Muna and star tight end Isaiah Topasna, who led the Dolphins in touchdowns this past season.
That versatility on the line comes with some big names like Gamboa, Dolphin Tanner Calvo and Michael San Nicolas and Friar Tristan Burgos and Colin Ada.
Facing Mustang Aaron Johnson, the Raptors are also well equipped with ball hawks in the secondary as Alucious Medeler, Jaren Leon Guerrero, Mana Indalecio and Irvin White will be monitoring air-traffic.
Meet the 2022 Raptors
(not pictured: Makai Blas, Nathan Murciano, Austin Santos, James Sakate)