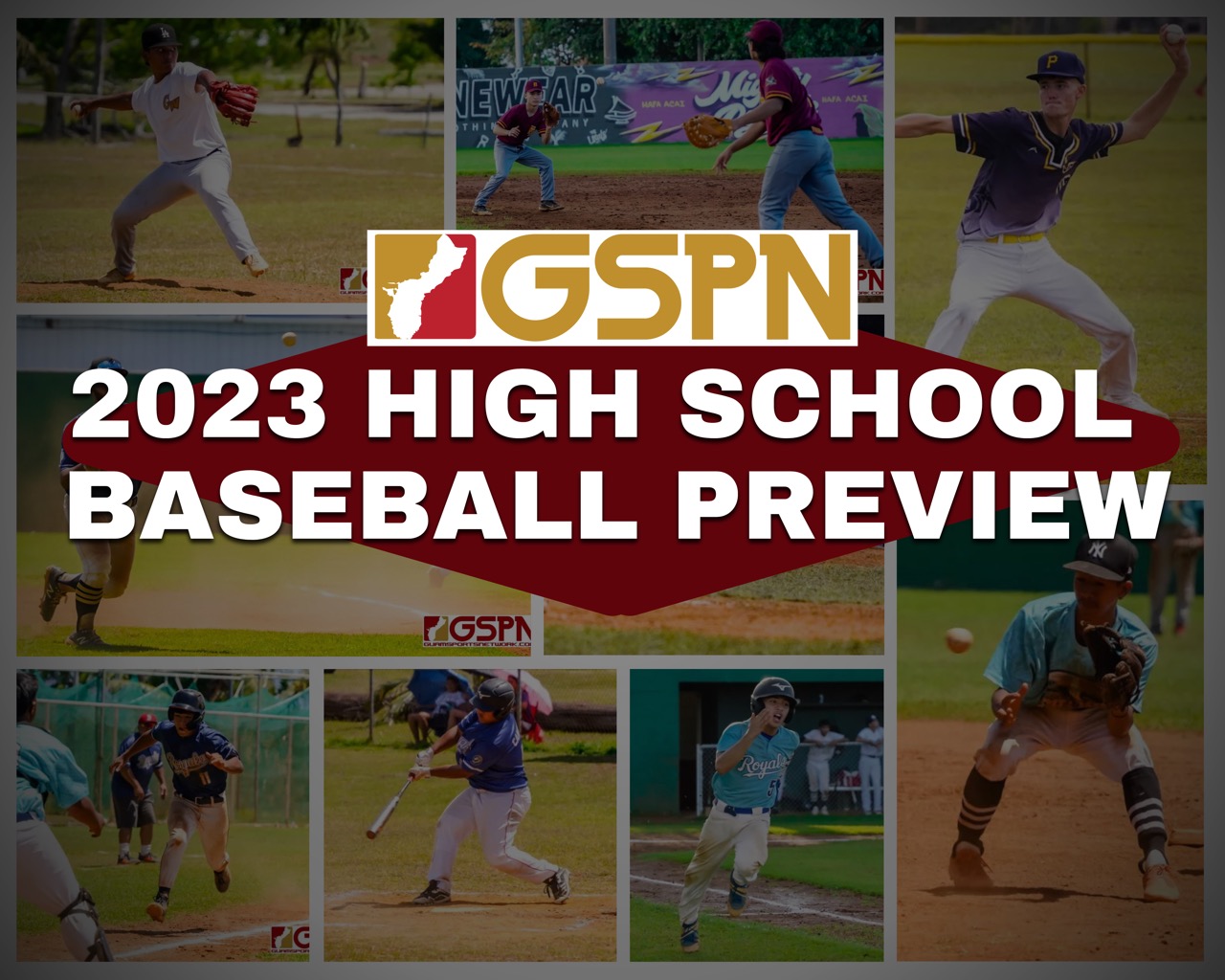 By Patrick Lujan
The 2023 High School Baseball League is one of a few sports leagues that will take up the 3rd Quarter limelight.
The defending champion Father Duenas Friars are stacked once again with only one big piece to their championship puzzle that graduated. The Notre Dame Royals are flush with talent as well and look to make another run at the title, where they fell just short in the championship game last May.
Let's hope the rain eases up in the coming months so these boys can take the field. Here's a quick look at all the teams.
FATHER DUENAS FRIARS
Manager: Gerson Hoebing
Key Returnees: Franklin Ninete, Jr. (12), U; Zachary Muna (11), 3B; Vance Meno (11), OF; Ayden Aguon (10), C; Kaiden Weakly (10), RP
Loss: Sean Balauro, OF
Newcomers: Gerson Hoebing, Jr. (9); Saez Alvarez (9)
Returning League MVP Franklin Ninete, Jr. spearheads the loaded defending champs that only lost one starter. Crazy to think it. Ninete and fellow All-Island returnees Zachary Muna, Vance Meno, Aiden Aguon and Kaiden Weakly bring back the pedigree. Speaking of pedigree, freshmen Gerson Hoebing, Jr. and Saez Alvarez were born and raised in the sport, making them fit in perfectly to an already stout squad. FD once again is the team to beat and the front-runner of another title run.
1st game vs. Okkodo, Jan 26, 4:15 pm @ FD Field
NOTRE DAME ROYALS
Key Returnees: Nolan Cruz (12), 1B/P; Zhavier Panes (11), C; Kyle Yoon (11), 2B; Ricardo Leon Guerrero (11), SS/P; Kaleb Salas (11), IF/P
Loss: Dominic Cruz, U; Ziyah Camacho, OF
Newcomers: Evan Cali (9)
If there's a team that will give the Friars a fighting chance, it will be the Royals. They, too, return a load of talent led by senior pitcher Nolan Cruz and junior Ricardo Leon Guerrero. Fellow junior Zhavier Panes behind the plate will guide ND's defense once again and likely set the offensive tone from the leadoff spot.
Numbers will be the Royals' enemy, however, as they currently only have 12 players on the roster heading into their opening game.
1st game vs. Southern, Jan 24, 5:30 pm @ Okkodo Field
GW GECKOS
Manager: Lawrence Aflague
Key Returnees: Jace Gumataotao (12), 1B; Raythan Sablan, (12), 1B/3B; Eden Sudo (11) OF
Loss: Javen Pangelinan, SP; Ashton Tedtaotao, SS; Xander Borja RP
The GW Geckos traditionally put out a solid ball club, but losing Javen Pangelinan and Ashton Tedtaotao will definitely hurt.
First-year coach Lawrence Aflague is pleased so far with the commitment in practice by his squad and said his more experienced players such as Jace Gumataotao and Raythan Sablan are leading the way as they should. With a mixture of talent level, Aflague sees his team gelling nicely heading into the new season.
Look out for Avian Gumataotao, Keoni Raguindin, Jaydin Duenas, John Cabrera, and Jesse Castro to contribute as well.
1st game vs. Guam High, Jan 26, 4:15 pm @ Guam High Field
GUAM HIGH PANTHERS
Manager: John Borja
Key Returnees: Diego Acevedo (12); Jacob Blake (12); Jaiden Borja (11); Atreyu Gentry (10)
Loss: Lane Lunsford, OF; Abraham Guerrero, 3B; Javier Concepcion, SS
John Borja is another first-year manager in the league getting to know his team. The Panthers have six returnees out of 16 on the roster. Five freshmen will provide youth. Seniors Diego Acevedo, Jacob Blake and Leonard Roach will be key leaders as Borja uses the last week of preparation to figure out the best spots on the field for his players. The new coach said one of his goals is 'establishing cohesiveness'.
1st game vs. GW, Jan 26, 4:15 pm @ Guam High Field
SANCHEZ SHARKS
Manager: Tony Yatar
Key Returnees: John Salas, Jr. (12), SS/OF/P; Zander Naples (10), P/C/IF; Darien Torre (10), 1B/OF/P; Jaythan Miner (11), P/IF
Newcomers: Felix Fejeran (12), P/1B; Gavin Ferreira (11), OF; Ty Fernandez (10), IF/OF/P; Justin Sablan (9), IF/OF/P
Senior shortstop John Salas, Jr. will be called upon to lead the Sharks in every way with his vast experience. Manager Tony Yatar has a staunch coaching staff with his sons Athan and Arren helping out along with Marlo Arce. We'll see if that translates onto the field.
"The goal is to make the playoffs since we missed it by one game last year," Manager Yatar said. "It's a work in progress."
Like almost all the other teams in the league, most of the players will be playing multiple positions with majority chipping in on the mound. The Sharks do have the numbers with over 20 players on the roster.
1st game vs. Tiyan, Jan 24, 7:30 pm @ Okkodo Field
OKKODO BULLDOGS
Manager: Jimmy Reyes
Key Returnees: Keithen Decipulo (12), P
Loss: Joseph Cruz, OF; Jay San Nicolas 2B
Newcomers: Everyone except Keithen
Jimmy 'The Principal' Reyes has been called upon to develop the Okkodo squad that has only one play returning that made it to the 2022 All-Island list – that being senior Keithen Decipulo. If anyone can mold raw talent, Reyes is one of them. His long history as an educator, exceptional player and umpire will do wonders for the Bulldogs that are short on experience.
"As long as they give the effort, I am happy," said Reyes with his trademark smile.
1st game vs. FD, Jan 26, 4:15 pm @ FD Field
SOUTHERN DOLPHINS
Manager: Chris Fejeran
Key Returnees: Dylan Rodeo (11), C/3B; Marko Parks (12), P/SS; Trevor Chaco (11), C
Loss: Jovin Terlaje, OF; Jonah Guzman, OF; Sage Reyes, P; Ben Bunag, OF
Newcomers: Koa Parks (9), P; Jaden Duenas (11), P/1B
Manager Chris Fejeran, who's also the Hagat Vice Mayor, heads into his third season as the leader of the Dolphins. Rich in baseball history, Fejeran hopes to lead the Southern boys into title contention.
"I'm very optimistic. We'll be contending this year, but the boys gotta want it. We can have all the talent, but it's up to them how they come out and play."
Senior Marko Parks will be the on-field leader for the Dolphins, which currently sports 20 strong, but only five returnees. Big hitter Dylan Rodeo and catcher Trevor Chaco look to be veteran leadership to the rest of the squad.
Southern has a rather deep pitching staff this year with up to seven strong arms. One to look out for is freshman Koa Parks, a lefty that left his mark as a stud pitcher while at Oceanview Middle School.
1st game vs. ND, Jan 24, 5:30 pm @ Okkodo Field
TIYAN TITANS
As of this writing, Tiyan Baseball is still being formulated.
1st game vs. Sanchez, Jan 24, 7:30 pm @ Okkodo Field
*NOTE: JFK Islanders have no baseball team this season.

QUICK HITS
The Figo Islanders 40s women's softball team took gold in the Senior Softball World Championship in Las Vegas. Figo came out of the loser's bracket and beat the Arizona Belles 17-3 in the AA division championship game Sunday afternoon.
Other Guam teams that played in the 40s tournament were: Team SOTTA (women's) and Bud Light Guam, Friars 671 and Sindalun Guahan (men's).
Sindalu finished a respectable 4th out of 24 AAA division teams.