[sixcol_five_last]
By Bucky Brennan
On Tuesday, the division leading Geckos and Sharks faced off in girl's volleyball action. It was the Sharks who won it with a comeback win after dropping the first set going 21-25, 25-21, 25-12.
After the game, Sanchez coach Art Stanley said "I have a lot of first-time varsity players, but we stayed tough and it payed off."
The Sharks did stay tough as there were no easy points. Fans for both teams were treated to long rallies featuring scrambling defenses that treated every point as if it were the last and most important of the season.
Shaniah Aguon started things off for the Sharks serving an ace off the net. But the Geckos quickly regrouped and reminded the Sharks whose house they were in. After trading points to get to 3-2, GW's Geana Leon Guerrero hit a kill for the sideout. Stunning the Sanchez fans in attendance, Leon Guerrero served four straight aces before her fifth serve caught the net. After the run, the score read 8-3.
The Geckos held the Sharks at bay to keep their lead until the scoreboard read 18-12. Sanchez was searching for an opportunity to get back into it when Giselle Kho slid from the middle to the weak side and smashed Chanel Cantunao's perfect quick-backset for a strong kill that got Sanchez's offense going. Zhanissa Mendiola served two straight aces and Edelene Cruz had a kill to bring Sanchez within two at 18-16. But GW Middle Zea Nauta smashed a kill of her own to stifle the Sanchez run. The teams traded points off errors before Leon Guerrero smashed a cross-court kill to put the Geckos ahead 20-18. Long rallies were the trend for the next points as both teams wanted the first set advantage going into the second. Zea Nauta's ace brought the score to 23-18, but Cruz and the Sharks weren't done yet. Cruz notched a couple tips and a Gecko error brought the score to 23-21. But a Sanchez error put the set point in GW's favor and Gecko Tisha Aguigui smashed a Sanchez overpass to end the set with GW going up 1-0.
In the second set, both offenses picked it up as the Geckos looked to close it out and Sanchez looked to force a third. Sanchez pulled away behind good defense and early errors by the Geckos. At 10-4, Nauta had a strong kill then an ace before Sanchez's Cruz silenced the gym again with a huge kill. After a Sanchez hitting error, GW's Maricia Mariano served five aces to lead GW on an eight-point run to take the lead for the Geckos 14-12. The teams battled point-for-point from there as the lead never went above one point for either side until the board read 21-21. Three errors by GW and a Catunao ace forced a third set with the momentum on the Sharks side.
In the third, errors plagued the Geckos.
Stanley said "They just out-errored us and we were able to save enough."
Sanchez opened the set 10-2 behind GW errors and kills from Mendiola and Kho. They continued their dominance in the set as GW recorded 12 unforced errors, including five from the service line. Cruz brought the heat recording three kills and an ace while Kho supported with three kills in the set. The last play of the set saw several Sanchez players stack the middle and Cantunao's quick set found Cruz as she slammed the ball straight to GW's midcourt to end the set and the game in truly dramatic fashion as Sanchez earned the comeback win.
For the Sharks, Cruz had six kills, two aces and two tips, Kho had six kills and two blocks while setter Catunao had two tips, an ace and sixteen assists.
In the losing effort for the Geckos, Leon Guerrero had five aces and four kills, Nauta had five kills two aces and a tip, Mariano had seven aces and three kills, and Aguigui had five aces and a tip.
[/sixcol_five_last][ubm_premium_banner_rotation banners=14, 46 , 16 interval=8 width=120 height=600 orderby=rand]
[fbshare url=" http://www.gspnlive.com/?p= 16124″ type="button"][fblike url=" http://www.gspnlive.com/?p= 16124″ style="standard" showfaces="false" width="450″ verb="like" font="arial"]

2022 GSPN I MÅS METGOT COMPETITION
2022 GSPN I MÅS METGOT COMPETITION
2022 GSPN I MÅS METGOT COMPETITION
2022 GSPN I MÅS METGOT COMPETITION
2022 GSPN I MÅS METGOT COMPETITION
2022 GSPN I MÅS METGOT COMPETITION
COMING SOON …
GNYFF Championship Saturday
2nd Annual Greg D. Perez Fishing Tournament on Saturday
GML Playoffs
1st Quarter Sports
QUICK HITS
Team Onslaught represented Guam at the National X-Ball League paintball tournament in Sacramento, CA. The squad finished in 3rd place out of 12 teams in the Division 5 category.
Front L-R: Frankie Borja, Robert Delos Reyes
Back L-R: Marvin Reyes, Ericka Camacho, Gavin Santos, Nick Rivera, Nikki Tan, Adrian Mora, Ralph Sgambelluri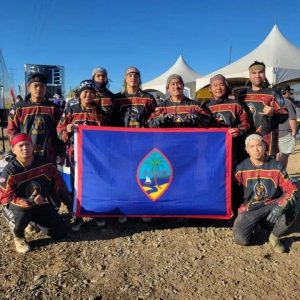 ———————————————–
Purebred Jiu-Jitsu Guam adds three more to their black belt stable. Daniel Cayanan, Cameron Mantanona and Peter Ungacta received their black belts on Saturday from Professor Stephen Roberto.