By Niko Bulaon
The Harvest Eagles took down their opponents, the ND Royals, in two sets, 25-23, 25-12, at the Harvest gymnasium Monday night.
At the beginning of the first set, the Royals took an easy 5-0 run after four consecutive aces, but the Eagles jumped right in after a kill from Ben Wiegand and two back-to-back aces from Isaiah Tydingco. The Eagles soon found themselves in a scoring spree after a monstrous kill by Jordan Javellana and three aces by setter Marlon Evans, tying it at 8-8.
ND found their footing, pushing passed their opponents, but errors from both sides kept the Eagles behind the Royals. With Harvest not far behind, the Royals tried to get points off of Eagle errors until another kill by Javellana put his team in front of ND.
The Royals kept pace with the Eagles, tying it at 22-22 after an untimely error from Harvest, but a set of tips from Evans and Wiegand ended the first set with the Eagles having an advantage.
"Coming off of four days of not practicing because of Easter break, we did pretty well," commented Evans. "There are still a few errors we could fix for next game, but overall, we just did pretty well."
With the second set rolling, it didn't take long for the Eagles to go on a 8-0 run to take the lead from their opponents, 8-2, after multiple kills, aces, and blocks. The Royals tried to keep up after kills from Sage Afaisen, Hance Barcinas, and Nathan Sablan, but aces from Tydingco kept the Eagles ahead of their opponents, 20-8.
A kill from Eagles freshman Kobe Sotelo and an ace from Javallana put the Eagles two points away from the win, but a serving error kept the game going. A kill from Royals Eric Lizama put the score at 23-12. A tip from Evans gave his team back the possession and an ace by Misaki Cramer ended the game, giving Harvest the win.
"We have three more games this week and it's a tight schedule," stated Evans. "If we get momentum on these few games then I think we can carry that on the rest of the season, get a high seed, and I think we have a pretty good spot at winning this thing."
Evans' setting skills and height make him one of Harvest's outstanding players, with his team of exceptional hitters and passers, Evans is able to play with satisfaction. "Whatever set I put up there, they hit for me and it's always encouragement for them to have an uplifting spirit. It's fun to play every set with them and to see them slam it down on the ground."
Evans led his team with four aces, two save tips, and a block. Teammate Javellana contributed with four kills and three aces.
PHOTO GALLERY:

QUICK HITS
Guam MTB National Championship: Edward Oingerang and Jennifer Camacho are your 2023 MTB national champions. Oingerang finished the course in 1:13:24 while Camacho won her second straight title in 54:08.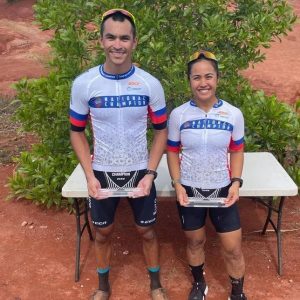 ——————————————
Kobe Miyashita, with St. John's coach Arvin Flores, was named the 2023 IIAAG Middle School Boys Volleyball MVP!