By Patrick Lujan
Two perennial title contenders got the 2014 IIAAG Girls Volleyball League season going Friday night as the GW Geckos hosted the Southern Dolphins in Mangilao.
The Geckos, led by 13-time championship coach Bobbi Quinata, found a smooth groove after a slow start to dismantle the Dolphins 25-11, 25-11. GW beat Southern twice during the recently-completed Shieh Preseason Volleyball Tournament.
"I haven't had this feeling in a while," Coach Quinata said about her high hopes in this season's team. "Having the girls play their best, they show me that in practice, it's just a matter of if they show up in the game."
The Geckos sure did show their coach – after first falling behind 5-1 in the first set.
GW then started its flow that couldn't be stopped, going on a 17-1 burst led by junior outside hitter Colleen Quinata who was on fire.
Quinata helped the Geckos pull away with seven – yes, seven kills in the run – her final kill giving the Geckos a huge 18-6 lead.
"After the first three (kills), I just kept feeding her," her coach said about Colleen's hot streak. "She's the only one that can mix it up."
Great passing led to setter Meliza Pama's pinpoint sets to the outside where Colleen took over from there.
"It started to be a normal thing," the quiet junior said about her killfest. "I couldn't just keep hitting because they will double block so I had to tip some."
In the second set, the Geckos played virtually error-free with only two unforced errors the entire set while other players got into the offensive attack.
Sia Duenas led the kill party as her third kill of the set had GW way ahead 16-7.
Seven team aces also was part of the barrage as the Geckos kept bringing the hard serves.
The bench even got involved as backup middle blocker Jasmine Almoguera produced the loudest response from the crowd with an emphatic kill off an overpass that made it 21-8.
"Our passing was much better than the tournament," Coach Quinata added. "They're more calm and more controlled (tonight)."
1st Set
Southern: aces 3; service errors 4; unforced errors 6; kills 0. GW: aces 5; service errors 1; unforced errors 7; kills 10 (C. Quinata 7, S. Quinata 3).
2nd Set
Southern: aces 2; service errors 3; unforced errors 6; kills 4 (Talledo, King, Surber, B. Quinata). GW: aces 7; service errors 3; unforced errors 2; kills 9 (Sia Duenas 4, Almoguera 3, S. Quinata 2).
Other Scores
Academy def. Guam High 25-9, 25-17
Sanchez def. JFK 25-23, 25-11
St. Paul def. St. John's 23-25, 25-22, 29-27
Okkodo def. Harvest 25-20, 23-25, 25-20
BYE: Notre Dame
Junior Varsity Scores
GW def. Southern 25-17, 25-12
Academy def. Guam High 25-11, 25-9
St. John's def. St. Paul 25-8, 25-19
Okkodo def. Harvest 25-17, 25-22
Sanchez def. JFK 25-20, 16-25, 25-15

QUICK HITS
The Guam Smokin' Hot women's softball team captured first place in the Asia Cup Softball Championships 2023 in Bangkok, Thailand.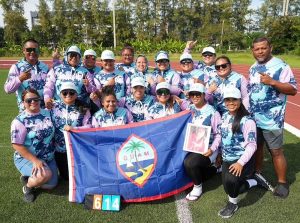 ——————————————————-
Roque Martinez gets the unanimous decision win Saturday night in his debut fight in South Korea's Black Combat promotions.
The 37-year-old controlled the tempo all three rounds and bloodied his opponent with some 3rd round ground and pound.