PRESS RELEASE – For Litasha Babas, playing soccer in the Guam Football Association Soccer Moms League is a welcome addition to her already hectic schedule that includes training for the upcoming half-marathon race of the Guam International Marathon this month.
"On Sundays, during this season's Soccer Moms League, I get up early to run as part of my training for the half-marathon and after, I tell my family I have to take a nap before going to play soccer," Babas said, with a laugh, after her team's match against the Dededo Divas.
Babas opted to try soccer when the Soccer Moms League was first formed last year, after years of being her children's biggest supporter from the sidelines.
"When the opportunity to play came up, I felt intimidated at first, but when I played, I wanted to keep going," Babas said. "The Soccer Moms League is very inviting for players from any sport new to soccer – we're all at about the same level.
"Before I started with the Soccer Moms League, I was so hard on my son when he played. Now, I know what it's like being out on the field – I'm not going to hound him too much. I'll take it easy on the sideline," added Babas, who has three children – Nathaniel, Natalie, and Nya.
In Babas' second season with the Soccer Moms League, she plays for Crush Hers, a first-time team composed primarily of mothers from the Orange Crushers club. Now, instead of just bringing her children to practice with the club, she also joins in Crushers practice sessions.
In addition to Crush Hers and the Dededo Divas, eight other teams trudged through Week 3 matches, officially completing half of the season. One team, the Queen Cobras, organized a mid-season potluck celebration after their 3 p.m. match. The spread included baked chicken, chicken kelaguen, lumpia, pasta salad, green salad, and more.
"We didn't want to have to rush home after our match to make dinner, so instead we brought our families to GFA to watch the games and eat after," said Doreen Rivera, a member of the Queen Cobras team. "This is a way of kicking back with our families and also with our teammates.
"I love playing in the league – I raised my kids with soccer. With this league, now I know the feeling of playing the sport. In the first week, when I made my penalty kick, I was so happy. I felt like a little kid and wanted to just run around the whole field after that goal," added Rivera, whose six kids – Matthew Topasna, Andrew, Adam, Adrian, Maria, and Masiah Rivera – all play soccer.
League matches continue Sunday, with the Lady Bombers taking on Crush Hers and the Dededo Divas facing the Island Girls at 3 p.m. At 4:10 p.m., Momsters High will play the Queen Cobras, Femme Fatale will take on the Supersonics, and the Heat Wave will face the Pika Moms. All matches are played at the GFA National Training Center.
There is no admission fee to watch the matches. The Mini Masakåda, Guam's U14 Girls National Team, will be selling snacks and drinks during league matches as a fundraiser to help offset travel and team expenses for an international tournament later this month.
PHOTO GALLERY:

QUICK HITS
The Guam Smokin' Hot women's softball team captured first place in the Asia Cup Softball Championships 2023 in Bangkok, Thailand.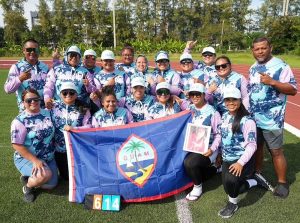 ——————————————————-
Roque Martinez gets the unanimous decision win Saturday night in his debut fight in South Korea's Black Combat promotions.
The 37-year-old controlled the tempo all three rounds and bloodied his opponent with some 3rd round ground and pound.