By Robert Balajadia
Eddie 'Barefoot Bandito' Vega had an amazing 2014 completing 101 marathons barefoot to secure his name in the Guineess Book of World Records.
While completing such a feat is time consuming on its own, the Bandito made a quick pit stop to Guam Tuesday night to see some old friends, visit his parents at the cemetery, and to even collect a couple of awards with his most recent being awarded by Governor Eddie Baza Calvo.
"You're never too old, it's never too late, and you never really know what your abilities are until you try and live your dreams," was the message Vega wanted to address, along with serving as an inspiration to those who deem themselves unable to accomplish big things. "I only started running seven years ago and I was an avid smoker for 23 years, smoking at least one-two packs a day."
Vega was awarded by Governor Calvo for his 2014 accomplishments while doing it all for charity, the Soles4Souls charity that gives shoes to young kids who need it. Vega has already raised over $125,000 which donated over 7000 pairs of shoes to the needy around the world!
Vega's stay will last no longer than 24 hours as he is off to tackle more accomplishments.
GSPN awarded Vega the 2014 Athlete of the Year award to kick off 2015 and the humble record holder wanted his award to serve as an inspiration to others as he often regarded himself as "not the best athlete" growing up.
"2014 was an incredible year and I hope it's not something I have to defend, because I don't know if I could do it again! I was blessed being injury free (despite being hit by a car) and blessed I'm still able to keep my job by doing a lot of work on the road. 2014 will always be the year I accomplished my goals," said Vega reflecting on his amazing year.
The 'Barefoot Bandito' has no plans on retiring anytime soon as he is preparing for possibly his biggest run ever, the 160K Bataan Death March Run in the Philippines this weekend, which is 100 miles straight within 30 hours.
Vega's 24-hour stay has been eventful with media outlets trying to catch up with the 'Barefoot Bandito' before he flies off.
Stay tuned with GSPN for the latest info on Eddie Vega and his 2015 ventures!

QUICK HITS
3rd place: Big ups to the Para Todu Rugby Club for finishing 3rd out of 16 teams in the Manila 10's Rugby Tournament today. Biba Guam Rugby!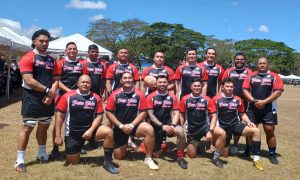 ——————————————
Guam MTB National Championship: Edward Oingerang and Jennifer Camacho are your 2023 MTB national champions. Oingerang finished the course in 1:13:24 while Camacho won her second straight title in 54:08.