By Robert Balajadia
The first official games of the 3rd quarter IIAAG sports season served up all over the Island with the boys and girls tennis matches flooded the early evening. The Harvest Eagles dominated action against the GW Geckos as the boys won 32-3 and the girls won 32-2.
The Geckos got two wins in the doubles division after the combo of Dwight Sablan and Nate Santos managed to steal two games from Eagles Josh Tan and Nathan Zhao. Sablan and Santos were trailing 7-0 in set points before Sablan served the Geckos in a perfect 40-0 game.
"Yes, our first win! Sorry, I was just getting excited," said Sablan after scoring on an ace to fight off the sweep. "Whoa, we won two games?!" Sablan added after scoring on a nice slice that barley stayed inside the line to win their second straight match point.
Tan and Zhao bounced straight back in the 10th math point to keep the short Gecko rally at bay, ending the action for the Eagles.
Complete Scores:
Boys Division: HCA 32, GW 3
HCA: Gavin Lee 8, GW: Tatsuya Cepeda 0 – Singles 1
HCA: Kevin Zhu 8, GW: Kyle San Nicolas 0 – Singles 2
HCA: Nathan Zhao/Josh Tan 8, GW: Dwight Sablan/Nate Santos 2 – Doubles 1
HCA: Alex Wu/Jaein Noh 8, GW: Kyler Diego/Daniel Qutugua 0 – Doubles 2
Girls Division: HCA 32, GW 2
HCA: Alyssa Bristol 8, GW: Ciera Guerrero 1 – Singles 1
HCA: Jane Baik 8, GW: Tara Babauta 0 – Singles 2
HCA: Kimberly Johnson/Sophia Takasu 8, GW: Ajalyn Omalou/Adrianna Dupreist 0 – Doubles 1
HCA: Jiyoo Lee/Tiffany Ninaka 8, GW: Elizabeth Flisco/Angelica Castrence 1 – Doubles 2
Other Scores
Boys Division : St. John's 27, Guam High 9
STJ: Derek Okuhama – winner via forfeit 8 – Singles 1
STJ: Anthony John 8, GH: Noah-Basurto-Olsen 1 – Singles 2
STJ: John Pedro/Tom Park 8, GH: Leon Bamba/Joseph Connelley 0 – Doubles 1
GH: Daniel Perez/Dylan Nowlin 8, STJ: F. Shimoda/Roy Yoon 3 – Doubles 2
Girls Division: St. John's 22, Guahm High 19
STJ: Margeaux San Nicolas 8, GH: Caylin Hubble 1 – Singles 1
STJ: Ariana Barreaux 8, GH: Elayne Apol 2 – Sinlges 2
GH: Tonia Reyes/Becky Lee 8, STJ: Kanasta Abrams/Kristine Song 5 – Doubles 1
GH: Jolene Connelley/Harmony Yatar 8, STJ: Bella Moon/Hayley Ko 1 – Doubles 2
Boys Division: FD 32, Sanchez 1
FD: Brian Tuncap Jr 8, SSHS: Gavin Perez 1 – Singles 1
FD: Joseph Cepeda 8, SSHS: Geordan Kho 0 – Singles 2
FD: Andrew Chung/Shane Schnabel 8, SSHS: Lloyd Martinez 0 – Doubles 1
FD: Eddie Chung/Tyler Talai 8, SSHS: Adam pangelinan/Brian Pascual 0 – Doubles 2
PHOTO GALLERY:

Foody's 5 Fun Facts
NFL Fan Edition: Sherwin Paet
DID U KNOW?
Four of the six starters on the 2020 Middle School Volleyball Champion Untalan Wildcats met for the first time since winning a title together as the Tiyan Titans took on the Okkodo Bulldogs in the first game of the ISA Boys Volleyball Season. (#7 Samuel Carino, #9 Lance Mupas, #15 Nicholas Santos, #17 Nash Ericsson)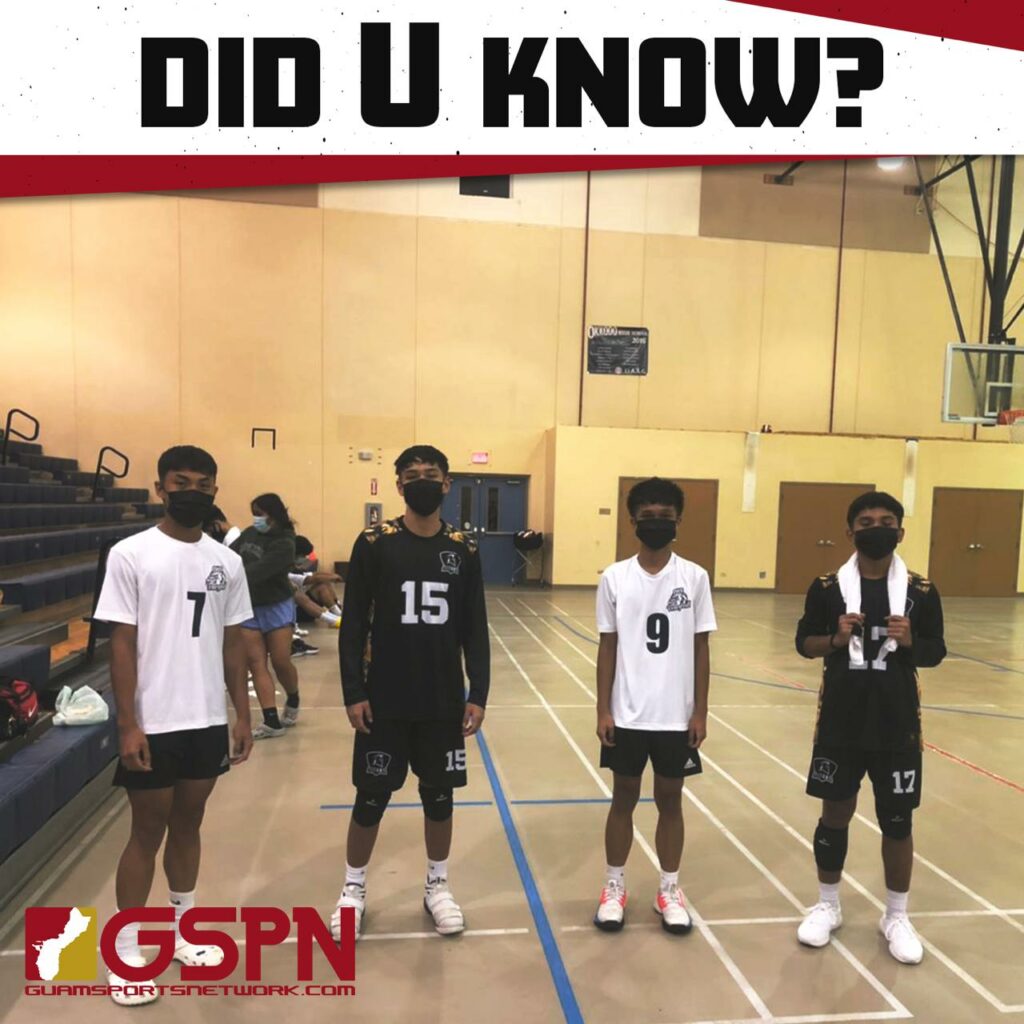 COMING SOON …
ISA Girls & Boys Volleyball
IIAAG Beach Volleyball
ISA/IIAAG Cross Country
ISA/IIAAG Tennis
QUICK HITS
Roque Martinez will face off against Josh Parisian on June 19th!