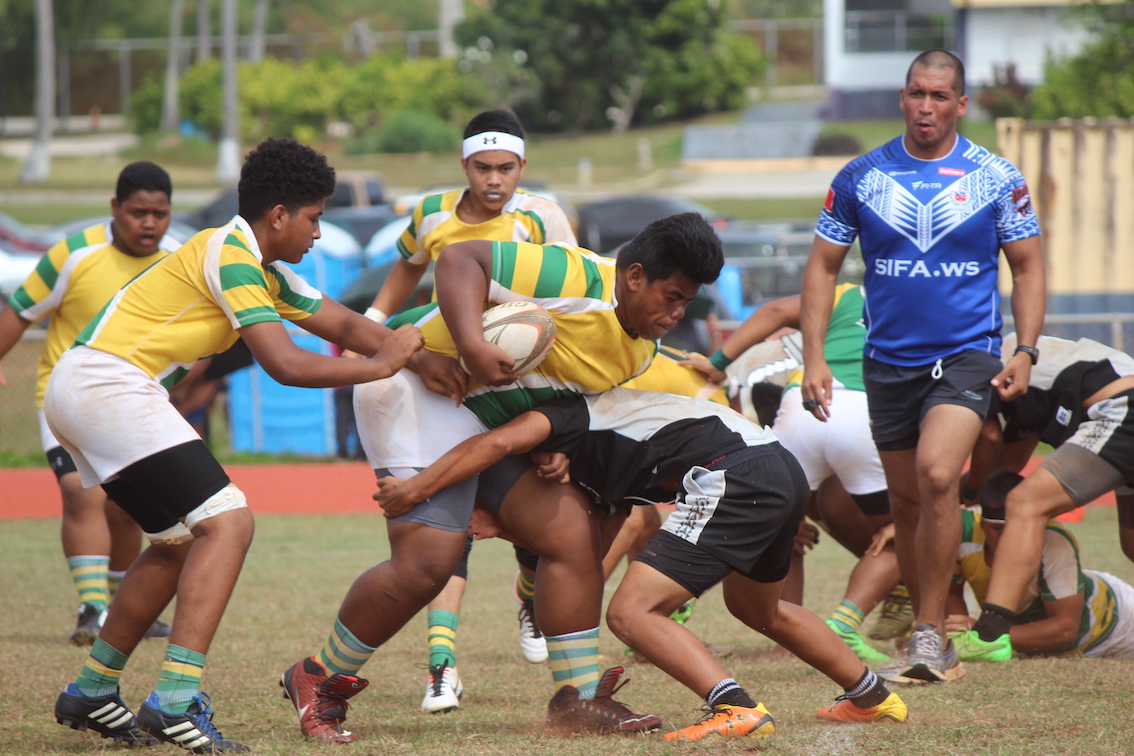 [useful_banner_manager_banner_rotation banners=72,74,79 interval=10 width=120- height=600 orderby=rand]
By Rob Leon Guerrero
This weekend the JFK Islanders lit the Wettengel rugby field up, as they showcased a dominant attacking performance against the Tiyan Titans, cruising to a 32-0 win.
While the Islanders have usually finished out their previous seasons around the middle of the pack, they appear to have taken a big step forward under the management of new coaches, former Guam national team members Steve Sablan and Alex Tenorio.
At (3-0-1), JFK remains near the top of the table in the league, and has a big mid-week game against the GW Geckos, who lost to the Southern High Dolphins this weekend.
JFK captain Antwon Palacios spoke to the mentality that his team has been cultivating this season, explaining that during their trainings they focus on their defense. "Our defense has been really good," said Palacios, which is a big statement to make, considering that the Islanders are a very young team, with several newcomers to the sport.
From the opening kick, though, JFK appeared to have their hands full with the unrelenting defense of the Titans, which would explain the Islanders' early ball handling errors.  Even as JFK would make its way into Titans territory, the defensive pressure caused some uneasiness and the Islanders left some early scores off the board.
Tiyan's performance has grown leaps and bounds since their inaugural season last year, and they have put together a very competitive side under the management of Guam national team member Sixto Quintanilla III. In one instance a possible counter attack by the Islanders found no momentum as Titans' Christian Diaz put a huge hit on the runner, causing a lost ball and giving possession to Tiyan.
From there, a penalty against Tiyan gave Palacios enough space and an opportunity as he raced thru the defense to score the first points of the game. Later in the first half, a JFK scrum opened up running room for Bryce Aguero, and they quickly recycled the ball out to winger AJ Benavente for a score, taking them into halftime with a 10-0 lead.
As strong and capable as Tiyan has played, their lack of depth in the reserves has been their undoing as they have failed to maintain throughout an entire game. This, again, would prove to be the case against JFK, as the Islanders defense immediately out of halftime had left the Titans beaten. Benavente would score his second try of the game off of a big run and pass from Alvin Gomez, and Freddie De Gracia successfully converted his kick.
The second half saw a strong performance from Islanders Sage Garcia, who has shown his versatility, playing both a front-rower and a loose forward, a very tough responsibility at any level. Out of a penalty, Garcia found space to draw in defenders before passing the ball to an uncovered Aaron Ramirez who outraced the defenders for another score.
Garcia would again set up teammates, grinding thru the Titans defensive line before offloading to reserve Stephen Guerrero for the score. The Islanders remained comfortable and closed out the game on a high note as Shawndee Taitingfong was the beneficiary of a huge JFK counter attack, scoring a try and leaving the final score at 32-0.
Garcia has proven to be a good player in previous seasons and displays a quality of leadership within the JFK forwards pack. A true leader, Garcia gives praise to his squad, saying that this year has been markedly different as they have been playing well as a team.
"We're only getting stronger," Garcia added of his opinion of his team, "before the game, when the coaches ask for words I just tell the boys to clean your cleats." The Islanders' task this week will represent a true trial by fire, as they play the Geckos Wednesday evening, followed by the FD Friars on Saturday.
Tuesday February 9, 2016
5:20pm – GW 0, Okkodo 10 – Boys Junior Varsity
5:40pm – St. John 12,  FD 5 – Boys Junior Varsity
6:00pm – Southern 17, Sanchez 0 – Boys Junior Varsity
6:20pm – St. Paul 17, JFK 24 – Boys Junior Varsity
6:40pm – FD 10, GW 10 – Boys Junior Varsity
7:00pm – Okkodo 17, Sanchez 10 – Boys Junior Varsity
7:20pm – St. John 31, JFK 0 – Boys Junior Varsity
7:40pm – Southern 15, St. Paul 10 – Boys Junior Varsity
Thursday February 11, 2016
5:20pm – GW 10, Acaademy 5 – Girls Junior Varsity
5:40pm –  ND 12, Southern 5 – Girls Junior Varsity
6:00pm – Okkodo 20, JFK 0 – Girls Junior Varsity
6:20pm – Acaademy 0, Southern 0 – Girls Junior Varsity
6:40pm – Sanchez 15, JFK 0 – Girls Junior Varsity
7:00pm – ND 10, Okkodo 10 – Girls Junior Varsity
7:20pm – Southern 7, GW 5 – Girls Junior Varsity
7:40pm – Acaademy 0, Okkodo 24 – Girls Junior Varsity
8:00pm – Sanchez 0, ND 12 – Girls Junior Varsity
Saturday February 13, 2016
8:30am – Academy 5, JFK 0 – Girls Varsity
9:00am – Academy 5, GW 31 – Girls Varsity
9:15am – Southern 12, GW 7 – Boys Varsity
10:30am – Tiyan 0, JFK 32 – Boys Varsity
11:45pm – Okkodo 27, Sanchez 12 – Boys Varsity
1:00pm – Guam High 5, FD 52 – Boys Varsity
2:20pm – Guam High 17, Sanchez 5 – Girls Varsity
2:40pm – ND 19, Southern 5 – Girls Varsity
3:00pm – Okkodo 20, Tiyan 0 – Girls Varsity
3:20pm – GW 36, Guam High 0 – Girls Varsity
3:40pm – Tiyan 0, Southern 26 – Girls Varsity
4:00pm – ND 19, Sanchez 0 – Girls Varsity
4:20pm – Okkodo 5, JFK 5 – Girls Varsity
4:40pm – ND 42, Guam High 5 – Girls Varsity
5:00pm -Tiyan 0, Sanchez 19 – Girls Varsity
5:20pm – Southern 24, JFK 12 – Girls Varsity
PHOTO GALLERY BROUGHT TO YOU BY:

National Guard Athletes
Scott Eclavea
Scott Eclavea is a jiu-jitsu black belt and an accomplished MMA fighter. The Guard has given him an outlet in combatives to display his martial art skills, where he's become a head instructor for that program. Eclavea has served since coming out of high school and the Guard has only changed his life for the better.
COMING SOON …
LIVE FOOTBALL ON GSPN
Semifinals: #1 FD vs. #4 Southern (Friday 7 pm)
GSPN Preseason Basketball Tournament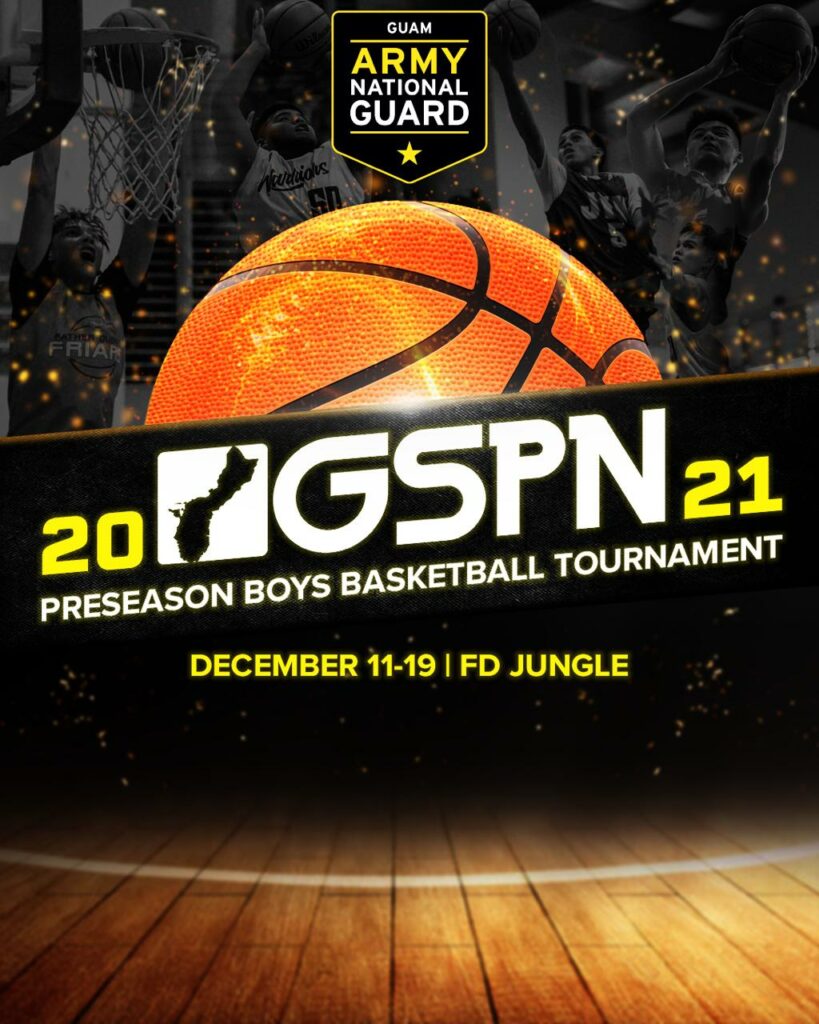 QUICK HITS
Robert Artero Maley recently captured the 182-lb. division of the Costa Mesa Classic, winning via pin in 4 out of 5 matches. Robert is a 4-year varsity wrestler at San Clemente HS (Tritons) and is currently ranked 15th in California's high school scene. He is the son of Jacque Artero Maley (AOLG 1991).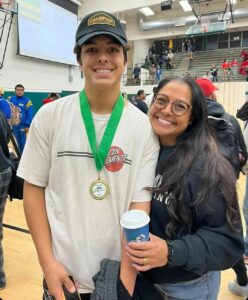 ——————————————–
Pat Taitano and Rich Abiador, teammates on the 1995 SPG volleyball team, have led their high school girls volleyball teams to the Washington State Championships in Yakima, Wa.
Taitano coaches Mt. Rainier High while Abiador leads North Creek High.
There for support is Dr. Mark Perez, a health professor at Central Washington University and a former UOG volleyball player.