By Patrick Lujan
Houston Texans football player J.J. Watt may be getting all the publicity for so far raising over $32 million in relief for Hurricane Harvey, but others are doing their part as well.
Guam's Kevin Cruz, a multiple champion jiu-jitsu practitioner who moved to Houston earlier this year, is doing his part in helping his new community in Texas.
Cruz came away virtually unscathed in the aftermath of the Texas hurricane in late August, but it was his roots here on Guam that moved him to make a difference in the lives of those affected as he started a GoFundMe relief campaign called 'Hope For Houston' and will be in the featured card in a jiu-jitsu event at The Woodlands this Friday night in Texas with all proceeds going toward the relief efforts.
"My drive for Houston in the midst of Hurricane Harvey comes from the ways in which I was brought up and how many of us were brought up on our island," Cruz said. "Our culture was birthed off of family, values, respect and reciprocity (helping and giving back) and although I don't reside on our beautiful island paradise anymore, I will still continue to live by those morals and values.
"While I was waiting for the hurricane to pass, it brought a flash back of growing up on Guam experiencing typhoons on a regular basis. I remember everyone all over Guam coming together as a community to help one another get back on their feet. I thought to myself I have to do something. This is the reason why I created my GoFundMe relief campaign called 'HOPEFORHOUSTON' which grabbed a lot of friends and families attention worldwide. What I wish for everyone at home on Guam or any other part of the world, if you were brought up with the same values and morals coming from the island, let's spread the håfa adai spirit."
On top of that, the Carlson Gracie, Jr. (Guam) protege' will be featured in a BJJ superfight to help the hurricane relief efforts as well.
"This specific event is special because the event coordinator/match maker Seth Daniels will be donating all proceeds from his upcoming events to help the victims of Hurricane Harvey. The format for the superfights comply with the IBJJF time format for belt color. The catch is the only way to claim victory is by, of course, submission or being the more aggressive/offensive fighter. No points or advantages are allowed which makes the event push for a more spectator-friendly match."
Good luck to Kevin. Win or lose the match, his giving heart has already made him a greater champion from home.

QUICK HITS
Guam MTB National Championship: Edward Oingerang and Jennifer Camacho are your 2023 MTB national champions. Oingerang finished the course in 1:13:24 while Camacho won her second straight title in 54:08.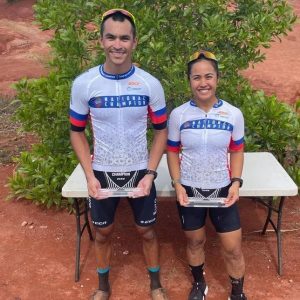 ——————————————
Kobe Miyashita, with St. John's coach Arvin Flores, was named the 2023 IIAAG Middle School Boys Volleyball MVP!