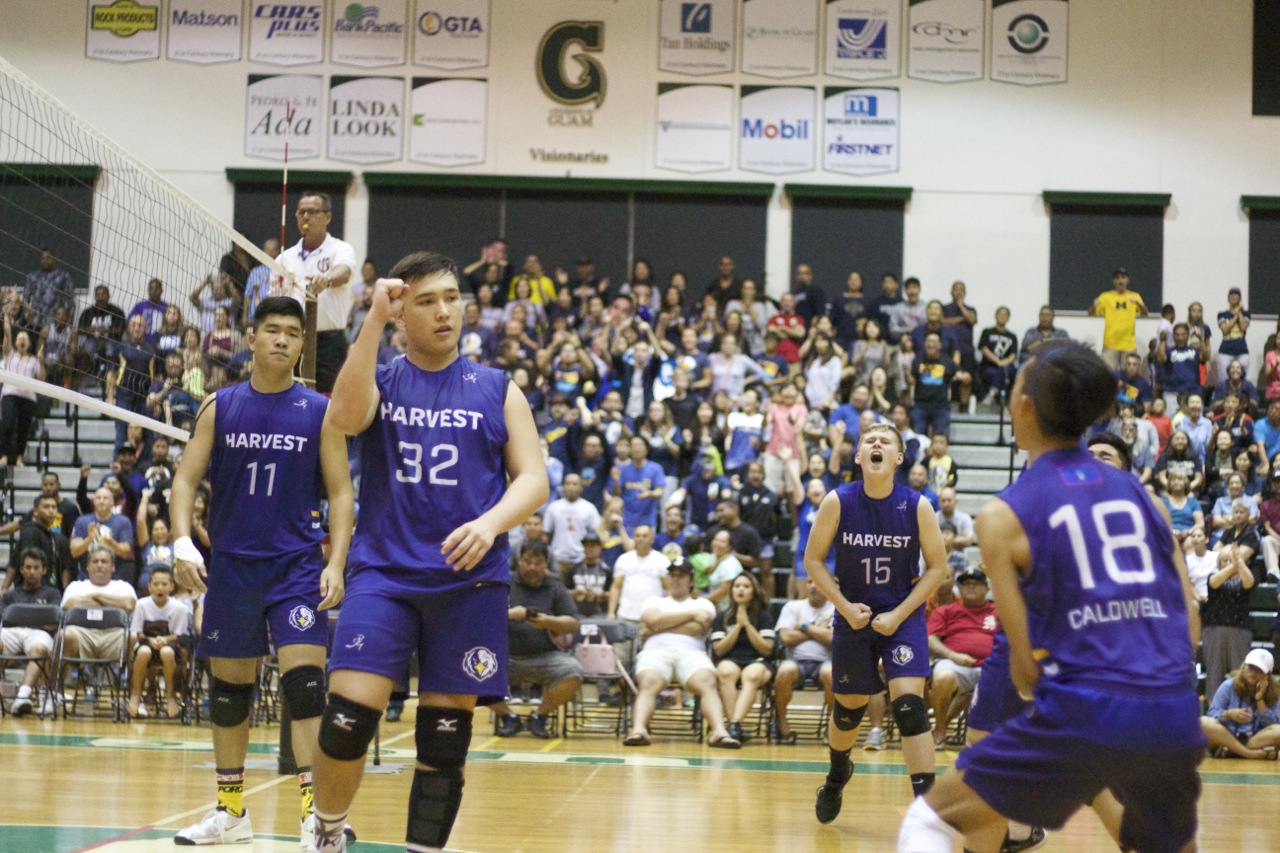 By Mike Nauta Jr.
Entering Saturday night's IIAAG High School Boys Volleyball League championship match, both the Harvest Christian Academy Eagles and Tiyan High School Titans had their eyes set on the prize. For the top-seeded Eagles it was looking for their first title in seven years and creating a storybook ending for what would be their coach's last year. On the other side, the Tiyan Titans looked to make history by clinching their first championship.
Both teams came battle ready tend wowed a large crowd in attendance at the University of Guam Field House. However, like every other game only one team can walk away victorious. So, after battling through five grueling sets, the Eagles were crowned kings of the court after beating their opponents 23-25, 25-14, 25-12, 22-25, 15-12.
"I'm so happy right now and there's not enough words that can express how proud I am of this team and what we have accomplished," said Eagles' and league MVP Sean Evans. "Coach Kevin has always believed in what our team is capable of doing, but also kept us in check reminding us how it'll be tough especially against a team like Tiyan who battled us till the end."
Heading into the fifth and deciding set, a flurry of emotions could be felt inside a packed field house as 15 points was all that was needed to claim glory. Backed by the offemsive play of Evans and teammate Allan "King" Kong, the Eagles jumped out to a fast 4-1 lead. However, the Titans proved why they made it to "The Dance" and responded to pull within one (4-3) after back-to-back kills from Jude Cruz and Ramil Padigos.
Midway through the set, a combination of costly Tiyan errors and kills from the Eagles' Kobe Sotelo, Clay Mitchell, and Evans gave Harvest a 10-5 lead. Just when Harvest looked to be in cruise control, the Titans awoke and went on a rally that eventually equalized the game at 11-11. The Eagles managed to put a halt to the rally and swing momentum after another Evans kill and a huge block at the net by Mason Caldwell. Harvest gave up one more point before Kong and Sotelo sealed the deal with two straight kills.
"In the final set it came down to us just remaining calm and focused," said Eagle's middle hitter Mitchell. "We all have jobs to do and we executed well in the final set especially against a Titans team that just wouldn't go away."
At the start of the game, it took both teams a couple of plays to settle down and calm some nerves. Errors early in the set kept the game very close. Down 16-13, the Eagles managed to knot the game as the duo of Caldwell and Mitchell combined for three kills. From that point on both teams managed to tie the game three more times before a service error by the Eagles gave the Titans the 25-23 opening set victory.
Second and third set action was nearly flawless for the Eagles as they held Tiyan to a combined 26 points while limiting the unforced errors count. In the second set, the closest the Titans got was at 6-4 early on. From then it was all Eagles as Mitchell, Sotelo, and Kong combined for eight kills.
In the third set, Evans led his team as he took over the service line down 4-1. With the backing of his teammates and a few aces, Evans didn't retire from the line until the Eagles built a 15-4 lead. The Titans tried to get back into the game with the offense of Richard Santos and Giovanni Manglona, but the deficit proved to deep as the Eagles closed out with a 10-8 rally.
Facing an elimination set, the Titans weren't ready to pack things up and began the fourth set with a 6-0 lead courtesy of a couple of Santos and Manglona kills. The tables turned as Tiyan continued to pour out the onslaught and eventually took an 11-2 lead. Late in the set and Tiyan needing a point (24-16) to force a fifth set, the Eagles made things a bit interesting as they scored six unanswered points making it a 24-22 game. It wasn't until Santos recorded a kill to end the set.
"Tiyan is a very tough team and we had to prepare both mentally and physically before this game," said Harvest coach Kevin Inafuku. "I'm extremely proud of our team and what they've been able to accomplish. Thank you to them, our parents, our friends, and of course the volleyball community."
Consolation Game: The FD Friars defeated the Okkodo Bulldogs in four sets to take home third place.
STATS
Eagles def. Titans 23-25, 25-14, 25-12, 22-25, 15-12
1st set
Aces: Harv 1 (Root), Tiyan 1 (Cruz); Kills: Harv 10 (Caldwell 4, Mitchell 2, Evans 2, Kong, Wong), Tiyan 4 (Santos 2, Padigos, Manglona); Blocks: Harv 2 (Evans, Mitchell), Tiyan 1 (Hagel); unforced errors: Harv 13, Tiyan 4; service errors: Harv 5, Tiyan 4
2nd set
Aces: Harv 2 (Evans 2), Tiyan 0; Kills: Harv 11 (Mitchell 4, Sotelo 3, Caldwell 2, Kong 2), Tiyan 3 (Manglona, Santos, Linos); Blocks: Harv 4 (Mitchell 2, Evans 2), Tiyan 2 (Ericcson, Manglona); unforced errors: Harv 4, Tiyan 7; service errors: Harv 5, Tiyan 1
3rd set
Aces: Harv 4 (Evans 3, Keith), Tiyan 0; Kills: Harv 9 (Evans 5, Sotelo 2, Caldwell 2), Tiyan 7 (Cruz 3, Santos 3, Manglona); Blocks: Harv 2 (Kong, Caldwell), Tiyan 0; unforced errors: Harv 4, Tiyan 10; service errors: Harv 1, Tiyan 0
4th set
Aces: Harv 1 (Caldwell), Tiyan 1 (Manglona); Kills: Harv 10 (Mitchell 4, Sotelo 2, Kong 2, Wong, Evans), Tiyan 15 (Padigos 4, Manglona 4, Ericcson 3, Cruz 2, Santos 2); Blocks: Harv 3 (Kong, Sotelo, Mitchell), Tiyan 0; unforced errors: Harv 8, Tiyan 5; service errors: Harv 1, Tiyan 1
5th set
Aces: Harv 0, Tiyan 1 (Padigos); Kills: Harv 10 (Kong 3, Evans 3, Sotelo 2, Mitchell, Wong), Tiyan 3 (Cruz, Padigos, Manglona); Blocks: Harv 2 (Kong, Caldwell), Tiyan 1 (Ericcson); unforced errors: Harv 5, Tiyan 3; service errors: Harv 1, Tiyan 0
PHOTO GALLERY BROUGHT TO YOU BY:

QUICK HITS
The Figo Islanders 40s women's softball team took gold in the Senior Softball World Championship in Las Vegas. Figo came out of the loser's bracket and beat the Arizona Belles 17-3 in the AA division championship game Sunday afternoon.
Other Guam teams that played in the 40s tournament were: Team SOTTA (women's) and Bud Light Guam, Friars 671 and Sindalun Guahan (men's).
Sindalu finished a respectable 4th out of 24 AAA division teams.