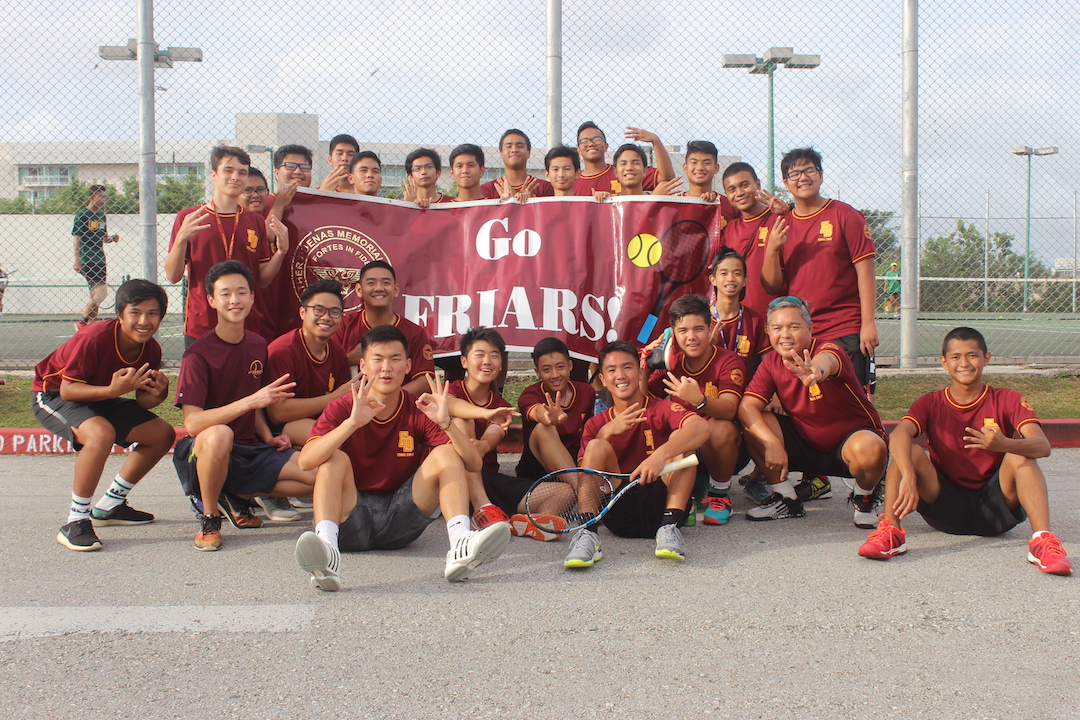 By Robert Balajadia
For the third straight season the FD Friars have captured the boys team tennis title after making a clean sweep of the JFK Islanders in the regular season finale Tuesday afternoon. This would also be the Friars 7th league title in nine years, all under head coach Dan Tinsay.
When asked what his secret was to get his team ready to compete every season, Tinsay gave all the credit to the boys.
"They're the ones who work hard, sweat the sweat, and run the runs. The whole team has been able to pick each other up whenever one of us gets down. The secret really is just how close these guys are as a team," said Tinsay.
The title was well in hand, but not final. The Friars were determined to close out the season with a win to rightfully earn their 2017 championship.
"It's not a championship until they actually win it and that's what the guys did today," added Tinsay.
"We were really motivated. Winning three of these was hard, but it definitely feels nice" laughed senior Shane Schnabel.
Singles
The Friars started with a quick win from Gabriel Tan, defeating Islander Mark J. Fontonilla 8-0.
FD's ace Camden Camacho also earned a big singles victory, dropping JFK's David Gugin 8-0.
Doubles
FD's Eddie Chung and Daniel Kwon held down JFK's Jericho Bantigue and Mark Maligsay 8-0 and the final match was also capture by Friars Shane Schnabel and Tyler Tai, defeating JFK's Al Labang and Stephen Ramirez also 8-0.
Shifting focus to Island Wide Tourney
With the 2017 team title in hand, the Friars are quickly shifting focus to the Island Wide Tournament set to go down next week. Stripping away the team aspect, it's now time to focus on the individual games and the Friars top brass are locked in.
"I try not to look at it as a special event and instead like any other match. I'm just going to the game and not think about too much, but focus on my game once I'm there," said Friars singles player Camden Camacho.
As for the doubles, FD's Chung and Kwon have been getting outside league games in against Guam's tennis folk, getting games in against different skill levels to try and be ready for what the All-Island Tourney has to offer.
"The most competitive teams out there are definitely Harvest and St. John's, but we're ready and we're confident," said Kwon.
It also doesn't hurt to load up on some motivation and hype material like Eddie Chung.
"We've been watching a lot of YouTube videos of some elite tennis matches," added Chung.
The epic tennis Finals between Roger Federer and Rafael Nadal a few weeks ago is giving the boys plenty of tennis enthusiasm.
PHOTO GALLERY BROUGHT TO YOU BY:

QUICK HITS
The Figo Islanders 40s women's softball team took gold in the Senior Softball World Championship in Las Vegas. Figo came out of the loser's bracket and beat the Arizona Belles 17-3 in the AA division championship game Sunday afternoon.
Other Guam teams that played in the 40s tournament were: Team SOTTA (women's) and Bud Light Guam, Friars 671 and Sindalun Guahan (men's).
Sindalu finished a respectable 4th out of 24 AAA division teams.