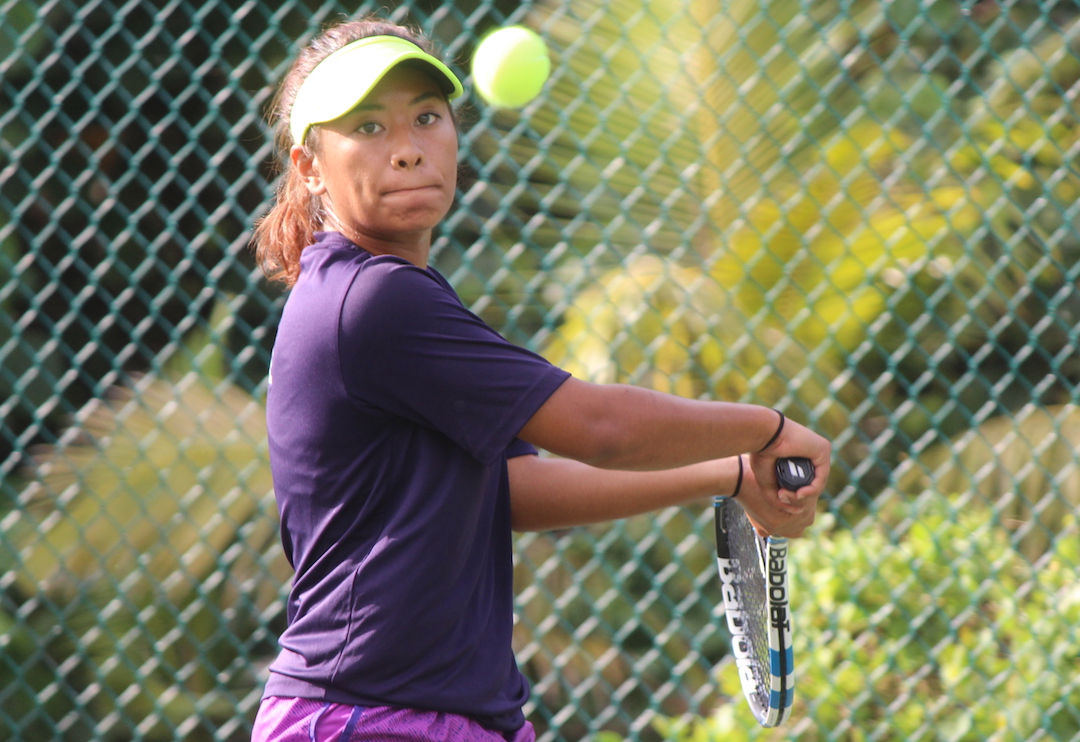 By Robert Balajadia
The Island-Wide Tennis Tournament went through it's quarterfinals Tuesday evening, featuring one upset in the women's singles, setting up an exciting battle for Wednesday's semifinals.
Defending champion and #1 ranked Tara Usita-Lee from Academy had to dig deep to get through a tough opponent in Keina Yoo from Harvest after Yoo tied the match 3-3. Usita-Lee, who hasn't played a tennis match in over a week, had to shake off game-time some rust plus a nagging injury and in the end, Usita-Lee would win the next five games to get the 8-3 match win.
"I was a little rusty and I'm still recovering from a shoulder injury. I only really started hitting yesterday, but [Yoo] was hitting really well and she was returning shots that I thought were getting away. I just tried to lessen my errors. I really had a lot of unforced errors today."
The top three seeds had a first round BYE. Being two wins away from another title, Usita-Lee has sharpened her focus.
"I try not to think of having the title and instead focus on each game and to make sure I'm doing my best each time,"added Usita-Lee.
The biggest upset of the day came from Sanchez Shark Alea Bonto who took out the #3 ranked Cougar Victoria Smith 8-4. Bonto played extra motivated due to it being her senior year and she admitted that playing in the opening round on Tuesday helped get her into form.
"I tried to look for her weaknesses. I didn't really have a strategy heading into this, I just tried to let her make the mistakes," said Bonto.
Bonto's next opponent is the second ranked Anika Sachdev and Bonto knows she's going to need another strong game.
#2 ranked St. John's Knight Anika Sachdev defeated JFK Islander Megan Babauta 8-2 and Harvest Eagle Lily Xu denied fellow Eagle Selah Chong in an 8-4 battle.
The Girls Semifinals will feature a showdown between:
Tara Usita-Lee vs. Lily Xu
Anika Sachdev vs. Alea Konto
Wednesday Semifinals Showdown
Check out some of the exciting action in store for Wednesday, including an All-Star battle in the boys singles.
Boys Singles
Camden Camacho (FD) vs. Derek Okuhama (STJ)
Mason Caldwell (HCA) vs. Sidney Gadsden (GHS)
PHOTO GALLERY BROUGHT TO YOU BY:

QUICK HITS
The Figo Islanders 40s women's softball team took gold in the Senior Softball World Championship in Las Vegas. Figo came out of the loser's bracket and beat the Arizona Belles 17-3 in the AA division championship game Sunday afternoon.
Other Guam teams that played in the 40s tournament were: Team SOTTA (women's) and Bud Light Guam, Friars 671 and Sindalun Guahan (men's).
Sindalu finished a respectable 4th out of 24 AAA division teams.