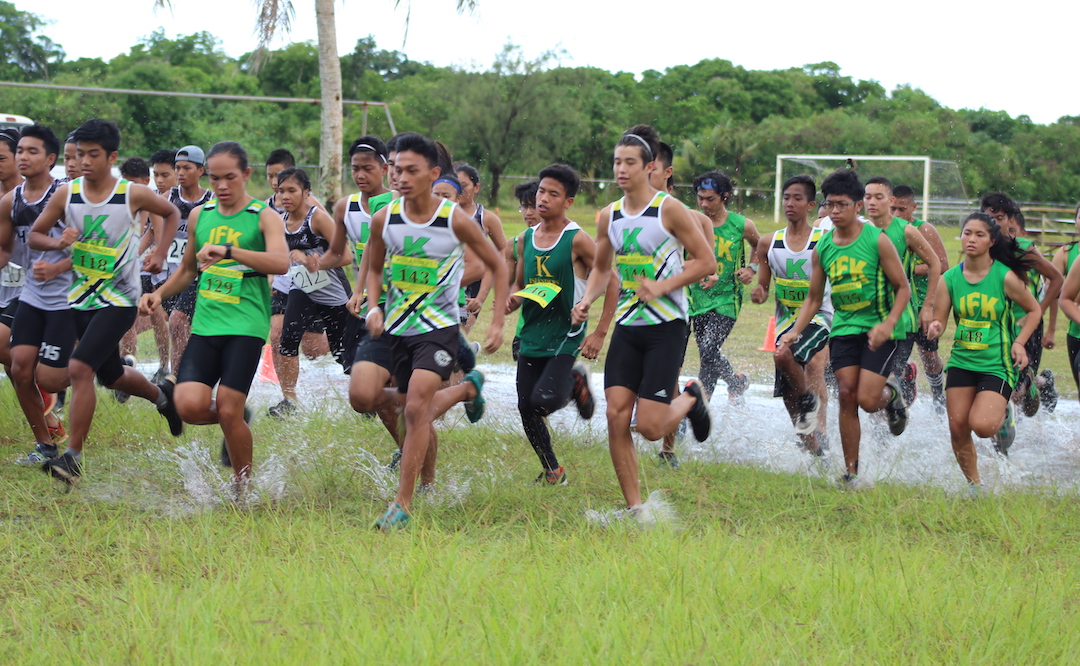 By Robert Balajadia
The battle between two of the best in the IIAAG's Cross Country early season came down to a four-point swing. Both the JFK Islanders and Sanchez Sharks boys cross country teams were sporting a (2-0) record, but Thursday's meet went to the Islanders with a nail-biting 26-30 win over the Sharks.
JFK managed to get three of the top five finishers and a strong sixth place finisher, which played out big in the scoring spread with a pack of Sharks clearing spots 7-10.
First overall finisher Ryan Kent said the approach for this race was more team oriented. And given the large puddles and tall grass, the conditions were in favor of the home team Sharks.
"There was a lot of water," laughed Kent of the course. "But this is cross country and we're expected to be able to run in all sorts of landforms. We're really practicing to try and stay up as a team rather than go out for individual or personal times. The Sharks runners are good and there's no excuse for us in it being this close."
Kent is usually able to hit his course in under 20 minutes though Thursday's meet featured a slower 20:06 finish, not that anyone is really considering his time 'slow'.
"I'm still adjusting to how my body is growing, being heavier and stronger," said Kent on his slower time. "I lost a little bit of that mentality, but I still have the rest of the season to work on that."
Thursday against the Sharks was a good early test for the Islanders and next another tough opponent stands in their way. The also unbeaten Guam High Panthers will clash with JFK next Thursday for the leagues top spot.
"It's going to be a big test. Attending practice is going to be key for us leading to that race," added Kent.
The Lady Islanders earned a win by default since the Sharks didn't field enough runners.
Top Finishers
Ryan Kent (JFK) -20:06
Tranate Barron (Sanchez) – 20:16
Ito Takumi (JFK) – 20:21
Ryniel DiRamos (Sanchez) – 20:23
Jeremiah Rosario (JFK) – 20:31
Joseph Aguon (JFK) – 20:46
Rico Castro (Sanchez) – 21:15
Granville Tandoc (Sanchez) – 21:29
Jerald Bagain (Sanchez) – 21:31
Isaiah Malig (Sanchez) – 21:37
PHOTO GALLERY BROUGHT TO YOU BY:

2022 GSPN I MÅS METGOT COMPETITION
I Mås Metgot Athlete Spotlight: Tim Nauta
2022 GSPN I MÅS METGOT COMPETITION
I Mås Metgot Athlete Spotlight: Tim Nauta
2022 GSPN I MÅS METGOT COMPETITION
I Mås Metgot Athlete Spotlight: Tim Nauta
QUICK HITS
1LT Belizabeth Nicole V. Rengiil is known to be the first female from Guam and Palau to make the All-Army Women's Rugby Team. She is an active duty Signal Officer with the US Army and is stationed at Joint Base Lewis-McChord in Washington. Her team won the Armed Forces Women's Rugby Championship with a 4-0 record.
Belizabeth is the daughter of Edwin and Juliana Rengiil with siblings Johanna and Edwin-Isaiah Rengiil from Mangilao.