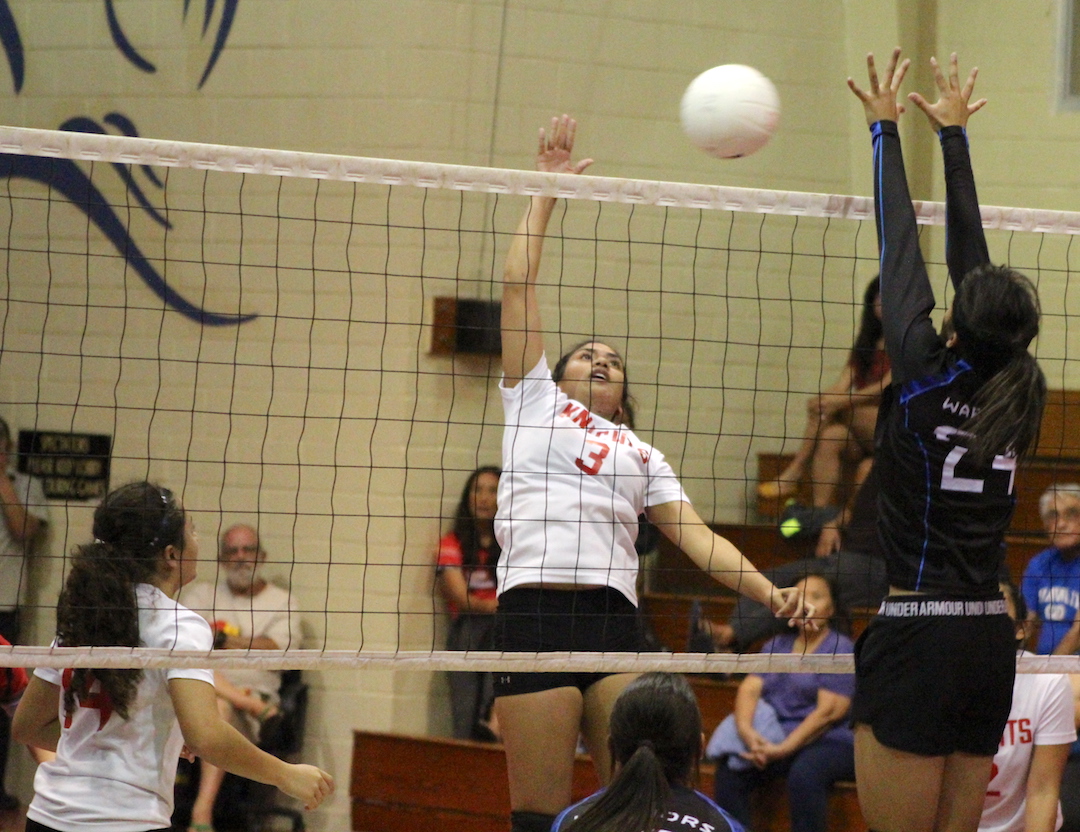 By Patrick Lujan
It's only the opening weekend of the IIAAG Girls Volleyball League, but the St. John's Knights made an early season statement with a 25-17, 25-20 Saturday night win over the St. Paul Warriors at home.
After winning the preseason tournament, the Knights continued their momentum against a talented Warriors squad.
Junior setter Hana Fernandez set the tone for the St. John's offense, running the plays with precision while sophomore outside hitter Hallie Wigsten powered the Knights with eight kills.
"[Hana] did a great job running the offense and getting the hitters involved. [Hallie] was swinging with confidence against a very good St. Paul block," said Knights coach Chris Shepherd.
The Knights had 23 kills on the night as opposed to 13 for the Warriors.
"Overall, I'm very pleased with our team effort. It is very early in the season an we have a lot to improve upon," continued Shepherd.
1ST SET
It was a feel-out process for both teams before St. John's pulled away from an 8-8 tie to go on a 10-2 run, capped off by Wigsten's third kill finding an opening in the middle of the St. Paul defense.
The deficit was far too much for the Warriors to bounce back.
"They played very consistent volleyball," St. Paul coach Al Garrido said about the Knights. "When it comes down to winning close games the most consistent team will usually win the game."
2ND SET
The Warriors had some life early on, jumping to a 3-0 lead behind the strong net play of Niah Siguenza. It was short lived, however, as the Knights rolled back with five unanswered points.
The game went to an 11-11 draw before St. John's went on another big run. Lone senior on the Knights starting lineup Caitlyn Niu was instrumental during the run with a couple of kills.
Wigsten had the cross court kills going in the second set, leading her team with five of the 12 kills. Niu added four kills.
The game ended when St. Paul's Siguenza hit into the net.
"I really am proud of our team's progress," Garrido added about the Warriors. "We are only in the second year of our program and they are growing leaps and bounds. Patience and reflection will be key."
KNIGHTS def. WARRIORS 25-17, 25-10
1st Set
Unforced errors: SP 4, SJ 3. Service errors: SP 5, SJ 1. Kills: SP 9 (Senne 4, Siguenza 3, Giger 2); SJ 11 (Wigsten 3, Mathews 3, Niu 2, Del Carmen, Fernandez, Shepherd). Aces: SP 2 (Lopez, Siguenza), SJ 5 (Del Carmen 2, Mathews 2, Shepherd). Blocks: SP 1 (Giger), SJ 0.
2nd Set
Unforced errors: SP 7, SJ 6. Service errors: SP 3, SJ 6. Kills: SP 4 (Siguenza 3, Calvo); SJ 12 (Wigsten 5, Niu 4, Fernandez, Shepherd). Aces: SP 2 (Lopez, Senne), SJ 3 (Shepherd 2, Niu). Blocks: SP 2 (Siguenza, Quintanilla), SJ 0. Referees: Hattig, Surber. T: 38 min.
OTHER SCORES
JFK def. Sanchez 17-25, 25-15, 25-20
Harvest def. Guam High 25-12, 25-23
Okkodo def. Tiyan 23-25, 25-22, 25-23
PHOTO GALLERY BROUGHT TO YOU BY:

QUICK HITS
Guam MTB National Championship: Edward Oingerang and Jennifer Camacho are your 2023 MTB national champions. Oingerang finished the course in 1:13:24 while Camacho won her second straight title in 54:08.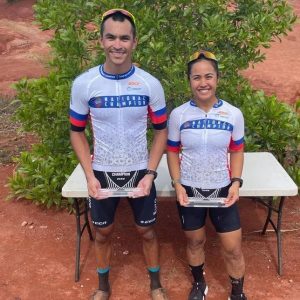 ——————————————
Kobe Miyashita, with St. John's coach Arvin Flores, was named the 2023 IIAAG Middle School Boys Volleyball MVP!