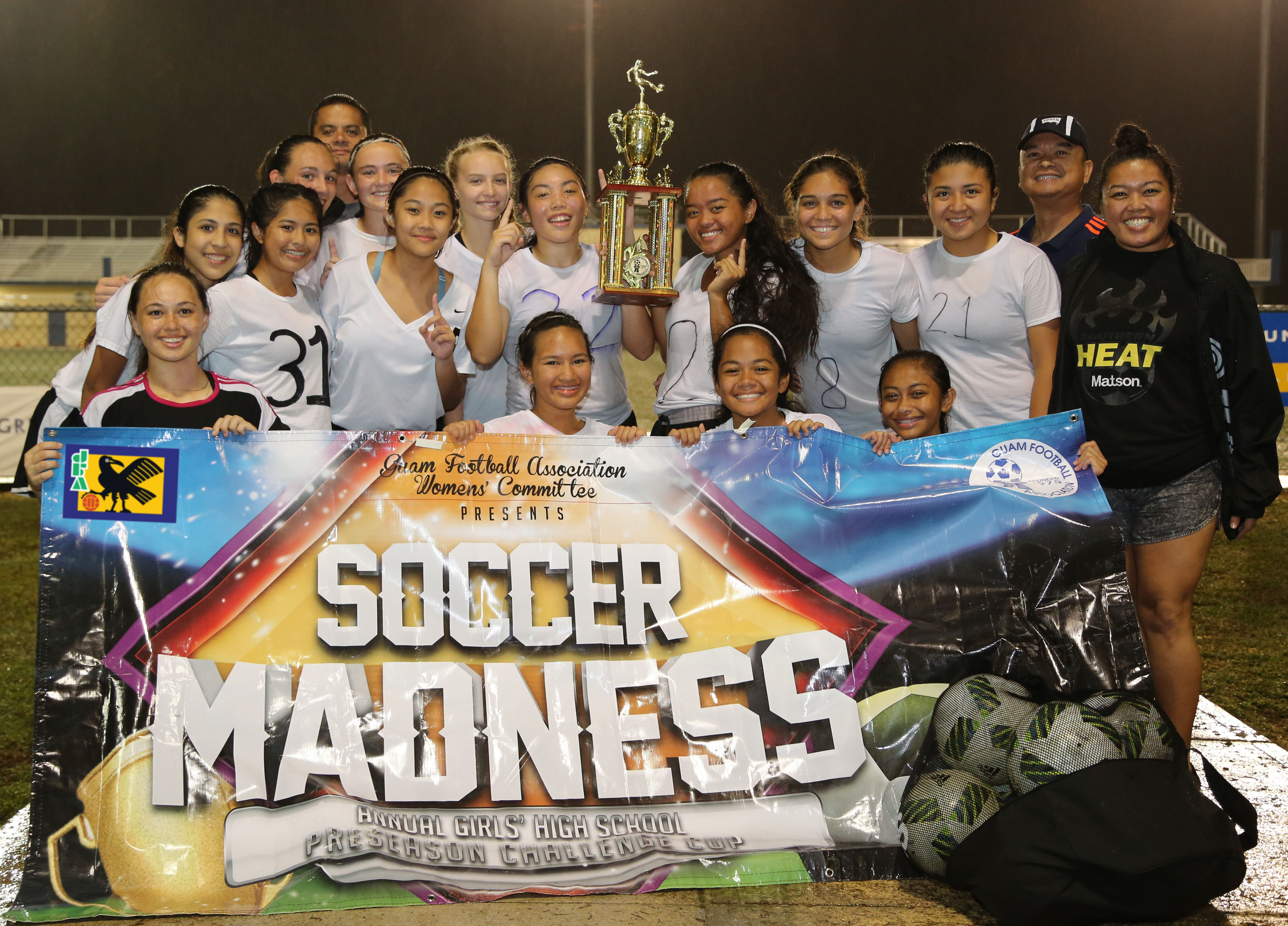 PRESS RELEASE – Guam High School Panthers denied the George Washington High School Geckos a second-straight pre-season title, winning a penalty kick shootout in the Guam Football Association Girls High School Soccer Preseason Challenge Cup Saturday at GFA.
The Panthers' cohesive defensive unit managed to stop the Geckos' top scorers, Jalana Garcia, Colleen Naden, and Skyylerblu Johnson in regular time, forcing a penalty kick shootout to determine the winner of the sixth-annual event, put on by the GFA Women's Committee with support from Japan Football Association.
Panthers' goalkeeper Alleria Putnam was her team's shootout hero, stopping the Geckos' final two shooters to set up teammate Aubrey Esteves to close out the match. Esteves didn't disappoint on her spot kick for the final 4-3 shootout score. Logyn Lallatin, Harmony Yatar, and Shelby Bishop also finished their shots for Guam High. Johnson, Naden, and Garcia, in that order, finished their shots for GW.
Before the championship match, the Panthers defeated Okkodo High School Bulldogs 1-0 in the first round and next, topped last season's IIAAG Girls High School Soccer League champions, Notre Dame Royals, 1-0 on a Lallatin goal, before heading to the championship match.
The Geckos dominated the earlier rounds of the preseason tournament, with Garcia, Naden, and Johnson combining for the team's 12 goals in three matches ahead of the final.
The Royals finished the preseason tournament in third place with a win over the Southern High School Dolphins in the consolation match.
Also recognized in the event's awards ceremony were the Bulldogs, winners of the tournament's silver bracket, in a sudden-death penalty kick shootout against the St. Paul Christian School Warriors.
Three other schools participated in the preseason tournament – Harvest Christian Academy Eagles, John F. Kennedy High School Islanders, and the Simon Sanchez High School Sharks.
The event is one of several events scheduled in the month of March in celebration of AFC Women's Football Day, recognized across the Asian continent Mar. 8. Other events held earlier in the month in Guam include the 10th Annual Sugar and Spice Middle Schools Girls Soccer Festival, the TakeCare Achieve Your Goals Women's Recreational Soccer Festival, and the launch of the W2 division of the Bud Light Women's Soccer League.
The George Washington High School Geckos pose for a team photo with the runner-up trophy of the Guam Football Association 6th Annual Girls High School Soccer Preseason Challenge Cup, presented by GFA Executive Committee member Tina Esteves (left). The event, put on by the GFA Women's Committee with support from Japan Football Association, featured nine schools competing for the preseason title Saturday evening at the GFA National Training Center. The Geckos, 2016 preseason champions, fell to the Guam High School Panthers 4-3 in a penalty kick shootout for the title.

COMING SOON …
High School Football starts Sept. 29
Brawl 3: Oct 13
Guam's Strongest Man and Woman Competition October 29