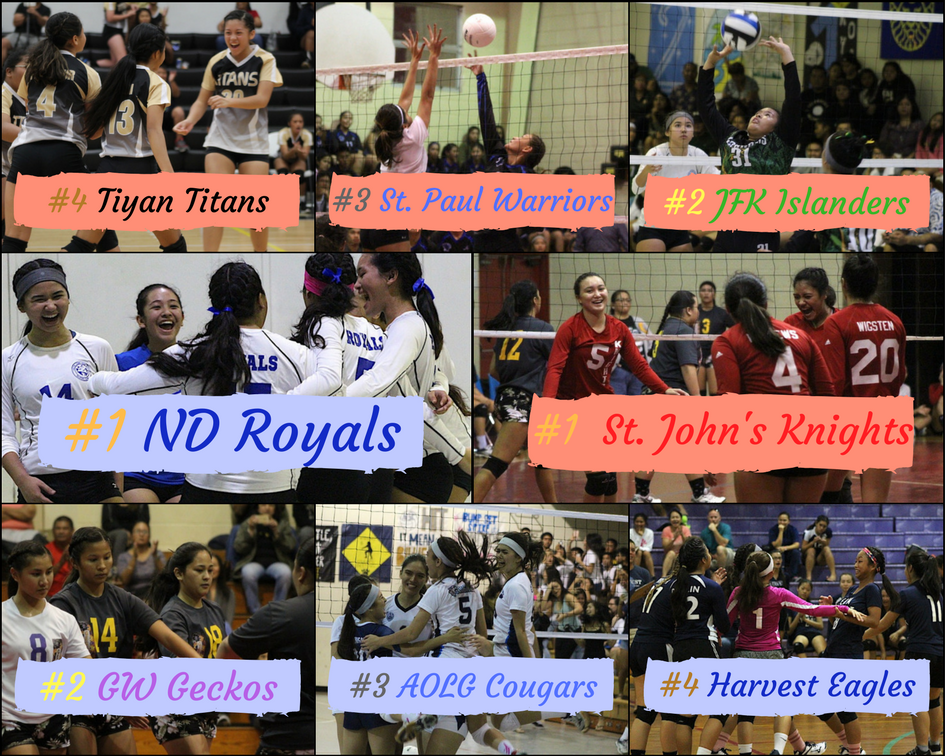 By Robert Balajadia & Patrick Lujan
In what has been a very exciting IIAAG Girls Volleyball League season so far, the playoffs should provide even more excitement starting with Friday night's quarterfinal matchups.
GSPN takes a closer look at all the games set for 6 pm Friday with the winners advancing to the semifinals next Tuesday.
(#4T) Tiyan Titans at (#1G) Notre Dame Royals 
Even in their two losses to GW and Academy, the top-seeded Royals nearly came away victorious. But when they're on their game, it's easy to see why they had the best record in the leage at 14-2. From setter Mariana Kier to league MVP outside hitter Carlie 'Hand Quake' Quinata, the Royals run deep with talent. They have, arguably, the best team chemistry and no glaring weaknesses to exploit. You only wonder if they started to peak too early, which has been an issue with ND in recent years as they tend to struggle come playoff time. The team is fully aware of what it's like to have a stellar season end without a title and they're ready to right that wrong. They also have the best traveling fan base, so expect loud and proud cheering from the ND sidelines all playoffs long. They should also have a chip on their shoulder as they only have Quinata and middle blocker Davie Rae LeFever selected in the 1st/2nd All-Island Teams.
Flying under the radar are the Lady Titans under head coach Rod Pama, who is still fresh from bringing the boys team to the IIAAG title game in the Spring. The long arms of middle blocker Y'lisiah Jorda will need to have a big presence against the plethora of dangerous Royal hitters. Outsider hitter Monique Benavente is capable of having a big game, but she'll need to have her biggest yet as she will have to deal with the likes of Aeryn Anulao and Davie Rae-LeFever.
(#4G) Harvest Eagles at (#1T) St. John's Knights
The Knights are young and hungry. The Knights are probably getting tired of hearing how young of a team they are and their 1st place record garners veteran level respect. They have three 1st Team All-Island players to prove it with junior setter Hana Fernandez, sophomore outside hitter Hallie Wigsten and freshman outside hitter Tylee Shepherd. Shepherd has already establish herself as a powerful right side hitter, but the Knights have capable and interchangeable pieces that have a knack for making timely plays. Winning the preseason tournament was a clear indication that they're playing to win and not just for 'experience'.
Playing on the road at the Big Red, the Eagles will have to serve aggressively if they hope to shut down the St. John's crowd and come away with the upset.  Harvest will be led by their "do anything and everything" opposite Tasi Castro (2nd Team All-Island), and Eliza Miller will provide plenty of firepower on the outside. 2nd Team All-Island sophomore libero Vanessa Kim  and Selah Chong will have their hands full keeping the ball alive off the Knights offensive attack so it looks like it's going to come down to how effective the Eagles' blocking scheme will be if they intend to advance to the semifinals for the first time ever.
(#3T) St. Paul Warriors at (#2G) GW Geckos
This is set to be the best matchup of the quarterfinals.
If you're a betting person, there's no safer bet than a Bobbi Quinata coached team, simply known as the Bobbi Factor. GW appeared to be in the midst of a rebuild year having lost four starters from last season to graduation, but there they stand on a nine-game winning streak. 2nd Team All-Island players Callia Concepcion, Evita Laguana and setter Kiyoko Afaisen are steady as they come and play Bobbi Ball as the outstanding GW players of years past.
St. Paul is the second hottest team in the league with six straight wins to finish the season 10-6. In fact, the Warriors won the first set in all 16 games they've played!
They have the talent behind middle blockers Joniah Siguenza and Monica Giger plus basketball stars Haley Senne and Chloe Miranda.
The intriguing part of this is that most of the Warriors will be leaving the following morning for a tournament in Hong Kong. Talk about bad timing.
(#3G) Academy Cougars at (#2T) JFK Islanders
Well polished and not prone to make many mistakes, the JFK Islanders find ways to win. Big victories over Academy and GW are enough to consider the Islanders a serious threat. As high in the standings as they finished, no player made 1st or 2nd Team All-Island. Middle blocker Eddyanne Sablan supplies a big source of the offense with setter Valorie Escalona driving the pace. JFK will let their opposition pile on errors while not giving many back. Teams will have to go after JFK if they intend to beat them.
The defending champ Cougars find themselves in an odd position. Talent still floods the roster, but the Cougars have struggled to win the close games. The combination of middle blockers Laressa Halladay (1st Team All-Island ) and Thiesen Taimanglo (2nd Team All-Island) are the best in the business. Outsider hitter Lauren Hoebing (2nd Team), the MVP of last year's title game, has been playing solid and First Team libero Jayda Camacho eats up the backline. Head coach Ray Mantanona has been away from the team for medical reasons since the season's midpoint and they aren't expecting his return. If the Cougars can put it all together, much like they did in the title game last year, they become the team to beat.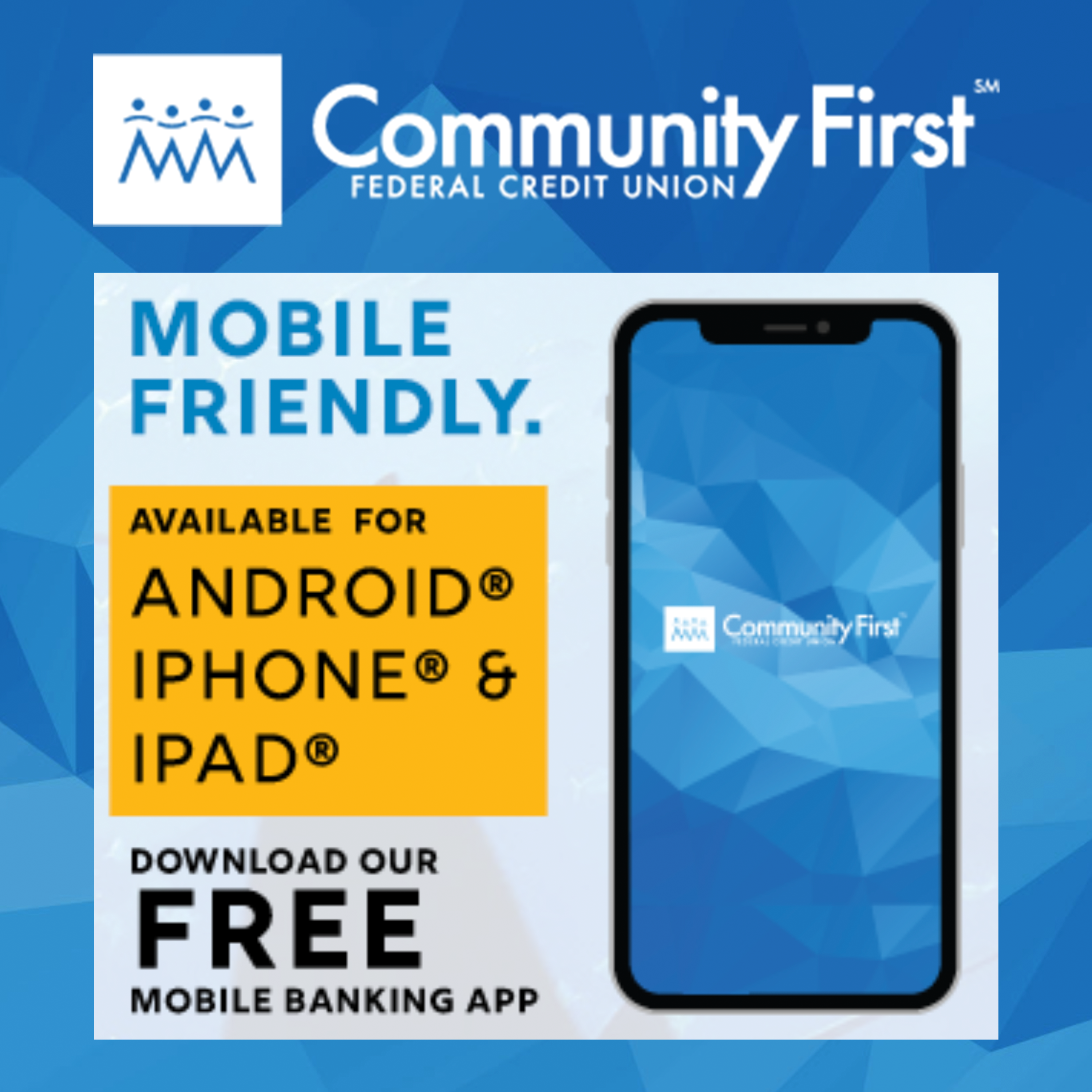 GPS Sports Calendar
SU

MO

TU

WE

TH

FR

SA
29

30

1

2

3

4

5
Events for December
1st
No Events
Events for December
2nd
No Events
Events for December
3rd
No Events
Events for December
4th
No Events
Events for December
5th
No Events
6

7

8

9

10

11

12
Events for December
6th
No Events
Events for December
7th
No Events
Events for December
8th
No Events
Events for December
9th
No Events
Events for December
10th
No Events
Events for December
11th
No Events
Events for December
12th
No Events
13

14

15

16

17

18

19
Events for December
13th
No Events
Events for December
14th
No Events
Events for December
15th
No Events
Events for December
16th
No Events
Events for December
17th
No Events
Events for December
18th
No Events
Events for December
19th
No Events
20

21

22

23

24

25

26
Events for December
20th
No Events
Events for December
21st
No Events
Events for December
22nd
No Events
Events for December
23rd
No Events
Events for December
24th
No Events
Events for December
25th
No Events
Events for December
26th
No Events
27

28

29

30

31

1

2
Events for December
27th
No Events
Events for December
28th
No Events
Events for December
29th
No Events
Events for December
30th
No Events
Events for December
31st
No Events
Foody's 5 Fun Facts
NFL Fan Edition: Sherwin Paet
DID U KNOW?
Frank 'The Crank' Camacho was a competitive youth golfer in Saipan with dreams of making it to the PGA.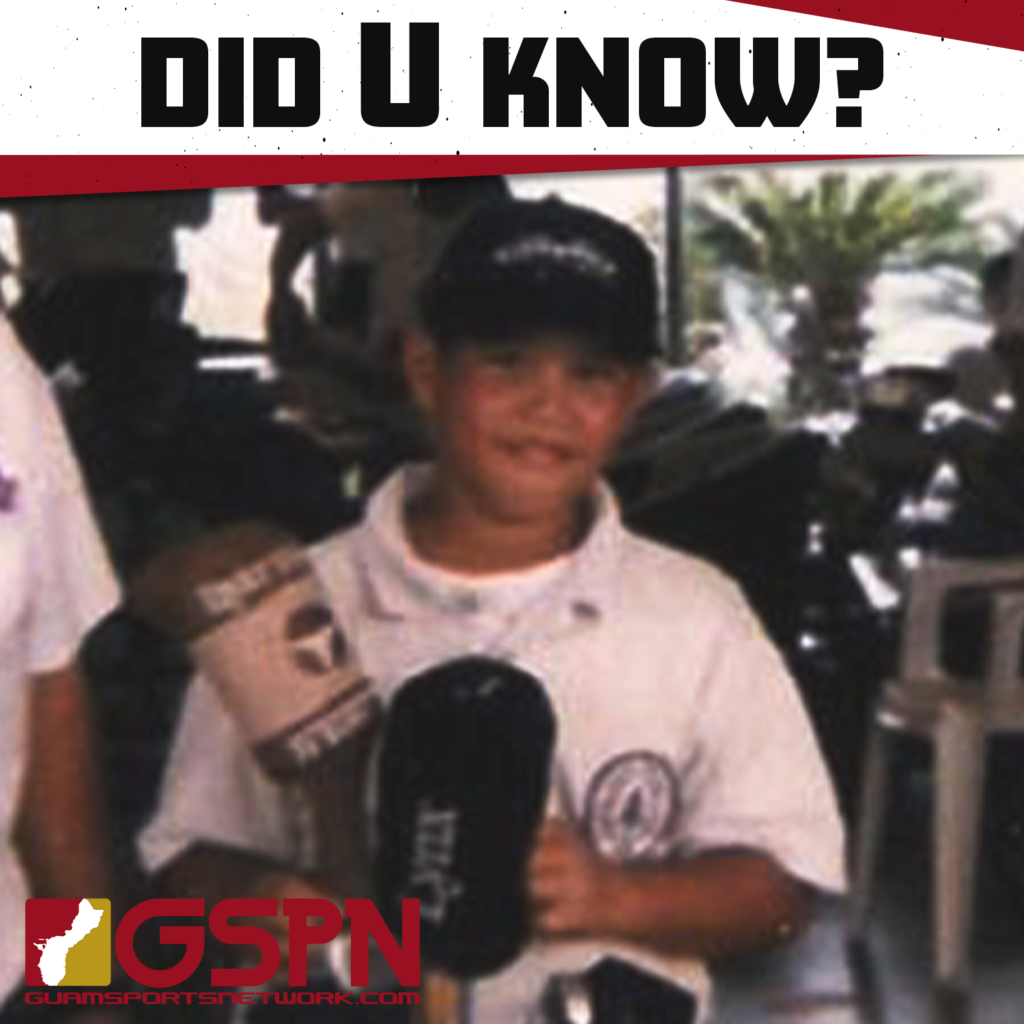 COMING SOON …
ALL SPORTING EVENTS HALTED DUE TO THE CORONAVIRUS ISSUE
QUICK HITS
Brazilian Jiu-jitsu gains another CHamoru black belt.
Johnny-James Lujan earned the honor in Colorado from Professor Tom Lynn, who is also a former US Olympian in taekwondo.
Lujan is the son of Johnny Lujan formerly of Mongmong and Janille Jamero Lujan formerly of Sinajana.