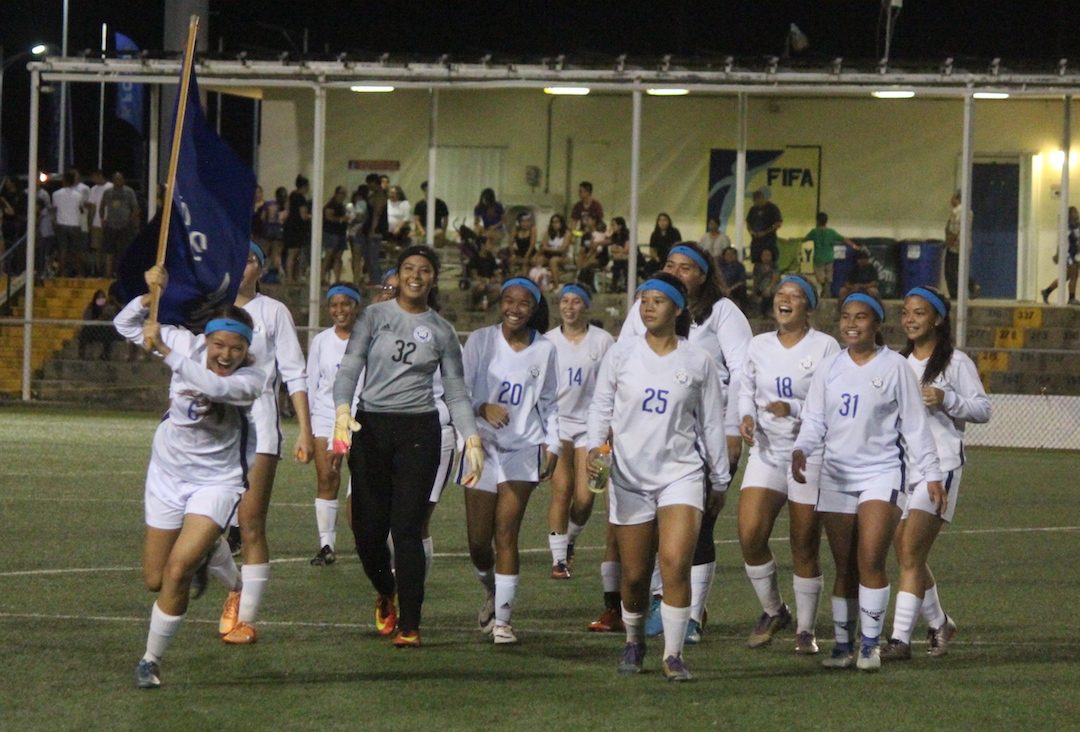 By Robert Balajadia
Is this the beginning of another Royals soccer dynasty?
After winning five-straight IIAAG soccer titles from 2006-10, the Lady Royals earned another consecutive title with a defense dominated 1-0 victory over the GW Geckos in the championship game at GFA Saturday evening.
The only goal of the game came early, clocking in a score at the 5th minute. Royal Shyann Roberto had booted a great corner kick to put pressure on Geckos goalie Tamika Hechinova, who had issues securing the shot. As it bounced off via Hechinova's deflection, Royal Brianne Leon Guerrero stuck her foot in to knock in, what would eventually be, the match-winning score.
"After [Shyann] had kicked it, I saw it bounce off the keeper and I knew that I could get to it. I took my shot and it just went in," said Leon Guerreo on the games only goal. "We knew they were going to come out harder, but we pulled through."
Royal goalie Aeryn Anulao quickly became a house hold name after turning away the ever dangerous Gecko offense time and again, shutting them out for the first time all season. Anulao made a diving save early in the first half off a shot from Gecko Colleen Naden that boosted her confidence, proving she was locked in from start to finish.
"I cold not let my team down, I could not let even one ball get past me," said the junior Anulao on her huge night.
The captain of the Royal defense, Elysia Perez, had the difficult job of guarding star players Colleen Naden and Skyylerblu Johnson, as Perez and the ND defense made every shot the pair took a difficult one.
"We know they have dangerous players and our job was to apply a lot of pressure on them to try and frustrate them," said Perez on the tough defense. "Once we took the lead, we didn't stop playing and we kept our composure and did it because we wanted it more."
Offsides erases Gecko goal
Gecko fans won't quickly forget what happened midway through the second half after a goal had been wiped off the scoreboards due to an offside call. Johnson had been fouled just outside the goal box where she fired a strong shot that was deflected by Anulao.
The deflection took a long roll, setting the stage for Gecko Autumn Cruz who flew in for a strong boot that zipped right into the back of the net with GW celebrating what they thought to be a game-tying goal.
Instead, an offside penalty was called negating Cruz's goal, leaving the score 1-0 ND. The Geckos tried to protest on the field, but head referee Shawn Spindle didn't need much deliberation before calling it Royals ball.
The goal that never was didn't slow down the Gecko offense as they continued to test the junior Anulao. Johnson had her free kick from the left wing blocked by Anulao early in the second half as well as Jalana Garcia's near break-away shot form the right moments later.
Not even Naden could get into a groove with the Royal defense shadowing her on every possession.
Young stars ready for next year
Leon Guerrero, a sophomore, has only known how to be a champion after also winning the title her freshman year. A bulk of the team will be back next season for ND as Anulao and Perez will enter their final year of high school.
"Senior year for us is going to be all about defending the title, again," added Anulao.
With majority of the ND talents staying put, it's hard not to consider another Royal title streak is on its way.

2022 GSPN I MÅS METGOT COMPETITION
I Mås Metgot Athlete Spotlight: April Flores
2022 GSPN I MÅS METGOT COMPETITION
I Mås Metgot Athlete Spotlight: April Flores
2022 GSPN I MÅS METGOT COMPETITION
I Mås Metgot Athlete Spotlight: April Flores
QUICK HITS
Guam boys Kekoa Toves and Matias Calvo went head-to-head on the rugby pitch as American International College took on Dartmouth College, both top-ranked men's rugby programs in the country.
Calvo (FD) is the captain of Dartmouth and scored, but Toves (Sanchez) and his AIC squad came away with the win in Springfield, Mass.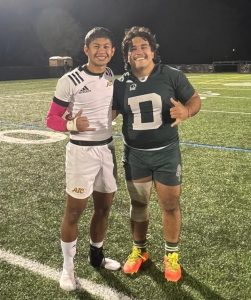 ———————————————–
1LT Belizabeth Nicole V. Rengiil is known to be the first female from Guam and Palau to make the All-Army Women's Rugby Team. She is an active duty Signal Officer with the US Army and is stationed at Joint Base Lewis-McChord in Washington.
Her team won the Armed Forces Women's Rugby Championship with a 4-0 record.
Belizabeth is the daughter of Edwin and Juliana Rengiil with siblings Johanna and Edwin-Isaiah Rengiil from Mangilao.