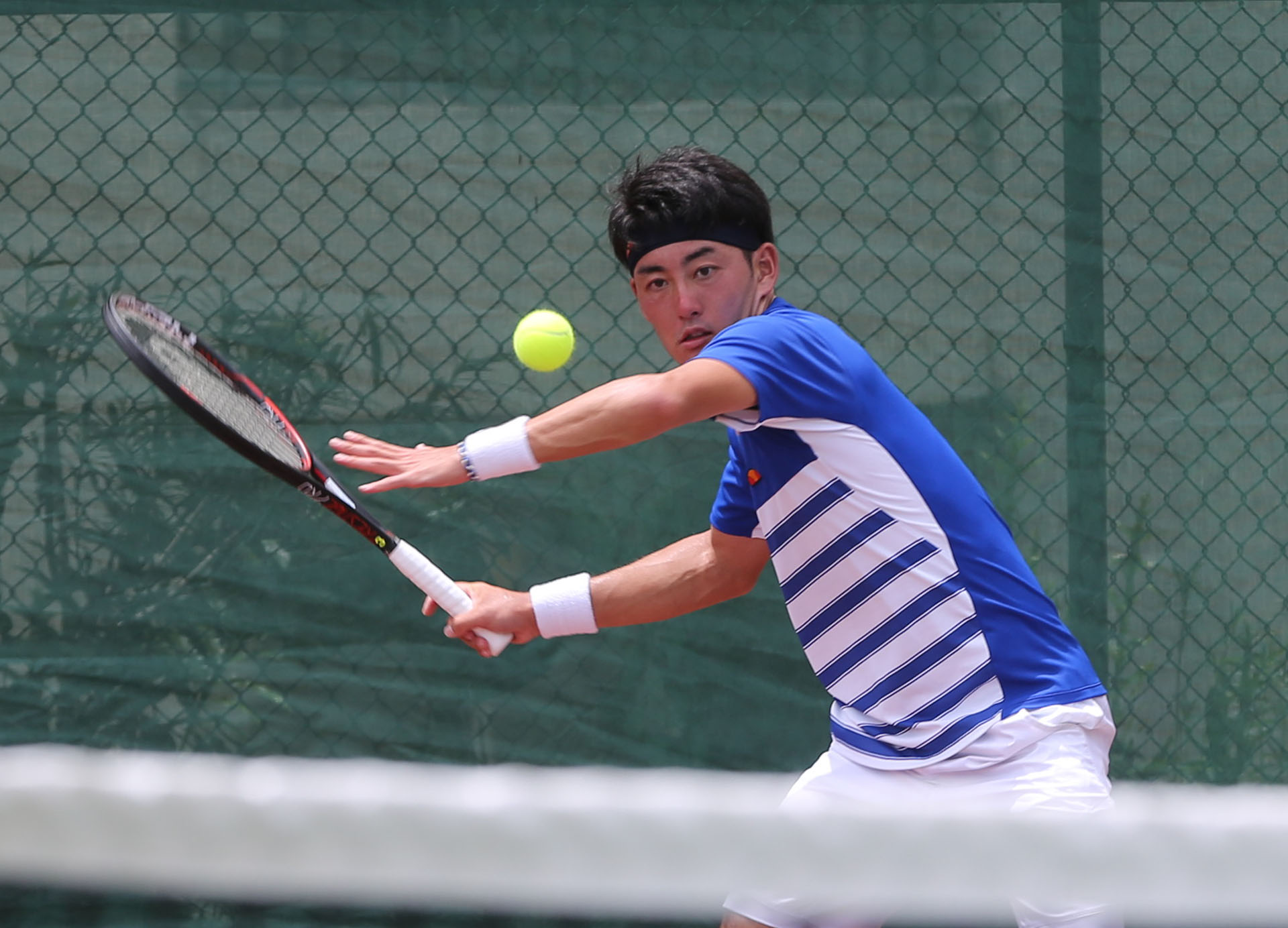 PRESS RELEASE – Fitness has been key in Soichiro Moritani's success in professional tennis, as the 22-year-old from Tokyo, Japan earned his highest world ranking to date, No. 770, earlier this week while winning matches in the 2017 King's Guam Futures, an ITF Pro Circuit event presented by Docomo Pacific and Hilton Guam Resort & Spa.
In Round 2 of the singles main draw Thursday, Moritani playted through his second three-setter in as many days to stop Korea Republic's Kwon Oh-Hee 6-2, 2-6, 6-3.
Moritani was up by as much as 5-1 in the third set and was serving for the match, but fatigue started to set in and he dropped the next two games, he said. Seeing the match beginning to slip away, Moritani put pressure on himself to win quick points at the net instead of continuing to engage in long baseline rallies.
"At this level, all players must at least have strong, consistent groundstrokes – in many matches I've played, I had to run back and forth at the baseline many times just to win a point," Moritani said after his Round 2 singles match. "Especially for Japanese tennis players, we generally don't have a big build, so being consistent in rallies is very important against bigger players with more power, but sometimes it's not enough to win.
"My opponent was also very consistent in long rallies and I wasn't winning the points I needed. Many times during the match, I had to create opportunities to go to the net and hit volleys to win points, including in the last game to finally win the match," Moritani added.
Many tennis fans in Guam remember Moritani from 2013, when the then 18-year- old made headlines after defeating former world No. 12 Dominik Hrbaty, a special guest in the tournament that year, to win his first-ever professional point. Moritani needed to win through the qualifying draw that year to earn a spot in the main draw. Now, Moritani is the No. 4 seed in this year's tournament.
Up next for Moritani is No. 5 Jake Delaney, a 6-3, 6-4 winner over Japan's Kazuma Kawachi. Delaney also is Moritani's doubles partner in this tournament and the pair is set to play against No. 4 Masaki Sasai and Shunrou Takeshima in the semifinals. Both teams had walkover victories in Thursday's doubles quarterfinal action.
Takeshima also is still in the singles draw with an upset victory over No. 6 Connor Farren, 6-3, 6-1.
In other singles matches of the day, No. 1 Hiroyasu Ehara moves to the singles quarterfinals with a 6-3, 6-2 win over wild card Alex Hunt of New Zealand. No. 3 Yuichi Ito defeated Masaki Osafune 6-2, 6-4 and No. 8 Moon Ju-Hae of Korea Republic defeated Keisuke Numajiri of japan 6-3, 6-3. Unseeded players still in the draw are Ken Onoda, a 6-4, 6-2 winner over Naru Shirafuji and Takao Suzuki of Japan, a 6-3, 6-2 winner over Switzerland's Luca Castelnuovo.
In doubles action, No. 2 Yuichi Ito and Ken Onoda defeated Masaki Osafune and Naru Shirafuji 6-1, 6-4 to move on to the semifinals against No. 3 Connor Farren and Bernardo Saraiva. Farren/Saraiva won 6-3, 6-2 against Nicholas Kamisar and Joseph van Meter.
Singles quarterfinals and doubles semifinals will be played Friday at the Hilton tennis courts beginning at 10 a.m.
For more information about the tournament and match schedules, visit http://www.itftennis.com/procircuit/tournaments/men's-tournament/info.aspx?tournamentid=1100040260