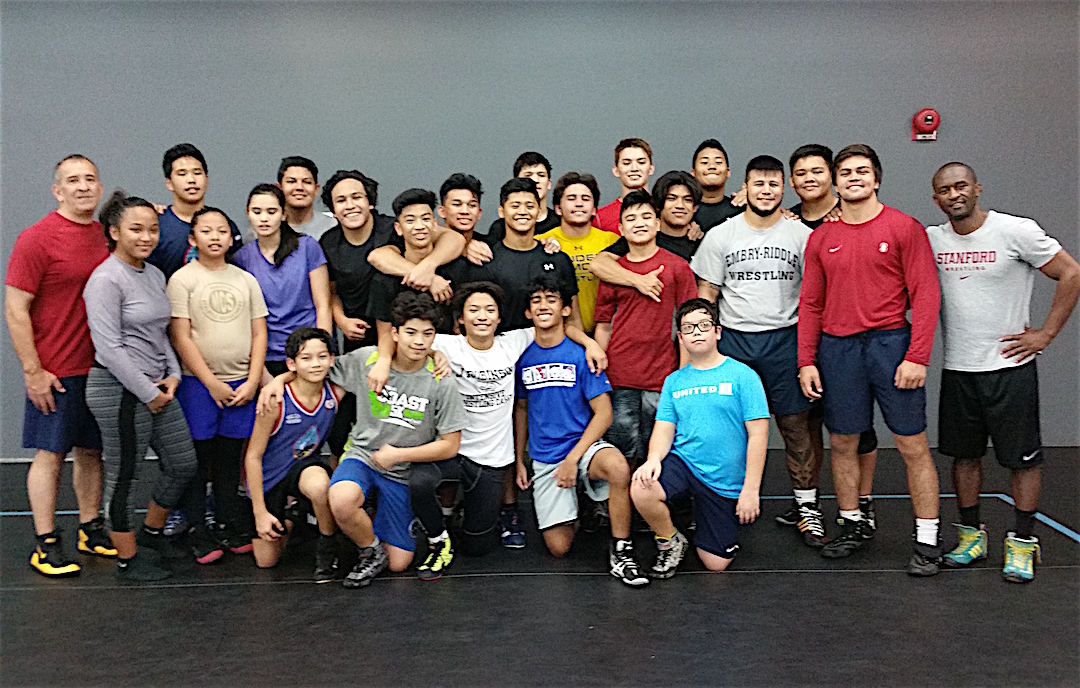 By Robert Balajadia
Guam wrestlers are receiving a gold medal opportunity through the 2017 Phoenix Club over the course of a month long training program headed by Stanford wrestling coach (2004 Olympic silver medalist) Jamill Kelly and National Collegiate champion Jose Cruz, all happening at the Steel Athletics gym in Tamuning.
Kelly's tie to Guam came in the form of wrestling star Nainoa Calvo, who has been wrestling with Stanford since walking on to the team his freshman year. A window opened for Kelly to come to Guam and he jumped at the opportunity.
"[Nainoa] has been pitching the idea to come to Guam, and I wanted to, but I didn't know when I'd have a realistic chance of doing so. I was supposed to be with the US team in a tournament, but that got cancelled. This all just come together 10 days ago and I'm happy to be here," said Kelly on how he came to Guam.
Kelly is teaching the first three days of the program, reinforcing the current skills of the attendees as well as rundowns on fundamentals, which run through July 14-17. The second half involves an intensive training program from July 19 – August 4.
"There's a lot of eagerness to learn so it's been a pleasure to teach them different techniques and give them another perspective," said Kelly on how his interactions with the camp attendees has been thus far.
FD Friar wrestling coach Terry Debold knows the struggle of sending youth wrestlers off-island for high level training, which makes Kelly's visit a rare opportunity where that high-level talent comes to the island.
"At the end of the day, it really starts with proper fundamentals. You'll always see something a little bit different and even if you pick up minor techniques, you become a better wrestler," said Diebold.
The program has seen kids as young as nine years old with a few of Debold's former standouts, like Cyril Maravilla and Calvo. Wrestlers from different schools and a few dedicated females have rounded out the program.

COMING SOON …
High School Football starts Sept. 29
Brawl 3: Oct 13
Guam's Strongest Man and Woman Competition October 29