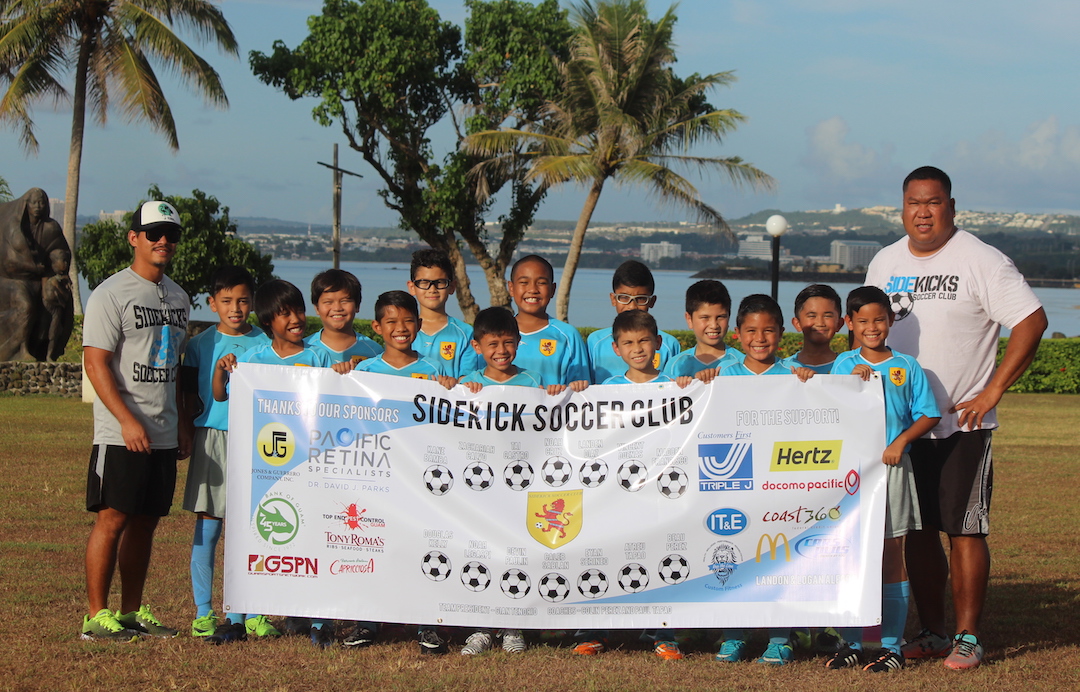 By Robert Balajadia
The U10 Soccer Team will be partaking in its first ever off-island competition from June 15-19 after being invited by the CNMI Football Association for friendly matches.
The champions, consisted mostly of Sidekick Soccer Club members, finished atop the 2017 Spring Robbie Webber Youth Soccer League undefeated. The competition in Saipan will help the U10 team prepare for the next level of soccer with the current squad already proving a deep desire to learn the game.
"They have been able to take it up to another level and they have been scrimmaging against the 13-year-olds. We see the desire and the passion the kids have for the game so we stay committed to them. It's phenomenal to see their talent progress. When kids play with passion it's a different level," said coach Paul Tapao.
The team dominated the Robbie Webber League scoring 60+ goals while only allowing seven all season. The cohesiveness the unite plays with has developed over the past few years as the group has been running the field together since U8.
The U10 team will be one of at least five squads participating in the friendly matches with the other competitors all local teams from Saipan. To add extra measures of preparation, the U10 team has been scrimmaging against older kids at the Adelup Park.
The kids couldn't be more excited to hit the field with this trip being the first time any of them have competed off-island of soccer.
"We're looking forward to challenging harder teams so we can get better. We might win some, we might lose some, but I'm hoping we can win them all. I like that we're all going to be together as a team so we can get to know each other better," said right wing Beau Perez.
Standing in between the opponents and their points will be keeper Tai Castro, who's focus is to keep their wins coming
"We have to show no fear against the Saipan Boys," said Castro. "I feel really confident, we're all excited and I think we can come away with some wins, hopefully."
The talented roster did come with it's challenges, especially dealing with such a young squad. Getting everyone together on the same page took a lot of work.
"They all have different personalties and characters so it was difficult. They began to understand the importance of achieving goals we set for them at the beginning stages of the season, so it really materialized into leaving their personalities off the field. Once they lace up their boots, everybody has the same concept of goal orientation," added Tapao.
The team will be leaving next Thursday morning and will begin matches on the 16th.
Team Roster
Kane Bamba
Zachariah Calvo
Tai Castro
Noah Cruz
Landen Diaz
Vincent Duenas
Madden Francisco
Douglas Kelly
Noah Legaspi
Devin Paulin
Caleb Sablan
Eyan Serineo
Atreu Tapao
Beau Perez
Coaches
Paul Tapao
Colin Perez
President
Gian Tenorio
Sponsor Lists
Gold Sponsor
Jones & Guerrero
Pacific Retina Specialists
Triple J Enterprises, Inc.
Bank of Guam
Docomo Pacific
Silver Sponsor
Custom Fitness, LLC
IT&E
Coast360 Federal Credit Union
Calvo's Insurance
Bronze Sponsor
Landon & Logan Alegre
Top End Pest Control Guam
Cars Plus
McDonald's
Tony Roma's/Capricciosa
GSPN
Friend Sponsor
Senator Tommy Morrison
Hagatna Mayor's Office
Senator Frank Aguon Jr.