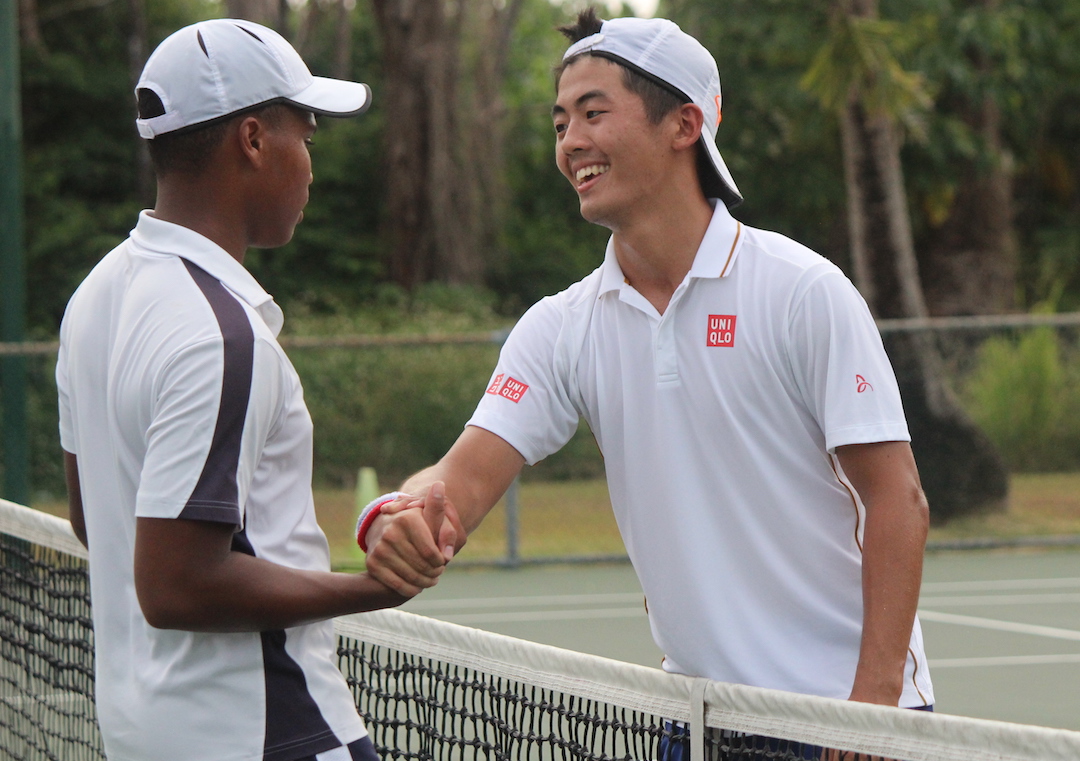 Okuhama brings his best in finals repeat win
By Jay Leon Guerrero
St. John's Tennis standout Derek Okuhama faced a lot of adversity this season but stepped up when it mattered most. He entered the IIAAG Singles Tournament as a fourth seed and eliminated the first and second seed players to repeat as the All-Island champion.
Okuhama defeated league MVP Camden Camacho from FD in the semi-finals and then defeated second seed Sidney Gadsden from Guam High in the finals to repeat as champion. Okuhama defeated Gadsden 8-3 in the finals at the Hagatna Tennis Courts.
"I tried to forget about all of the standings. I just try to play as hard as I can and forget all of the seeds," said Okuhama. Okuhama faced Gadsden last year and won 8-6 in a competitive match.
This year, the two slugged it out to open up the match with Gadsden taking the opening set. It was back and forth in the beginning with Okuhama clinging to a 4-3.
"We had a lot of long rallies, just like my match yesterday (against Camacho). I knew if I won those long rallies it would give me a mental edge," said Okuhama.
The two battled it out but it was Okuhama's day, winning the close sets to repeat as champion.
"Sidney had a great tournament, he deserved to be in the final match", said Okuhama. Gadsden won a thriller the day before, an 8-7 comeback victory against third seed Mason Caldwell from Harvest. "He plays well in the All-Island tournament, it was a great comeback battle yesterday against Mason. Hes a fighter and it was an honor to play against him today," said Okuhama.
This is his second consecutive title and he hopes the high level competition will continue year. "This will definitely motivate all the players". He hopes someone from St John's will continue the winning streak to keep the title in his school.
"I'm hoping someone from St John's can come back and represent our school well next year," said Okuhama. His teammates will have to contend against FD's Camacho who will be and senior and Caldwell from Harvest who will be a junior next year.
Both Okuhama and Gadsden are seniors and they both look to continue to play tennis in college. "It's still in the works, I'm looking to play for a college in the west coast."
Usita-Lee serves up second-straight IIAAG Singles Title
By Robert Balajadia
Cougar junior Tara Usita-Lee has retained her status as the Singles Tennis Champion, finishing an unbeaten season once again on top. Usita-Lee topped the #2 ranked Knight Anika Sachdev (8-4).
"I just needed to be one step ahead of her," said Usita-Lee on the approach. "I had quite a few double faults and [Anika] was giving me a tough time on my serves."
It was just the icing on the cake for Usita-Lee and the Cougars after also reeling in the team title a week ago.
"Winning as a team was great since we all worked really hard to get there. Even when coach said we didn't have practice, our team came out anyways to get some court time in. We really wanted to win a championship," added Usita-Lee.
Usita-Lee overcame every challenge the season presented her. She began her title defense after defeating Harvest Eagle in the quarterfinals (8-3) and then getting by Eagle Lily Xu (8-5) in the semifinals. And the competition is only getting tougher.
"We have more and more people joining tennis every year and they are competing and really trying to improve, which makes it a tough league. I put in a lot of work training, but the players in the league are putting a lot of training too," said Usita-Lee on the state of the league.
Doubles Winners
The top seeded Cougars Mikhailla Alcantara and Joycelyn Tenai defeated the Sanchez Sharks duo of Crishka Caballero and Andrea Ibardalasa (8-3) to begin the Finals tourney in the Girls Doubles A Division.
In the Girls Doubles B Division, Okkodo Bulldogs Dominique Dela Cruz and Jayne Ortida defeated Eagles Luna Puangco and Rona Wang (8-4).
PHOTO GALLERY BROUGHT TO YOU BY:

COMING SOON …
High School Football starts Sept. 29
Brawl 3: Oct 13
Guam's Strongest Man and Woman Competition October 29
QUICK HITS
The Figo Islanders 40s women's softball team took gold in the Senior Softball World Championship in Las Vegas. Figo came out of the loser's bracket and beat the Arizona Belles 17-3 in the AA division championship game Sunday afternoon.
Other Guam teams that played in the 40s tournament were: Team SOTTA (women's) and Bud Light Guam, Friars 671 and Sindalun Guahan (men's).
Sindalu finished a respectable 4th out of 24 AAA division teams.